Breitbart: "Newt Gingrich is the Tea Party by Proxy"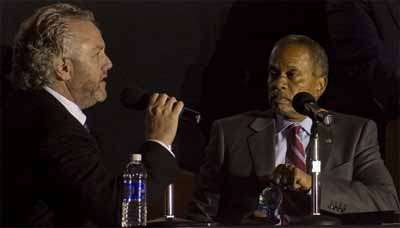 In a comment that seems to jibe with CNN's South Carolina exit poll, Los Angeles media impresario Andrew Breitbart said last night that Newt Gingrich's decisive victory in the Palmetto State is the first sign that the Republicans made a mistake by believing the Tea Party movement has run out of steam.
"These last three years you've had all of this excitement because we the people got active in the political process," Breitbart told about 300 attendees at a Pomona, California, town hall kicking off National School Choice Week. "The brave people of the Tea Party were maligned in a Saul Alinsky strategy. Mitt Romney was never there for the Tea Party, but now he parrots their line… People are voting against the Republican racket, and against the fact that Romney has all that money and organization."
The event, featuring Breitbart and Fox News analyst Juan Williams and moderated by talk radio host Hugh Hewitt, focused on school choice but covered a wide range of topics, including the Republicans' paralysis on educational issues and the upcoming recall election of Wisconsin Gov. Scott Walker. Hewitt and Williams believed a Walker recall would set the school reform movement back while Breitbart believed it would turn Walker into a martyr and rally reformers.
Nobody was happy with the GOP. "If you ask Republicans, they pay lip service to school choice," Williams said. "But they have no idea what to do about No Child Left Behind. They don't know what they're going to do about Race to the Top. So the left is in the pocket of the unions and the right is focused on No Child Left Behind and federal standards. We need to blow up the system."
Williams and Breitbart both focused on finding "common ground" between the left and the right on education, with both finding surprising kind words for Chicago Mayor Rahm Emanuel in his fight with the Windy City's teacher unions.
Williams recently collaborated with Kyle Olson on the recent documentary A Tale of Two Missions:
Olson will be heading up the BigEducation site, which will be added to the Bretibart network in March. Asked how to frame the school reform issue, Breitbart characteristically played to the controversy: "I would drop a race bomb," he said. "I'm a kamikaze." Noting the disproportionate effects of public school failure on minority students, Breitbart invited about 50 public school teachers in the audience to leak union meeting footage and secrets to BigEducation. He also promised the site has some "secret video stunts" ready to drop. "Teachers need our help, and I know how to launder good information," he said. "So bring it to me."