Obama Finally Does Something Right on Immigration
A new DHS policy will destroy fewer immigrant families.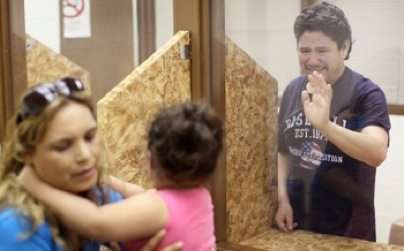 Since 2009, the Obama administration has broken up tens of thousands of American families in which one or more members was an undocumented immigrant. In many of these cases, the government forced the undocumented spouse or child of a legal U.S. citizen to return to their home country before allowing them to apply for residency in the U.S. Upon leaving this country, however, many of those immigrants were then barred from returning for a period of up to 10 years, a consequence of their having resided in the U.S. without documentation. A new Department of Homeland Security (DHS) policy will change that for a select few immigrants.
Current immigration policy says that immigrants who have spouses or parents who are U.S. citizens, and who can prove that their absence will create a hardship for their American families, may qualify for a "hardship waiver" from the 10 year rule. The policy currently requires these immigrants to "touch back" on the soil of their home country to fill out the hardship application and wait there until it is approved. The term "touch back" is deceptive, however, as applicants often spend anywhere from several months to several years carefully navigating the U.S. immigration bureaucracy via satellite from an American embassy while waiting for DHS to determine if their presence is in fact necessary to their American family's survival.
So it's welcome news indeed that with a simple policy change, DHS will soon begin allowing undocumented family members of U.S. citizens to apply for the hardship waiver without having to first leave the country. "It's pro family and pro legal immigration," said Lynn Tramonte of the pro-immigration reform America's Voice Education Fund on a conference call with reporters. "It doesn't create new rights for anyone."
"The waiver is really limited in the law. This is only a procedural processing change," said Cleveland-based immigration attorney David Leopold. "They still have to show that their exclusion would cause extreme hardship." Thanks to this change, those applicants can make that case without leaving the country and risking separation from their families for anywhere from months to years.
According to The New York Times, "Citizenship and Immigration Services proposes to allow the immigrants to obtain a provisional waiver in the United States, before they leave for their countries to pick up their visas. Having the waiver in hand will allow them to depart knowing that they will almost certainly be able to return."
While the policy change applies to immigrants from all countries, it will be especially beneficial to citizens of Mexico, who are required by Immigrations and Customs Enforcement to make their petitions at the American consulate in Cuidad Juarez, one of the most dangerous non-warzones in the world, while they wait for their hardship waiver to be approved.
"This adjustment to the rule is important, because it will literally save lives," said Eleanor Pelta of the American Immigration Lawyers Association. "Most waiver applications are filed in Ciudad Juarez on the U.S.-Mexico border, an extremely dangerous city these days, and more than one applicant has been murdered or seriously harmed while waiting there."
The timing of the announcement could expose President Barack Obama to criticism from across the political spectrum. The right may ding him for making the announcement late on a Friday, which qualifies it as "a Friday news dump," usually reserved for policy announcements that the administration hopes will get lost in the shuffle over the weekend. Some on the left may wonder why Obama waited until nine months before his reelection to fix a policy that dates back to the George W. Bush administration.
The change also only addresses a smidgen of the immigration cases that have been poorly handled under the Obama administration. Some 46,000 undocumented parents of U.S. citizens have been deported since 2009, and roughly 5,100 children of immigrants have been put into foster care. In September, the case of Nadia Habib, a star psychology student in her junior year at Stony Brook University in New York, made headlines when she announced that DHS was going to deport her on her birthday. Habib's father has a green card, but she was brought to the country from Bangaldesh as a child. While Habib was temporarily spared deportation, her father's status as a green card holder—not a citizen—means that Habib's fate in the U.S. is far from assured.
"We'd like to see the policy extended to the spouses and children of green card recipients," Leopald said on on the conference call.
Late though it may be, this new policy is a good start. Extending the waiver process to family members of legal residents would be even better. But there's still a mountain of inhumane rules and regulations surrounding immigration to the U.S. that the Obama administration should work to reform.

Mike Riggs is an associate editor of reason.com. You can follow him on twitter.