Justin Amash, Come on Down!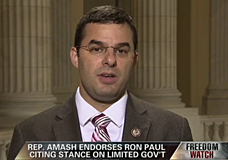 Politico gives the next-Ron-Paul treatment to Rep. Justin Amash (R-Mich.), one of the most libertarian voices in national politics. First four paragraphs:
GRAND RAPIDS, Mich. — As Rep. Ron Paul prepares to leave Congress after 2012, there is a man waiting in the wings to carry on his constitutional crusade: Michigan freshman Rep. Justin Amash.

"[Paul] has been a big supporter of mine from the very beginning. I don't think there's anyone out there who has championed the Constitution, limited government, economic freedom and individual liberty to the extent that he has over the last few decades," Amash said.

Paul, a Texas Republican who is retiring at the end of the current Congress, told POLITICO: "He impresses me by showing he truly understands what individual liberty is all about, and he is working hard to protect those liberties that I consider so important."

The two congressmen share not only mutual admiration but also the same line of ideological purity. Both flaunt a feverish desire to "end the Fed," devote themselves to constitutionally limited government and preach caution about military action abroad.