A Seafaring Farewell for Now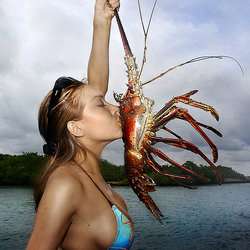 In season two of The Wire the show's plot moved away from the first season's tales of often-questionable police tactics employed to combat street crime in Baltimore and to stories about often questionable police tactics used to combat crimes plaguing the city's port. The central conflict in season two is based largely on the mutual contempt that two powerful but piddling men–detestable Baltimore police commander Stan Valchek and detestable port union boss Frank Sobotka–have for one another.
Though The Wire is fictional, I implore anyone who's watched season two to read this recent BusinessWeek account (via my friend Jason Foscolo) of a beef between Larry Ciulla, the founder and owner of a Gloucester, MA* fish auction house (that probably sells lobster or something, hence Lobster Girl), and Andy Cohen, the former federal government NOAA official who seemed hellbent on bringing Clulla down. If you can find a hero in this story then you have a much stronger gag reflex than I.
Mega-thanks back to Nick Gillespie and the Reason staff and you readers and commenters for making this week a fun stay. If you're reading this and will be in the DC area next Saturday, I urge you to sign up for a great Keep Food Legal food-truck-themed extravaganza featuring eats from the stupendous Red Hook Lobster Pound truck and the splendid El Chilango taco truck (plus some of our own culinary creations). And, I should note, not only will the trucks' food be there, but the trucks themselves will be there in the er, flesh.
As if the food isn't enough of a draw, the event will feature an unbelievably great lineup of speakers talking about food trucks:
Matt Geller, who heads the groundbreaking Southern California Mobile Food Vendors Association and is one of the leading and most successful advocates for the rights of food trucks to operate free from gratuitous regulations in this country, will be in town all the way from Venice, CA to serve as our featured guest speaker.

Doug Povich, co-owner of the Red Hook Lobster Pound truck, will speak about his experiences wading through the ongoing regulatory process.

Robert Frommer, an attorney with the excellent Institute for Justice—which helps food-truck entrepreneurs and other small businesses fight back against unjust regulations—will speak about IJ and the group's work on behalf of food trucks.

Juan Antonio Santacruz, owner of the El Chilango taco truck, will talk about his journey (with his brother Jesus, who mans the truck) from selling tacos in Mexico City to selling in Virginia.
So come on out, won't you?
*Speaking of Gloucester, a relic from The Perfect Storm recently washed ashore in Ireland–20 years after the disaster. Going back a bit further while I'm on the subject, my great-great-grandfather (if I recall correctly; also my grandfather's and father's namesake) plied the waters of Gloucester way back in the day.
Baylen Linnekin is the director of Keep Food Legal, a nonprofit dedicated to preserving and increasing "culinary freedom," the right of all Americans to grow, sell, prepare and eat foods of their own choosing. To join or learn more about the group's activities, go here. To follow Keep Food Legal on Twitter, go here; to follow Linnekin, go here.