DC Police Say Knowing Your Rights is an Indicator of Criminal Activity!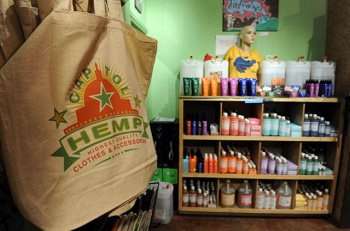 From Steve Silverman of Flex Your Rights (makers of DVDs that tell people how to deal with the police when being pulled over in a car and other situations) comes this insight into the mind of law enforcement.
Our story thus far: Capitol Hemp is a Washington, D.C.-based retailer that sells fully legal stuff made from hemp and barely legal water pipes (barely legal because as Jacob Sullum has explained, the authorities argue that if you can put your weed in there, it may just be illegal). In October, Washington cops raided two Capitol Hemp stores on the grounds that selling pipes or bongs is against the law.
As the blog DCist notes, part of the search warrant for the raid contained this:
4. While your Affiant was looking at the smoking devices U/C [redacted] observed a DVD that was for sale entitled "10 Rules for Dealing with Police". The DVD gave the following listed topics that were covered as:

A. Deal with traffic stops, street stops and police at your door.

B. Know your rights and maintain your cool, and;

C. Avoid common police tricks and prevent humiliating searches.

Your Affiant notes that while this DVD is informative for any citizen, when introduced into a store that promotes the use of a controlled substance this DVD becomes a tool for deceiving law enforcement to keep from being arrested. The typical citizen would not need to know detailed information as to US Supreme Court case law regarding search and seizure because they are not transporting illegal substances in fear of being caught.
There you have it, folks: Knowing your rights = "deceiving law enforcement."
As Silverman, who notes that police deparments around the country use the DVD while training cadets, writes:
The Bill of Rights is not a trick or a loophole to protect criminals. It's the highest law of the land. It's also a template for good police work and good citizenship. That's what Flex Your Rights is all about.

Anyone who's watched 10 Rules for Dealing with Police will likely agree that both police and the public stand to benefit when more people learn the film's lessons. Flex Your Rights has seen how numerous institutions, ranging from police departments to high schools to hemp stores, all have a common interest and unique ability to reach specific audiences with this important information. No one should ever be afraid to share it in fear that they'll be accused of condoning criminal activity.
Reason's Tim Cavanaugh interviews Silverman about his patently subversive interest in the rule of law:
Doh! Jacob Sullum writes up the same story right below me!