America Waking to Light of Chinese Sun?
Pot calls kettle green in solar dumping petition.
It's hard to spot all the absurdities in the death spiral of the U.S. government's green energy policy. But here's a big one: A group of solar equipment makers is trying to lock inexpensive products out of the United States, and the argument of these subsidized companies is that subsidies create an unfair market.
Late last month the Coalition for American Solar Manufacturing (CASM), a group of seven domestic solar equipment makers led by SolarWorld Industries America Inc., petitioned the Department of Commerce and the International Trade Commission (ITC) over crystalline silicon photovoltaic cells (whether or not assembled into modules) from the People's Republic of China.
SolarWorld, the U.S. branch of a German company, alleges that Chinese manufacturers, using subsidies from Chinese taxpayers, are "dumping" their products—selling them at less than cost—in the U.S. market. Along with its six cohorts (whose petition is not being supported by the Solar Energy Industries Association, the main solar trade group), SolarWorld is seeking a finding of "damage" to the American industry and a countervailing tariff on Chinese solar imports.
President Barack Obama has lost no time in showing his support for the protectionist petition.
"We have seen a lot of questionable competitive practices coming out of China when it comes to the clean energy space, and I have been more aggressive than previous administrations in enforcing our trade laws," the president told a Portland, Oregon TV station during a West Coast fundraising tour. "We have filed actions against them when we see these kinds of dumping activities, and we're going to look very carefully at this stuff and potentially bring actions if we find that the basic rules of the road have been violated."
Commerce and the ITC will not comment on the action until they decide whether to launch an investigation, but the evidence so far—even if we accept the anti-competitive, anti-consumer logic of "antidumping" laws—indicates SolarWorld's cartel has a very weak case, as well as an extremely hypocritical complaint. Trina Solar Ltd., a Chinese manufacturer, tells BusinessWeek that even the well-known largesse of China's Marxist government is modest compared to the pork dispensed by the American republic:
Jifan Gao, chief executive officer of Changzhou-based Trina, said China Development Bank Corp. charges interest at the "market's average level" of 6 to 7 percent. That exceeds the average rate of about 5 percent offered to Solyndra on $70 million the U.S. panel maker borrowed in 2011 before filing for bankruptcy protection in September, according to Bloomberg calculations based on filings by a U.S. Treasury bank.

Gao's comments are the clearest defense yet by a Chinese solar executive against accusations they've used more than $30 billion in state subsidized loans to dump panels on overseas markets. U.S. manufacturers led by SolarWorld AG asked the Obama administration to slap duties of as much as 100 percent on more than $1 billion in Chinese imports to counter what they called illegal aid. That added to the debate in the U.S. over publicly funding solar companies that exploded with Solyndra's collapse.
A look at the documents on ITC's website (search for investigation number 701-481) supports Trina's claim. Out of a total of 74 documents so far filed in the solar dumping petition, 46 of them—62 percent—are confidential. And the 28 that can be viewed contain plenty of oddities.
At one point, SolarWorld notes, for example, that the Shandong Province Energy Fund provides RMB 2.133 billion in order to "finance renewable energy developers, supporting activities ranging from manufacturing to technology developers." That sounds like a lot, and it is a lot. It comes to $337,509,217.11—about 64 percent of what U.S. taxpayers lost on Solyndra alone. The Department of Energy's Energy Efficiency and Renewable Energy (EERE) program lavished $2.2 billion on domestic manufacturers in 2010, and DOE's 2012 budget request jacks that up to $3.2 billion.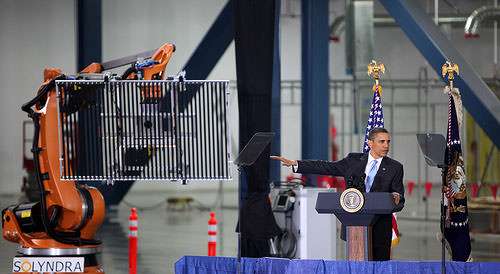 The Commerce investigation will only cover the effects of Chinese products on U.S. manufacturers. It will not address the effects of subsidies for American manufacturers by American taxpayers, nor will it examine the benefits inexpensive imports provide to buyers of solar material. The International Trade Commission (formerly the U.S. Tariff Commission) will supposedly take a broader look at the domestic market for solar panels. But it's striking that as of this stage, end users do not appear to have been consulted. Certainly the people who spend their own money on solar products—and who will have to pay any tariff that gets imposed—deserve a say in what constitutes damage to the American solar market.
But one solar industry observer points out the paradox of heavily subsidized American companies seeking to punish Chinese manufacturers (via American consumers) for winning the same game they themselves are trying to play. John L. Whisman, CEO of VeriSol, Inc., a solar marketing, development consultant, points out that the United States is a net exporter of solar technology by a margin of about $1.9 Billion.
"This is simply a self interested play by a group attempting to protect their businesses," Whisman said in an interview. "I think it's shortsighted because economics is a long run game. [SolarWorld and its co-complainants] know that they may achieve some favorable result based on the idea that politics is a short run game."
You may have heard that there's an election next year. Obama's domestic policies have produced nothing but failure, so it's not clear what, if anything, he should be saying as he transitions into a full-time campaign schedule. But while his well-established protectionism may still pay dividends, the president's perverse loyalty to green subsidies can only lead to more shame.
We can put this into dialectical-materialist terms that China's rulers, Obama's community-organizer mentors, and even the "Marxist professors and structural feminists and punk-rock performance poets" the future president met in school can all understand:
The great green superstructure is collapsing amid the contradictions of material life, as the conflict between the forces of production and the social relations of surplus value undermines the president's renewable energy policy. The green boondoggle has failed. Suing people in other countries won't turn it into a success.
Tim Cavanaugh is managing editor of Reason.com.