Where's TurboTim? Cliff Stearns Grills Treasury Deputies Burner, Grippo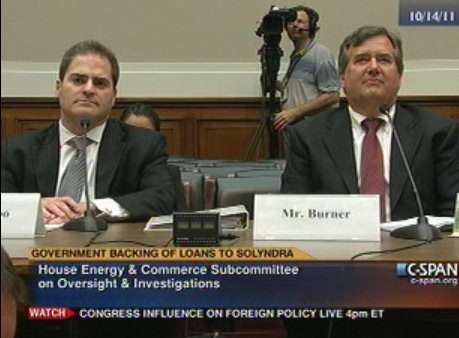 Rep. Cliff Stearns (R-Florida) is leading the House Committee on Energy and Commerce's interrogation of Gary Grippo, deputy assistant Treasury Secretary for fiscal operations and policy; and Gary Burner, chief finance officer for the Treasury Department's federal financing bank (which is not, apparently, an actual bank, but these days what is?).
History will little note nor long remember my stemwinding, so go watch it live at C-Span.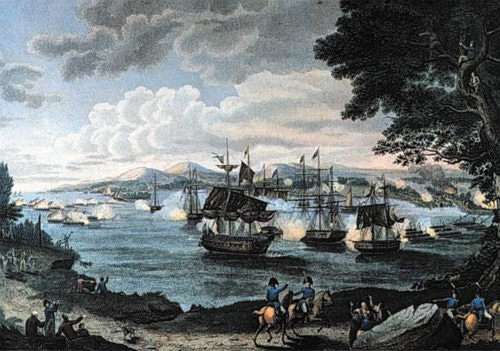 Then come back for the ongoing Solyndra data dump, which you can't even write about on Friday without having to keep coming back to on Monday:
Wall Street Journal breaks that a major Solyndra investor used his seat on the Pentagon's Defense Venture Catalyst Initiative panel, or DeVenCi, to try and persuade the U.S. Navy to buy solyndra's innovative tubular solar panels. (The Navy, seen here defending an eastern lake from trans-Canadian attack, passed.)
According to WSJ:
Solyndra was promoted to the Navy by RockPort Capital, one of the firm's largest investors and board members, which has a seat on a Pentagon panel that helps the government find emerging technologies.

RockPort recommended Solyndra to the military, along with four other companies. In the end, the negotiations for Solyndra's inclusion in a $1 million pilot program fell apart when the Navy learned about the company's pending bankruptcy filing.

The role of RockPort Capital is a new twist in the Solyndra tale, which has focused largely on whether another Solyndra investor, the family foundation of billionaire George Kaiser, helped the firm secure a $535 million loan guarantee from the Department of Energy. There is no evidence linking the loan guarantee to Mr. Kaiser, who was a significant donor to President Barack Obama's 2008 campaign.
Live House testimony update: If anybody out there knows what the exculpatory memo is that the Democrats want to read into the record, please pipe up.
Since-they're-ignoring-Grippo-and-Burner update: Grippo and Burner said Friday they had "never seen" a loan restructuring similar to the restructuring the Energy Department gave to Solyndra LLC's loan this year. From AP's Matthew Daly:
The half-billion dollar loan to Solyndra Inc. was restructured earlier this year so that private investors moved ahead of taxpayers for repayment on part of the loan in case of a default…

The two Treasury officials stopped short of declaring the loan restructuring illegal, as some Republicans allege.

"I can't give you a legal interpretation on that, sir," Burner told Rep. Cliff Stearns, R-Fla.
ABC's Ronnie Greene and Matthew Mosk pick up another choice nugget from Friday's testimony: Treasury staffers (who work for the president) warned Energy staffers (who also work for the president) that they were not following regulation during this summer's refi:
As it scrambled to save the flagship company of the Obama administration's green energy program, the Energy Department ignored repeated warnings from top Treasury Department officials that it was not following guidelines in refinancing Solyndra's half-billion dollar federal loan, a Congressional hearing Friday revealed.

When the DOE refinanced the government's $535 million loan to the California solar panel manufacturer in February, it agreed to let investors, including a major Obama fundraiser, stand in line before the public to recoup the first $75 million of their investment should the company fail. Solyndra declared bankruptcy six weeks ago.
Trade War watch: Rep. John Dingell (D-Michigan) says "losing control of this technology" is going make harder to preserve "existing industry." Dingell also says there was no criminal misbehavior.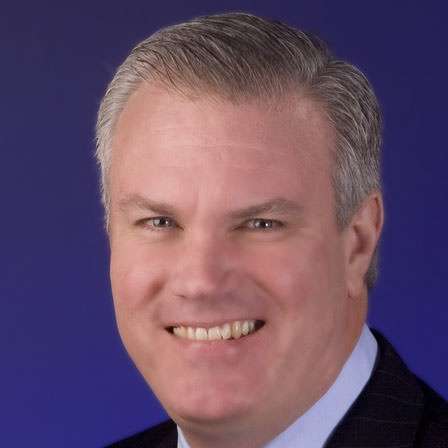 Criminalization of life on earth update: I'd like to second Dingell's second comment. In fact, if I were the lawyer for now-former Solyndra honcho Brian Harrison, I'd make the cascading outrages — Solyndra's near-approach to an additional $469 million guaranteed loan, the Navy lobbying, the restructuring hanky-panky, and so on — as evidence against the charge that Harrison committed fraud.
Harrison did not create corporate welfare. His job was to secure public money, not to avoid offending the sensibilities of taxpayers. If he had reason believe he could still secure more such favorable treatment from the government, he can say without falsehood that he believed his company could survive.
Where did the idea to make Solyndra a centerpiece of the Obama green jobs campaign come from? According to characteristically good work by the Washington Post's Carol D. Leonnig and Joe Stephens, it came from RockPort co-founder David Prend, who asked the administration to "help get the word out" about the company's pending loan guarantee:
Before Solyndra won the Energy Department's preliminary approval for a $535 million loan, Prend and a lobbyist for a trade group he helped lead suggested that the White House, and perhaps President Obama, should showcase the company.

"I thought the White House might want to take advantage of this event to highlight a highly successful public/private partnership," Prend wrote on March 13, 2009.
All the President's Texts update: Make what you will of the story of Obama's Blackberry. My guess: "Executive privilege" has been signed off by enough powerful people that I'd doubt we'll ever be seeing the president's texts. For more on that, read in Reason how the kingly secrecy of the king is considered kingly by all our political choices: Democrats, Republicans and Democrats. For that reason I believe the contents of the telecom devices of the man trusted to launch missile attacks against both citizens and non-citizens both on U.S. soil and abroad will not be made public.
There's also a two-versions-of-a-document scandal:
Old usolved mysteries update:
Who is Steven J. Spinner and why were both president and vice-president "breathing down" his neck? Read more about the big Obama fundraiser's pushy campaign to get the Solyndra loan approved.
And how can Rahm Emanuel really not remember anything about Solyndra when he asked the magically named Spinner for a defense of the company in an August 2009 email?
Have we heard the last of Jonathan Silver, who fled his position as head of the Energy Department's loan guarantee office after a disastrous performance before the House? He still hasn't told everything he knows about the restructuring.
Was Solyndra a "noble failure" or is erstwhile Green Jobs Czar Van Jones?
Does Solyndra pursuer Rep. Darrell Issa (R-California) like green pork?
In this Solyndrysterical world, can we still trust SunPower?
Is Cliff Stearns the new name for excitement?
Geithner-needs-to-testify update: On behalf of the management, I apologize that this House hearing was such a dud. All your money will be refunded, and as a special bonus, enjoy David Biello's panegyric to Solyndra founder Chris Gronet, a man out there on a handshake and a dream, in Scientific American., and Reason.com editor Nick Gillespie's sitdown with C-Span founder Brian Lamb: