Mark Bittman Corrects Fact-Resistant Food Policy Analysts…Such As Mark Bittman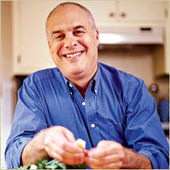 Thanks to Katherine Mangu-Ward's recent Washington Post op-ed piece about the folly of government efforts to reshape our diets, I noticed a strikingly oblivious Mark Bittman column from last month. "Is Junk Food Really Cheaper?" the headline asks. The short answer: No, it isn't. The longer version:
The "fact" that junk food is cheaper than real food has become a reflexive part of how we explain why so many Americans are overweight, particularly those with lower incomes. I frequently read confident statements like, "when a bag of chips is cheaper than a head of broccoli…" or "it's more affordable to feed a family of four at McDonald's than to cook a healthy meal for them at home."

This is just plain wrong. In fact it isn't cheaper to eat highly processed food.
Furthermore, Bittman explains, a healthy diet is easily affordable, especially if we are talking about "supermarket ingredients, not the pricier organic or local food that many people would consider ideal." I'd thank Bittman for doing a public service by refuting the persistent myth that people eschew healthy food because it's so expensive, except that he himself was until quite recently reinforcing that very myth—a fact he does not find space to acknowledge in his 1,700-word column. Two months before he set the record straight concerning the relative price of junk food, Bittman was positively giddy about obesity maven Kelly Brownell's proposal to discourage consumption of politically incorrect foods through taxes and encourage the consumption of politically correct foods through subsidies, calling the challenge of implementing this elaborate price control scheme "fun" and "inspiring." As I noted at the time, Bittman overlooked not only the moral and practical issues raised by Brownell's vision but the seemingly relevant fact that price is not the reason people prefer potato chips to collard greens. He was so undeterred by readily observable facts that he even recommended subsidies for "dried legumes," one of the cheapest foods on the planet, with the aim of "making healthy food more affordable." Since then, Bittman seems to have visited a grocery store, but in his more recent column he never admits that he was "just plain wrong" in July.
Such a concession might have instilled some well-deserved humility in Bittman, whose food column I enjoyed but whose work as a public policy commentator is remarkably shallow and ill-informed. To show that a government campaign to change the nation's "food environment" can be successful, for instance, he cites "the 1998 tobacco settlement," which "limited cigarette marketing and forced manufacturers to finance anti-smoking campaigns—a negotiated change that led to an environmental one that in turn led to a cultural one, after which kids said to their parents, 'I wish you didn't smoke.' " For anyone familiar with the history of the anti-smoking movement—or anyone who grew up in the 1970s, when I was nagging my father about his cigars, hiding ashtrays, and posting "Thank You for Not Smoking" signs around the house (yeah, I know)—the idea that it all began with the 1998 Master Settlement Agreement is laughable.
Admitting his past errors might also have encouraged Bittman to think twice before enthusiastically citing former FDA chief David Kessler's insights into eating, which boil down to the observation that restaurateurs and food manufacturers deliberately design their products to taste good. Bittman might also have paused to reflect on the principle he implicitly endorses when he declares that "advertising for fast food is not the exercise of free speech but behavior manipulation [aimed at encouraging consumption] of addictive substances"—by which he seems to mean that speech should be censored if it might persuade people to make unhealthy choices. For that matter, having seen how utterly wrong he was in arguing that low prices make junk food attractive, he might have considered whether there is any evidence that advertising does. Maybe he is saving that for his next column, where he can correct another "reflexive part of how we explain why so many Americans are overweight."