California High School Accidentally Distributes Child Porn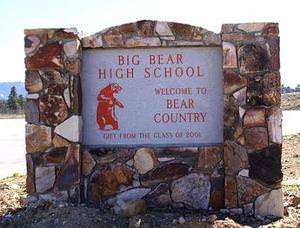 This week administrators at Big Bear High School in San Bernardino County, California, ordered a yearbook recall while police threatened students with jail if they failed to turn in their copies. The defect that prompted the recall is a photo from a school dance in which two students can be seen messing around in the background. According to A.P., the picture "shows a 17-year-old boy's hand inside the clothing of a 15-year-old girl in a way that suggests sexual penetration." The discovery of this background action (which seems to have been captured unintentionally) rendered the entire yearbook run contraband under California's child pornography law. Hence school officials are taking all the yearbooks back and correcting the problem by "covering the suspect photo with another page or another photograph." A.P. adds that "detectives were contacting students who haven't turned in yearbooks with a warning they could face a charge of possessing child porn," which under state law is punishable by up to a year in jail and a $2,500 fine.
Under that law, it does not matter whether "sexual penetration" actually was occurring when the photo was taken, since pictures of minors "simulating sexual conduct" also count as child pornography. But it does matter whether a person who has the yearbook notices what seems to be happening in the background of the picture, since the penalties apply only to someone who "knowingly possesses" child pornography. If you are a student at Big Bear High School who somehow did not hear about this scandal until you started reading this blog post, I have just transformed you into a criminal. More realistically, school officials, assuming they explained why they were recalling the yearbook, thereby made every student who had not taken a close look at the suddenly controversial image subject to arrest. Indeed, the school officials themselves are guilty of knowingly possessing child pornography from the moment they collect a returned yearbook until they obliterate the offending photo. But since they did not notice the sexual content until after the yearbook was published and handed out (or so they claim), they probably do not have to worry about distribution charges.
California's child pornography penalties are lenient compared to the draconian federal sentencing scheme, which I discuss in the July issue of Reason. Jesse Walker (who noted the yearbook scandal this morning) traced "The Blurry Boundaries of Child Porn" in a 2009 Reason essay.
[Thanks to Mike Spinney for the tip.]