IMF's Dominique Strauss-Kahn Arrested on NYC [Attempted] Rape Charge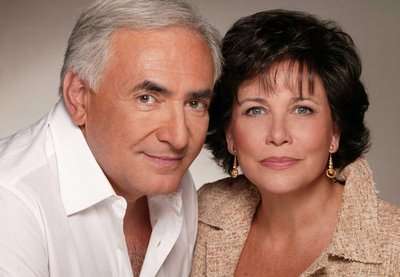 The International Monetary Fund is now fucking Americans too.
IMF Managing Director Dominique Strauss-Kahn, a former French presidential candidate, was taken into custody Saturday in connection with the alleged sexual assault of a Sofitel employee.
The trouble began around noon, when a 32-year-old housekeeper entered Strauss-Kahn's room at the Sofitel on West 44th Street — apparently unaware he was still inside.

The married Strauss-Kahn was in his bathroom, said sources. He emerged naked, grabbed her and "he jumps her," a source said.

Then, Strauss-Kahn allegedly threw the housekeeper on the room's bed and forced her to perform oral sex on him, said the sources.

The maid managed to break free and ran to a hotel worker to tell what happened, said a source. Soon afterward, Strauss-Kahn got dressed and headed off to Kennedy Airport for his flight to Paris.
Charges of criminal sexual act, attempted rape and unlawful imprisonment are expected Sunday, per Reuters.
Srauss-Kahn, who was defeated in the 2007 Socialist Party primary by Ségolène Royal, is considered a likely challenger to President Nicolas Sarkozy in the 2012 election. Sarkozy allegedly backed Strauss-Kahn to take over the scandal-prone IMF in order to keep him out of French domestic politics.
Recent samples of IMF toughlove for the USA: warnings about the debt load; faint praise from a former IMFster; skepticism about the future of Medicare.
Previous hanqué-panqué from the energetic Strauss-Kahn.
Update: Strauss-Kahn will plead not guilty. CNN has the alleged incident occuring around 1pm, no time on the Air France flight (the killer of the franc had a standing show-up-and-fly-first-class arrangement with the national airline), and 2:30am as the time of the formal arrest. Also details about the hotel accommodations, which would make even the meagerest Belgian feel like a powerful man: "[New York Deputy Police Commissioner Paul] Browne said Strauss-Kahn ran after [his accuser] down the hallway of the suite. The suite has its own foyer, hallway, living room, bathroom, conference room and bedroom." And a good detail: Strauss-Kahn left his cell phone in the room.
Update 2: Statement from IMF.
And did it really take six hours for the first public Strauss-Kahn/Polanski comparison?
Christopher Dickey has a bunch of anonymous sources claiming conspiracy, with one French law enforcement pundit saying the whole episode was comme il faut, and a Sarkozy associate saying it would make no sense for the president to use NYPD friends to destroy his rival — not because Sarko wouldn't do it, but because this isn't the time:
Although not a friend of Strauss-Kahn, the French law enforcement source knows his background and private life well, and suggests that while Strauss-Kahn may "have an issue with his penis, he never forces anybody. He is much more romantic than that. So this whole aspect needs to be given a lot of attention." According to this source, Strauss-Kahn had an early lunch with his daughter in New York, had called his wife, and was on a normal schedule to board the Air France flight, which had been booked long in advance. Strauss-Kahn normally carries "several" cell phones, according to this source, so leaving one behind in the room is not quite as incriminating as it may sound.

As for the notion that Sarkozy might be behind some nefarious plot, one of his advisers says privately that's not only untrue as a matter of fact, but would be unlikely as a matter of strategy: "This is far too early for him to take out a main opponent."
In a roundup of reactions, most gracious advocate Ségo turns her eyes of mercy toward the fallen son of Eve: "Dominique Strauss-Kahn has the right, like everybody, to the presumption of innocence. We have to allow justice to do its work in complete serenity. My thoughts go to the man in this difficult time and to his family."