Texas House Deems the TSA's 'Proper Procedures' Criminal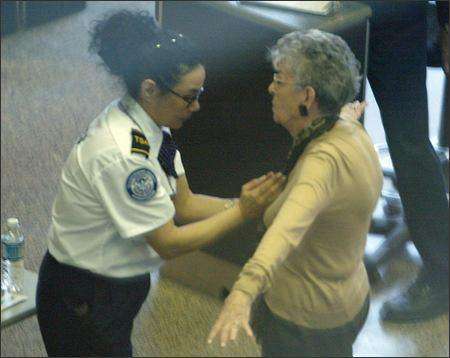 Last night the Texas House of Representatives approved a bill that would make TSA groping of passengers at airports in the state a misdemeanor punishable by a $4,000 fine and up to a year in jail. The bill, which A.P. says was approved "with little opposition," applies to a government employee who, "while acting under color of the person's office or employment without probable cause to believe the other person committed an offense… performs a search for the purpose of granting access to a publicly accessible building or form of transportation" and in the process "touches the anus, sexual organ, buttocks, or breast of another person including through the clothing, or touches the other person in a manner that would be offensive to a reasonable person."
The Tenth Amendment Center is celebrating the vote as an example of "what James Madison implored states to do when the federal government overreaches its constitutional authority—interpose on behalf of its citizens." It notes "several incidents [that have] brought the intrusiveness of TSA screening to the nation's attention in recent weeks":
In early April, a father videotaped a TSA agent in New Orleans running her hands all over his visibly upset 6-year-old. A few weeks later, former Miss USA Susie Castillo made a tearful video after agents touched her genitalia during a pat-down. She said she came away feeling violated. And just this week, a bystander snapped a photo of screeners in Kansas City patting down an infant.
The American Conservative's Daniel McCarthy is less excited about the bill, arguing that "the Texas legislature has just done [Homeland Security Secretary Janet] Napolitano and TSA a tremendous favor":
If the bill becomes law, Texas will be on its way to becoming the first state to deprive air travelers of the option not to go through TSA's pornoscanners. It's not as if the agency recognizes any fundamental right not to be subject to the scanners…The pat-downs began as a PR move, easing resistance to the introduction of the scanners by giving travelers a (conditional) choice. The ensuing outrage over "groping" is probably not what TSA was going for, but that too serves a purpose: it sensationalizes the problem and makes the scanners seem less objectionable by contrast….

Won't it be a wonderful victory for civil liberties when the problem of intimate searches is solved and we can all go back to being X-rayed whenever we fly?
McCarthy mentions an American Conservative piece by our own Brian Doherty, who "noted how quickly we forget the freedoms we once enjoyed when traveling." I made a similar point in a December column about the TSA's new screening procedures.
More on the incidents mentioned by the Tenth Amendment Center here and here. More on TSA pat-downs here.