Don't Scan Me Because I'm Beautiful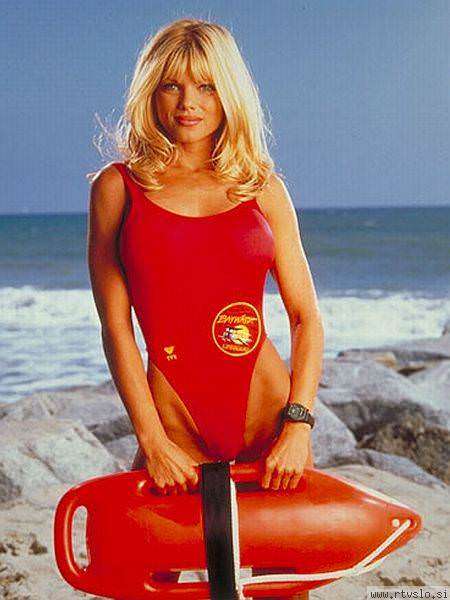 As I noted in my column last week, the Transportation Security Administration's full-body scanners, which eventually are supposed to replace metal detectors as the routine method for screening airline passengers, have not been fully deployed yet and are used only intermittently at the airports where they are installed. Under these circumstances, people are naturally curious about the criteria for deciding which travelers will be subjected to a virtual strip search. The TSA, the better to keep the terrorists guessing, won't say. But former Playboy Playmate and former Baywatch star Donna D'Errico tells AOL News she thinks she knows why she was singled out by a male TSA agent while catching a flight to Pittsburgh at Los Angeles International Airport:
I immediately asked why we were having to go through an extra search, and no one else was being made to do so, indicating the long line of other passengers in front of and behind where we had been in line. In a very sarcastic tone, and still holding me by the elbow, the agent responded, "Because you caught my eye, and they"–pointing to the other passengers–"didn't."…I'm not sure whether they had recognized me or not. If they did, they didn't say anything. However, it is my personal belief that they pulled me aside because they thought I was attractive….

After the search, I noticed that the male TSA agent who had pulled me out of line was smiling and whispering with two other TSA agents and glancing at me. I was outraged.
Consistent with reports from other airports, D'Errico says she was never given the option of a pat-down instead of a scan and was not even told what type of machine the TSA was using.
It could be that D'Errico misconstrued the TSA agents' reaction to a celebrity sighting. But she is not the only one who suspects considerations other than security are affecting the choice of passengers for full-body scans. Over at The Daily Caller, Theo Caldwell wonders, "Is the TSA targeting women?" His evidence is also anecdotal:
The young, male TSA officer walks slowly down the line of airline passengers waiting to clear security. He looks down at tickets, up at faces, then points to those whom he selects for additional screening. In a theoretically possible, albeit unlikely, random sample, when the officer reaches the end of the long queue, we find that every passenger he has chosen for further scrutiny is female.

As I watched this scene unfold at Washington, DC's Reagan-National Airport recently, the moment that struck me most was when the officer looked down at my ticket and seemed about to pull me aside. But when he raised his eyes to see my face, he veered his blue-gloved finger, already in mid-air, toward the woman standing behind me.
Caldwell also reports that "a wildly unscientific survey of my personal acquaintances" reveals that "almost every female traveler I know has at least one story of being scanned and/or patted down—and in some cases, they advise it happens every time they fly." By contrast, he says, "very few of the men I speak to report anything similar." Citing a few other incidents of alleged ogling, Caldwell says "anecdotal evidence is mounting that TSA officers are inappropriately directing their newfound powers to prod and peer at female passengers."
Although the TSA insists that the agents who select passengers for screening do not have any contact with the ones who watch the scans, Caldwell suggests an implicit quid pro quo may develop:
Human nature being what it is, how hard is it to suppose that if you are working a menial, hourly job at the airport, and you have opaque, random power to choose people to be exposed naked to whichever of your chums is manning the peep booth, you would be tempted to send pleasing shapes through the scanner, on the understanding he will do the same when it's your turn to do the ogling?
The TSA, of course, is working hard on a solution to this problem. Once all of us are automatically exposed before the eyes of an anonymous, invisible agent of the state, women will no longer complain that they are being singled out because of their hot bodies.
[Thanks to Ron Steiner for the AOL News link.]