"The Nation may want to ask someone what the 'L' in the 'ACLU' stands for"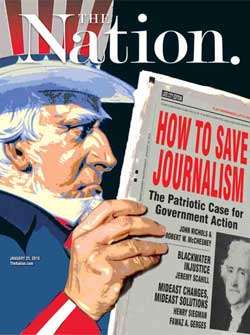 The Nation, that venerable bastion of progressive journalism and commentary, has let known insane person and serial anti-libertarian fantasist Mark Ames (along with partner Yasha Levine) write about–wait for it!–"TSAstroturf: The Washington Lobbyists and Koch-Funded Libertarians Behind the TSA Scandal." It's an editorial decision on par with having the National Review assign Joe Farah to write about Barack Obama's birth certificate.
Since I am mere butt-maggot and Koch foot-lackey, my arguments against the piece might not persuade. But Salon's Glenn Greenwald, who presumably has more rubles in Ames' debased currency basket, describes the connect-the-dots exercise as "such a shoddy, fact-free, and reckless hit piece…that I'm genuinely surprised its editors published it." More Greenwald:
What's really going on here is clear. These are [John] Tyner's actual crimes in the eyes of these Nation writers, at least judging by the accusations they make: (1) he's not a good, loyal Democrat; (2) he did something that politically harmed Barack Obama; and, most and worst of all (3) he failed to submit meekly and quietly to Government orders like any Good, Patriotic "ordinary American" would and should do. That is what has created their "sense" that he's something other than an "ordinary guy"—a "fake."

The article highlights three other individuals who object to the TSA procedures (out of the dozens—at least—who have complained) who also have (cue the ominous overtones) libertarian ties. That's not surprising. In order to do what Tyner did—firmly assert one's rights against government agents and then vocally and publicly complain about rights infringements—one has to take one's liberty seriously. After all, to do something like that is to risk being threatened by the Federal Government and smeared by journalists loyal to those in power. It's hardly surprising that many of the people willing to take that kind of a risky stand have incorporated the concept of individual liberty into their political identity. The Nation may want to ask someone what the "L" in the "ACLU" stands for.
One minor addendum. The only one of the Ames/Levine data points I bothered looking into was this:
The links between [Rep. John] Mica, the libertarians, the Kochs, and the TSA scandal are only now emerging, and we hope more journalists will dig deeper. So far, we have learned:

* Mica's longtime chief of staff, Russell Roberts, lists the Koch-backed Mercatus Center as the top sponsor of Roberts' privately-financed travel expenses, according to Congressional travel disclosure forms. Roberts stated in his form that he participated in discussions related to "transportation policy."
Spooky! Although what Ames/Levine doesn't tell you is that "top" means "most frequent" (as opposed to "most generous"–the National Business Aviation Association, American Association of Airport Executives, and the Congressional Institute all ponied up more travel-related funds to Roberts over the past decade, according to LegiStorm), and that "transporation policy" does not remotely characterize Roberts' own descriptions of his Mercatus Center activities. Which were:
Attended policy forums on regulatory reform, retirement security (Social Security and private pensions) and economic policy

General session on U.S. trade policy, session on health care reform, insuring the uninsured, sub-prime market mortgage crisis

Policy seminar regarding fiscal policy, gasoline market regulation, hurricane response preparedness, Al Qaeda changes, markets and democracy

Chiefs-of-staff retreat; discussions and workshop on economic legislative policy

Chiefs-of-staff retreat on economics and public policy

Chiefs-of-staff retreat
No WONDER Mica is making public comments about a public controversy. Wait, what?