California Roundup: Trojan Victory; Grand Delusion; Hollywood Cannibals, and More
* Looking for a pack of Trojans? University of Southern California edges past University of California Los Angeles for the first time in U.S. Snooze's college rankings. L.A. Times takes all of five paragraphs to blame it on budget cuts to the UC system. The private University of Spoiled Children says its move is part of a decades-long investment in excellence.
* Speaking of gangbangs with the Duke and Clara Bow… It turns out even if you give free land to billionaires, you can't get them to build anything in downtown L.A. The so-called "Grand Avenue Project" is dead again, with current developer "Related Cos." asking the city and county to let it keep holding onto blocks of prime hillside real estate in exchange for a promise to start building some ugly Frank Gehry piece of garbage in, uh, 2013? Because just selling the land is so complicated, but giving subsidies to plutocrats and funneling power through one of the most corrupt collections of politicians, community activists and development hustlers on Earth is so simple. Where's Mike Davis when L.A. needs him?
* Follow me if you want to live: Gov. Arnold Schwarzenegger uses op-ed real estate in the Wall Street Journal to explain what's going on in his fight over the state budget. Most of his material will be familiar—especially if you read my column coming sometime today—but here's an atrocity I hadn't heard about: "In 2003, just before I became governor, the state assembly even passed a law permitting government employees to purchase additional taxpayer-guaranteed, high-yielding retirement annuities at a discount—adding even more retirement debt."
* Ponzi pix: No political content, but an interesting little story of a Laguna Niguel movie producer accused of bilking investors out of $9 million. With the understanding that Mahmoud Karkehabadi is innocent until proven guilty, Orange County seems to be fertile ground for cases like this one, in which a semi-legitimate business run by a character with a checkered past manages to attract many investors—150 in "Mike" Karkehabadi's case—and then, either by prior design or because it's just easier to start hoodwinking new investors than to keep trying to make things fly in the marketplace, turns into a Ponzi scheme. The case of the late Danny Pang (disclosure: I worked as a flack for one of the parties in that case) followed a similar pattern: It started out as a legitimate life settlement investment business, then mutated into a Ponzi scheme as it turned out people weren't dying fast enough to bring in the promised returns.
In Karkehabadi's case, his Alliance Group Entertainment actually has produced a few movies—though few enough that investors should have been suspicious of his claims of double-digit returns. If you make a movie cheap enough and marketable enough, first-payout investors can in fact make double digit returns, and it appears that one of Karkehabadi's movies—2005's Confessions of a Pit Fighter—seems to have had a small theatrical release. But 2008's Farmhouse, for example, did not. ("I was so horrified by the utter incompetence displayed by everyone involved in this film that I literally searched online for half an hour to find contact information for the director, just to tell him the extent of his inadequacy. After failing to find any relevant information on the director to write him some dissatisfied note, I decided to write on this site," reports dissatisfied customer from United States.) The California attorney general's office says Alliance only generated $535,000 in revenue from movies. Shouldn't investors 99 through 150, at least, have looked at the modest slate of movies and wondered where the promised returns were going to come from?
* Picture contest! This is the former Delmar Theater on Pico Blvd. in Los Angeles: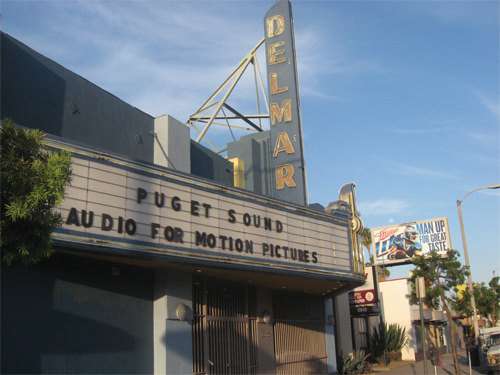 The Delmar was built in the 1940s and has not shown a movie since the early 1980s. It is now home to an audio post-production facility.
Does this picture show:
a. the genius of entrepreneurs adapting to fluid conditions and changing markets
b. self-cannibalization by a dying industry that can no longer attract enough end users (i.e. ticket buyers)
c. I don't take part in contests with only two options
?
I have no idea what the correct answer is, but I'm sure how you respond determines whether you truly believe in free markets or should be purged from libertarianism forever.
Correction: Commenter prolefeed points to a slight increase in tickets sold in the first quarter. Although the number of tickets sold (as opposed to total box office) is down from its 2002 peak, longterm domestic ticket-sales, relative to U.S. population growth, are flat or up very slightly — not declining.