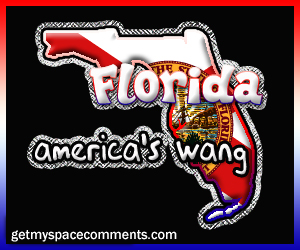 Every state passes dumb laws all the time. And then there's Florida:
A python prohibition, bong ban, horse thievery crackdown and no-limit poker games are included in some of about 140 new laws going on the books Thursday in Florida along with the state's new $70.4 billion budget. […]

New criminal laws will require background checks of youth sports coaches, mandate tracking of over-the-counter sales of ephedrine, which can be used to make methamphetamine, and lift statutes of limitation in criminal and civil sex abuse cases involving minors.

Other new laws will set safety standards for tomatoes in the wake of a false salmonella scare and make it harder to win slip-and-fall lawsuits against businesses.
Some great legislator quotes:
"We don't need any more snakes, especially ones that can grow over 20 feet long, weigh hundreds of pounds and eat almost anything they encounter," said the law's sponsor, Sen. Eleanor Sobel, D-Hollywood. […]

"In the Old West, they used to hang horse thieves," said state Rep. Luis Garcia, a Miami Democrat who sponsored the law. "We no longer practice vigilante justice, nor am I advocating as such, but I will not sit back any longer and let this horrendous crime of illegal horse slaughter continue."
Link via the Twitter feed of former Reason intern and eternal Floridian Mike Riggs.