Snapshots from the Atlantic Yards "Groundtaking" Ceremony
A small and feisty group of protesters had already established themselves in front of Freddy's Bar in Prospect Heights, Brooklyn when I arrived shortly after noon to witness today's big groundbreaking—or "groundtaking" as the protesters put it—ceremony for the Atlantic Yards project, a 22-acre eminent domain boondoggle that will bulldoze homes and businesses in order to make way for a basketball stadium and some office and apartment towers. Despite the fact that Atlantic Yards is a classic case of eminent domain abuse, New York's courts have shamefully abdicated their judicial responsibility and allowed this blatant land grab to proceed. So today was something of a last hurrah for the opposition, many of whom have been fighting this outrage for the past seven years. I'd estimate that a few hundred protesters had joined in by the time the crowd made its way from Freddy's to the heavily-secured tent where Ratner and his buddies in big government gathered to celebrate their chance to demolish a neighborhood and begin "building the community from the ground-up."
Here's the scene in front of Freddy's—one of the last remaining properties scheduled for demolition—where protesters held a mock funeral to "bury the soul of Brooklyn."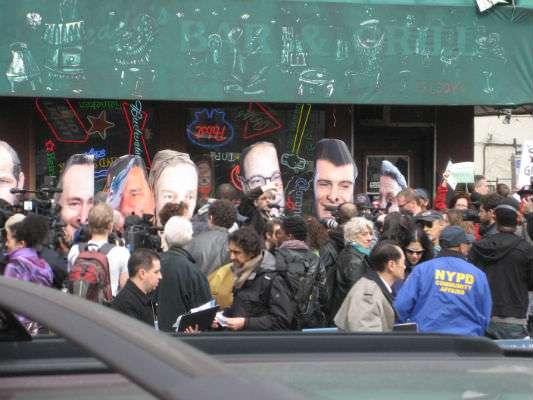 From left to right, the masked faces above portray Atlantic Yards supporters Eliot Spitzer, Sen. Chuck Schumer, Gov. David Paterson, Mayor Mike Bloomberg, Atlantic Yards developer Bruce Ratner, Russian billionaire and Ratner-partner Mikhail Prokhorov, and Attorney General Andrew Cuomo. I'm surprised rapper Jay-Z wasn't included in the cast of villains as well, since he's a part owner of the Nets (along with Ratner and Prokhorov) who gladly lent his famous name to the project. No sight of ACORN's Bertha Lewis either, even though she provided Ratner some crucial "political cover" in exchange for a $1.5 million bailout.
A common sentiment among today's protesters.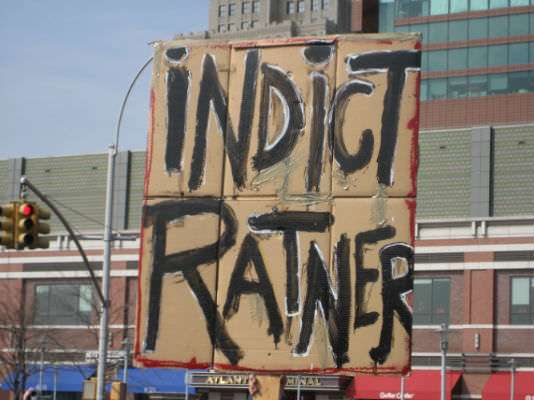 Here's a closer look at the leering face of disgraced former Gov. Eliot Spitzer, one of the state's many elected officials involved in the Atlantic Yards land theft (among other crimes).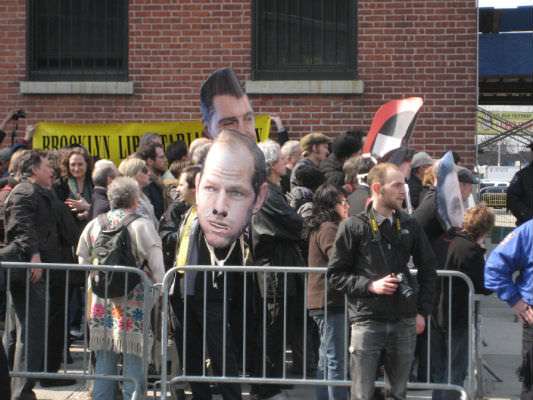 And what's that yellow banner behind Spitzer?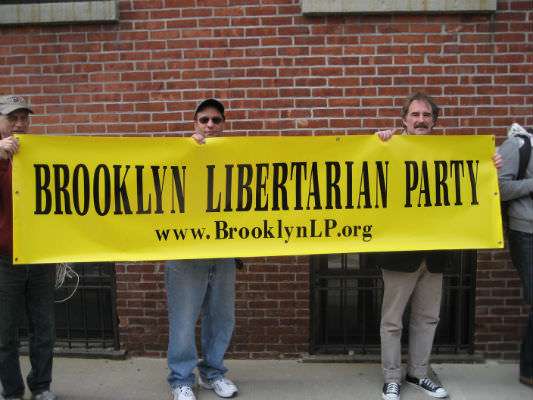 The Brooklyn Libertarian Party! Chair and 30-year libertarian activist Gary Popkin (on the far left) told me he came out to protest because "it's wrong to steal." Amen, brother.
Now meet Matthew Sterling of Bensonhurst. He claimed that nobody paid him to be there, which made his support for the abominable Nets even stranger. Still, you've got to give him some credit for entering the mosh pit of Atlantic Yards opponents. And who knows, the way the Nets are playing, maybe they'll give Sterling a shot. He's already suited up.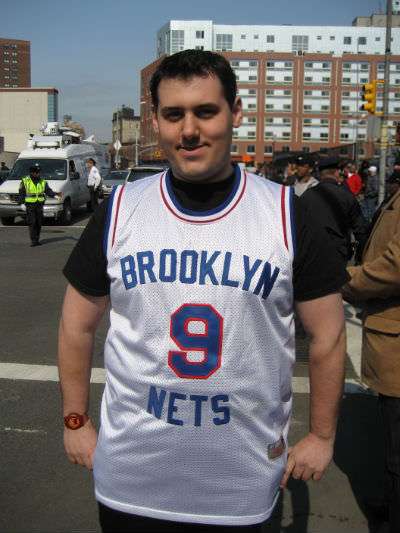 Here's local celebrity protester "Reverend Billy." He's a cult figure among the anti-corporate set for holding faux religious revivals outside of Starbucks and other hated chain outlets with his "Church of Life After Shopping" choir. He was telling the press that Atlantic Yards meant "the community has been privatized." I didn't get a chance to ask him if meant to say nationalized or corporatized or something more accurate. After all, it's the government seizing people's homes and businesses in this case. Nonetheless, check out that mile-high pompadour!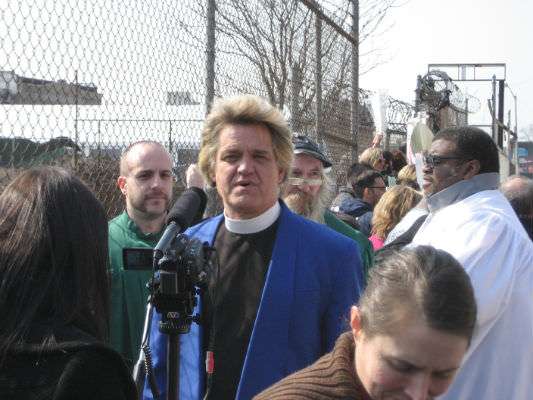 Finally, a shot of the heroic eminent domain resister and tireless activist Daniel Goldstein, who has fought the good fight for seven years and is now living like a prisoner in his own home. He's the reason most people even heard of this outrageous government abuse in the first place. Like Susette Kelo did on a national scale, Goldstein's greatest accomplishment may be to spark a lasting movement to reform New York's atrocious eminent domain abuse. Here he is marshalling a massive street crossing by the protestors in order to outfox the police.