Sure, He Lies, but He's 'an Outstanding Testifier'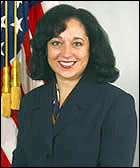 The Drug War Chronicle cites more reasons to worry about President Obama's appointment of Michele Leonhart to head the DEA (a role she has been filling on an temporary basis since November 2007). Leonhart not only oversaw medical marijuana raids as acting administrator; she "stood beside US Attorney Michael Yamaguchi when he announced in a January 1998 press conference that the government would take action against medical marijuana clubs" and "as SAC [special agent in charge] in Los Angeles up until 2004, she was the ranking DEA agent responsible for the numerous Bush administration raids against patients and providers." She was also enthusiastic about the federal government's crackdown on raves, telling The New York Times in 2001 that "some of the dances in the desert are no longer just dances, they're like violent crack houses set to music." But the most disturbing detail mentioned by the Chronicle is Leonhart's steadfast defense of Andrew Chambers, "who earned an astounding $2.2 million for his work as a DEA informant between 1984 and 2000" but "was caught perjuring himself repeatedly." Leonhart's reaction to Chambers' perjury is troubling, to say the least:
Michele Leonhart defended Chambers. When asked if, given his credibility problems, the agency should quit using him, she said, "That would be a sad day for DEA, and a sad day for anybody in the law enforcement world… He's one in a million. In my career, I'll probably never come across another Andrew."

Another Leonhart statement on Chambers is even more shocking, as much for what it says about Leonhart as for what Leonhart says about Chambers. "The only criticism (of Chambers) I've ever heard is what defense attorneys will characterize as perjury or a lie on the stand," she said, adding that once prosecutors check him out, they will agree with his DEA admirers that he is "an outstanding testifier."
I discussed Leonhart's appointment on Tuesday.