Your Stimulus Dollars at Work: Stimulatin' Seldom-Used Airports Named for Influential Congressmen!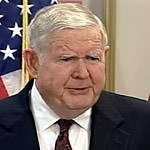 From Investors Business Daily:
Two hours east of Pittsburgh, [the John Murtha—Johnstown Cambria County Airport]  averages just 20 passengers a day. But its namesake, Rep. John Murtha, D-Pa., a powerful and controversial member of the House Appropriations Committee, has steered some $150 million to the airport over the years. That includes $30 million for never-used capability to handle huge military aircraft and store gear for rapid deployment.

The airport also received $800,000 in stimulus funds.

It's far from the only one. An IBD analysis found that $154 million in stimulus funds is going to low-traffic rural airports that already get subsidies and tax breaks—and whose net economic benefit is a matter of considerable debate.
Bonus quote from Bob Poole, one of the nation's top transportation analysts and the founder of Reason Foundation, the nonprofit that publishes this site: "This is more of what Congress loves to do: Take money that for the most part is paid for by air travelers at busy airports and ship it off to tiny areas with hardly any airline service."
Bob Poole on his hopes and fears for the Obama admin's transportation policy: