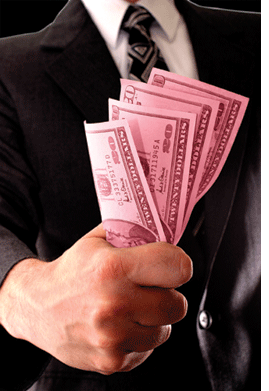 After the unanimous decision by the Iowa Supreme Court to overturn the state's ban on gay marriage on Friday, Rep. Steve King (R-Iowa) warned that the Tall Corn State could become a "gay marriage Mecca." In these sour economic times, however, that might not be a bad idea. Apparently, prosperity and wealth is sooo gay:
Millions of dollars in tourism and tax revenue could flow into Iowa as a result of the Iowa Supreme Court's historic decision to legalize same-sex marriage, according to a range of scholars and business people….

Unlike Connecticut and Massachusetts–the other states that permit gay marriage–Iowa has no nearby competitors for same-sex couples who want to marry.

Businesses could see $160 million in new wedding and tourism spending over the next three years, according to a study from researchers at the University of California at Los Angeles.
The Des Moines Register article goes on to calculate how much other states could rake in if they were just a little more gay-friendly:
Vermont stands to gain $30.6 million and 700 new jobs over three years if it were to legalize gay marriage, said UCLA law professor Brad Sears, the institute's executive director….

Maine, where lawmakers are considering a bill that would allow gay marriage, would receive a $60 million boost and 1,000 new jobs in the same three-year period, he said. California's economy would grow by $683.3 million, which would create and sustain nearly 2,200 jobs.
Al Capone's old stomping ground has also recognized the benefits of attracting the Velvet Mafia, whose members tend to be well-traveled, educated, and real DINKs (Double Income No Kids):
Travel agents and industry organizations across the country say the gay and lesbian community has proven far less willing than straight travelers to sacrifice vacations. Hotel chains, destination cities and airlines hit hard by the flailing economy are now digging in and chasing what's known as "pink money."

Gays and lesbians also tend to spend more when they travel. A 2006 study by the U.S. Travel Association found that gay men spend an average of $800 per trip, compared with about $540 for straight men.
Observers of this fabulous economic boost note that the long-term advantages are still unclear. But if you're going to rally the U.S. out of a recession, might as well do it in style. 
Senior Editor Jacob Sullum blogged the Iowa ruling here. More Reason Gay/Lesbian coverage here.