Because Demanding $185 Million For a Monorail Would Just Not Be Credible…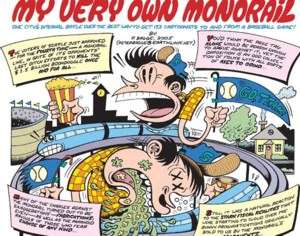 Let's say you're the mayor of a mid-sized city in the American heartland that's been facing a crap economy for roughly the past 40 years, complete with loss of population, jobs, dignity, you name it. What do you do to turn things around? If you're the top dog in the late neo-Nazi Reds owner Marge Schott's hometown, you bet it all on a transportation technology that went out of style about 60 or 70 years ago: 
Cincinnati Mayor Mark Mallory promised Wednesday night he'll fight for the controversial $185 million streetcar project, insisting naysayers must not prevail….

"The facts are clear," he said. "Streetcars must be a part of Cincinnati's future and we will fight to make it happen."

The proposal calls for streetcars to run from Downtown through Over-the-Rhine and to Uptown, the area around the University of Cincinnati and hospitals. City officials still are working on finding funding sources, including submitting a request for more than $60 million from President Barack Obama's economic stimulus package.
God bless the naysayers? No, god damn the naysayers! Why not just buy everybody sky flivvers or jetpacks? It's no more useless and probably less expensive, and would be neat in an insane sort of way. More on Cincy's bold march (or is that slow, constantly interrupted ride?) back to the future here.
This is the sort of local story that is playing out all over the country. Idiot officials fixated on proven money-losing and underfunded grand schemes that somehow manage to redefine make-work projects down. As the U.S. Conference of Mayors Moby-Dick-length listing of "shovel-ready" projects documented in more than 800 glorious pages, there is nothing too stupid to spend taxpayer dough on.
Cincinnati's general problems may well be intractable but if they are, the same holds true for many other U.S. cities of similar size and demographics. Wouldn't it be nice to hear some mayor somewhere just say, "Fuck it, we're cutting taxes, making it easier to do business, and letting parents and kids choose where they go to school." It's an urban renewal plan that has possibly never been tried but it's just crazy enough to work.
Read Peter Bagge's great 2005 piece: "My Very Own Monorail: One city's internal battle over the best way to get its cartoonists to and from a baseball game!"