Cocaine: It's Right Under Your Nose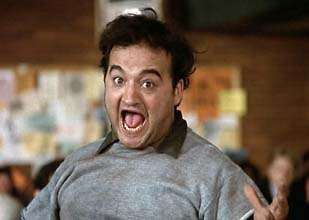 In an article headlined "Cocaine: Hiding in Plain Sight," The New York Times detects signs of a resurgence in cocaine use, although it concedes there's not much in the way of statistical evidence to back up its anecdotes. In the National Survey on Drug Use and Health, reported cocaine use has been flat or declining in recent years. Likewise the Monitoring the Future Study, which surveys middle and high school students. Here's the best the Times can do:
According to an annual survey by the federal Substance Abuse and Mental Health Services Administration, lifetime cocaine use remained stable between 2002 and 2005 among 18-to-25-year-olds. (Data before 2002 are noncomparable.) But the study—which estimates national rates based on a poll of 67,500 people—recorded a 20 percent increase in past-month use among that age group in 2005 from 2004, the last period for which data were available.
That sounds impressive, until you realize that the share of 18-to-25-year-olds who reported past-month cocaine use rose from 2.1 percent in 2004 all the way to 2.6 percent in 2005, while "there was no change in usage rates among people over 26." Having shown that cocaine use recently became slightly less rare among 18-to-25-year-olds, the Times quotes former ONDCP official Herb Kleber regarding the likely length of the emerging epidemic:
"Drug use tends to be cyclic," Dr. Kleber said. "If you have a really dangerous drug, the generational remembering will come back quickly. If it takes time for the casualties to add up, the epidemic will last longer." Referring to the drug's last heyday, he added, "As some of my colleagues said, John Belushi had to die before people believed that these drugs were really dangerous."
The addiction psychologist (and reason contributor) Stanton Peele has noted that attributing Belushi's death to cocaine, or even to a combination of cocaine and heroin, is medically problematic:
John Belushi did not die from cocaine and heroin use, and our saying he did is a feeble way of trying to suppress the horrible conclusions his death suggests. This man did everything he could to guarantee he would not survive. It is at least as correct to say that he died of cigarettes, overeating, and alcohol as to blame his death on one or another—or more than one—illicit substance.
Is Kleber suggesting that people thought nothing of injecting speedballs while drinking until Belushi died? Or does he mean that they erroneously concluded from Belushi's multifactorial death that a weekend snort of coke was apt to kill them? Since Belushi died in 1982 and cocaine use did not peak until 1985 or so, Kleber's theory does not fit the data very well. Also note that he simultaneously implies cocaine is not "really dangerous" (which is why it took so long for people to recognize its hazards) and insists it is.
[Thanks to Hans Allhoff for the link.]