You Can't Have Your Pot and Smoke It Too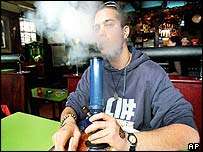 In the U.S., smoking bans that apply to just about every other workplace commonly exempt tobacconists, on the theory that the consumption of tobacco products is the raison de'tre of such businesses, many of which provide lounge areas where customers can enjoy their purchases. In the Netherlands, by contrast, a smoking ban that takes effect in July 2008 will apply to cannabis-selling coffee shops, where on-site consumption is an even bigger part of the business. Prime Minister Jan Peter Balkenende explains:
Coffee shops will be treated in the same manner as other catering businesses. They will be smoke-free. It would have been wrong to move towards a smoke-free catering industry and then make an exception for coffee shops. People would not have understood that.
Will people who come to Amsterdam precisely to smoke really good pot in bohemian cafes understand it when they're told this tourist attraction is now illegal? Fortunately, there's a loophole: Coffee shop customers will be permitted to smoke in partitioned areas that employees do not have to enter. Depending on the ventilation requirements, such segregation could require a substantial investment. Presumably customers will still be allowed to eat cannabis-containing baked goods wherever they like. But what about customers who use vaporizers, which heat marijuana to release cannabinoids without burning it and therefore do not generate the combustion products associated with smoking?