Noted without comment: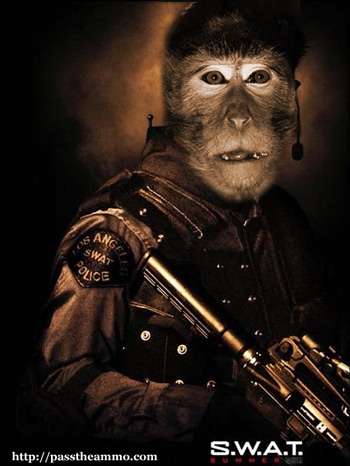 An American police force is planning to sign up a monkey to reinforce its elite special operations team.

Members of the special weapons and tactics (SWAT) unit in Mesa, Arizona, believe that a capuchin monkey, dressed in a bullet-proof jacket and equipped with a two-way radio and video camera, could prove an invaluable reconnaissance tool.

[…]

He said the monkeys, which weigh only 3-8lb and whose puzzle-solving skills are enhanced by tiny, dexterous human-like hands, could unlock doors, search buildings and find injured people upon command.

[…]

Mr Truelove is prepared for potential opposition from animal rights groups and insists that the capuchin would not be sent into action if "the threat level is too high". Gloves for its hands and feet would protect it from broken glass.

Just as he has never known a suspect to harm a robot, he predicted that criminals would be "too stunned" by the capuchin's appearance to hurt it.
Image courtesy of Pass the Ammo .