Artifact: Drug Freak Show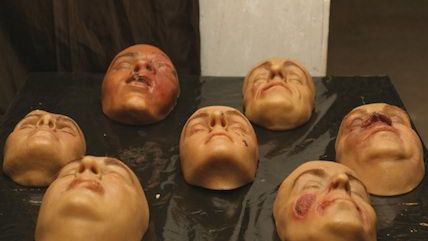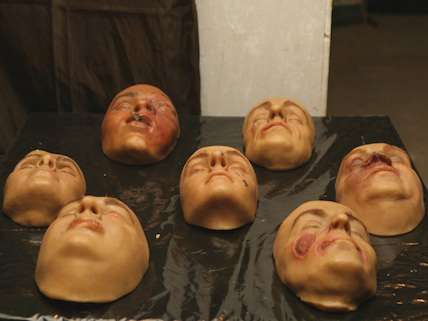 These heads illustrating "a variety of addicts' diseases" are part of a government-supported wax exhibition that opened in Moscow last fall; its theme is "the graphic dangers of drugs." Other images on display include a gangrenous foot, a junkie giving birth to a deformed baby, and a girl who moves from fresh-faced enthusiasm to sunken-cheeked enthrallment in a series of tableaux.
The U.S. government also has tried its hand at this sort of thing, in anti-drug ads and in the Drug Enforcement Administration's traveling show (featuring genuine World Trade Center wreckage!) playing up the alleged link between drug use and terrorism. But the Moscow exhibition has a retro feel more reminiscent of drugsploitation movies like Reefer Madness or leering 25-cent paperbacks with titles like Marijuana Girl and The Pusher.
The exhibition's combination of didacticism with morbid titillation also harks back to old horror movies and freak shows. "Created to promote a healthy way of life by showing what drugs can do to a human being, it creates a strong impression on visitors," MosNews.com reports. "The organizers even have liquid ammonia on hand to resuscitate anyone who faints at the sight of the disfigured faces of drug addicts or the embryo of an addict's baby in formalin." And if anyone dies of fright, the organizers will pay for the casket!