The Volokh Conspiracy
Mostly law professors | Sometimes contrarian | Often libertarian | Always independent
Here's the indictment: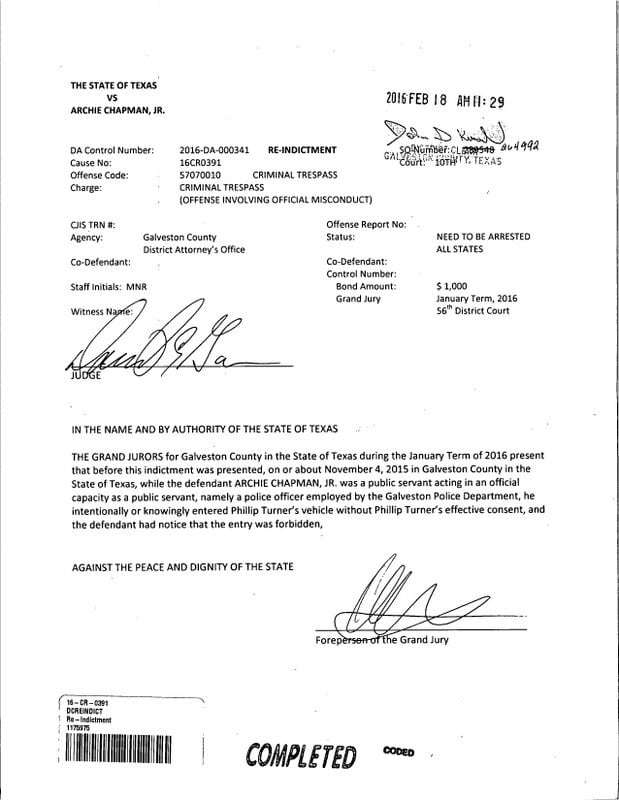 The Houston Chronicle (Mihir Zaveri) reports:
A Galveston city police sergeant has been indicted by a grand jury on a misdemeanor criminal trespass charge arising from the search of a self-described video activist's vehicle, according to prosecutors. . . .

[Sgt. Archie] Chapman arrested [Phillip] Turner [who was observed filming near the police department] . . . on charges of failure to provide identification to officers, but the chargers were subsequently dropped, prosecutors said.

Chapman's attorney, Greg Cagle, said his client was looking in Turner's car for the man's driver's license to book him into jail after detaining him. Cagle said Chapman was worried about the safety of police officers, sheriff's deputies and jail staff who worked in the nearby building.
Around the same time, Turner lost a federal civil case (Turner v. Driver) brought by him based on a separate incident, in which he was detained by the police for photographing near a police station. The court ruled that, whether or not there is a right to photograph near police stations and to refuse to identify oneself when questioned by the police for that, the right wasn't sufficiently "clearly established" to authorize damages liability:
Plaintiff alleged that he was arrested in violation of his First Amendment right to videotape a police station and the activity at the station, and his right to refuse to identify himself when officers from the station asked him to do so. According to plaintiff, he was conducting his videotape activity while standing on a public sidewalk across the street from the police station. [Officers] Turner and Grinalds came from the station and asked plaintiff to identify himself. When plaintiff refused to provide identification, he was handcuffed and placed in the back of a police car. [Officers] Turner and Grinalds requested that a supervisor come to the scene, and [Lieutenant] Driver responded. Driver also requested identification from plaintiff. Plaintiff again refused to provide identification. Driver lectured plaintiff but eventually allowed him to leave. . . .

The Supreme Court and Fifth Circuit have not addressed whether or not there is a First Amendment right to videotape police activities. Circuit courts that have addressed the issue in different contexts are split as to whether or not there is a clearly established First Amendment right to record the public activities of police. Compare Gericke v. Begin, 753 F.3d 1, 9 (1st Cir. 2014) (holding that there can be a First Amendment right to film a police officer making a traffic stop), and Smith v. City of Cumming, 212 F.3d 1332, 1333 (11th Cir. 2000) (holding that there is a First Amendment right to videotape police activity, subject to reasonable time, manner and place restrictions), with Kelly v. Borough of Carlisle, 622 F.3d 248, 262-63 (3d Cir. 2010) (holding that a First Amendment right to videotape police officers during a traffic stop was not clearly established), and Szymecki v. Houck, 353 Fed. App'x 852 (4th Cir. 2010) (agreeing with a lower court that there was qualified immunity because the asserted right to record police activities on public property was not clearly established in the Fourth Circuit).

An official is entitled to qualified immunity unless preexisting law makes apparent the unlawfulness of the official's conduct. There is nothing in the case law to suggest that police officers are constitutionally prohibited from making reasonable inquiry, and taking reasonable steps, to identify an unknown person who is seen videotaping their place of work and the place where they come and go in their private vehicles. In this day and age, the risk to public officials, particularly police officers, is such that a police officer could reasonably believe that he had the right to require plaintiff to identify himself after plaintiff was observed videotaping the police station and to take appropriate action in response to plaintiff's refusal to identify himself.

When the unique facts of this case, as alleged by plaintiff, are considered, all movants enjoy qualified immunity for the actions they took in response to plaintiff's conduct….