Goat Yoga Gets Baaaaaa-nned
The D.C. Department of Health wants to protect farm animals from the ancient Hindu practice.
HD Download
Good, old-fashioned goats and the ancient Hindu practice of yoga are two things that don't seem to go together.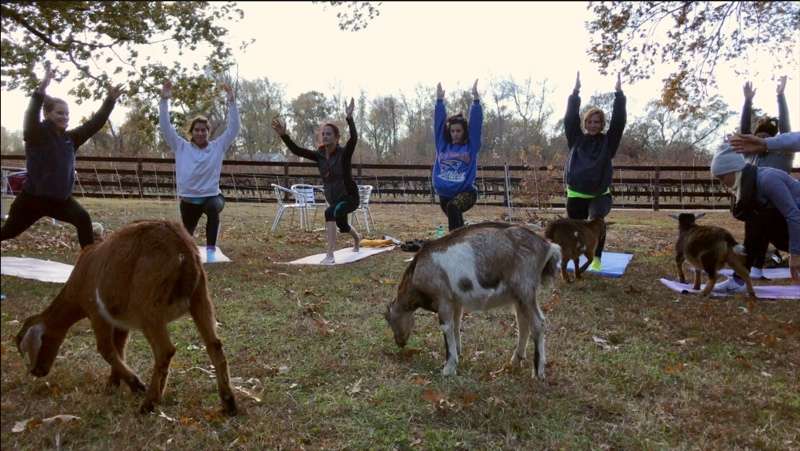 And yet, last year, a small farm in Corvallis, Oregon started offering classes that combined the two. Goat yoga is exactly what it sounds like: the practice of yoga in the presence of goats.
Soon these classes had a 900-person waiting list for an hour of ritual calisthenics with a bunch of horned ruminants. Within a year, the unlikely trend had spread across the nation.
"We would go through the different asanas and the different flows," explains Amanda Bowen, a goat-yoga instructor with GoatToBeZen in Maryland, "and the goats will come around and interact with people as we're doing the class."
And then the unstoppable force of goat yoga locked horns with the immovable object of the Washington, D.C. Department of Health. When Congressional Cemetery Director Paul Williams applied for a livestock permit in the District of Columbia, he was greeted by four lawyers "ready to throw every curve ball they possibly could at me to prevent goat yoga."
But goat springs eternal. Since Manchester, CT. reversed its ban late last summer, the only place in the country where risk-averse municipal bureaucracies are undermining this fitness-to-farm trend threat is the nation's capital.
Produced, shot, narrated, and edited by Todd Krainin.
Music:
J.S. Bach, BWV 536 Prelude and Fugue in A Major, performed by James Kibbie http://www.blockmrecords.org/bach/
J.S. Bach, BWV 546 Prelude and Fugue in C Minor, performed by James Kibbie
Front Porch Sitter, by Audionautix
Subscribe to our YouTube channel.