Ian Vásquez: COVID Accelerated the Global Decline in Human Freedom
Overall human freedom peaked in 2007, according to the Cato Institute, and governments' COVID response merely exacerbated the trend toward a radically less-free planet.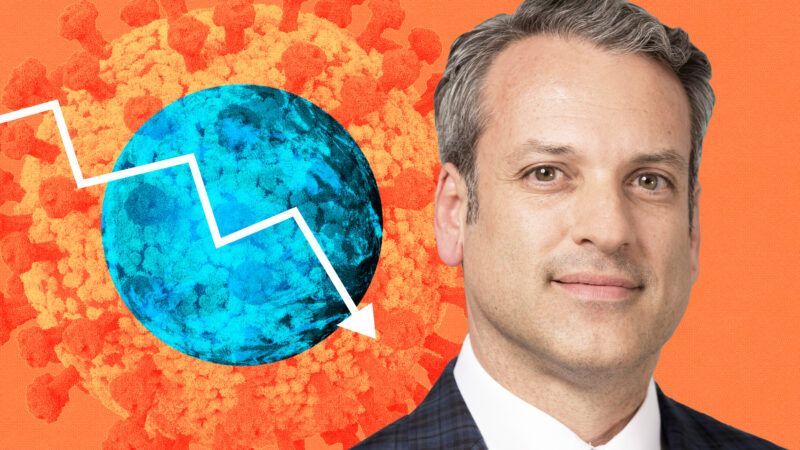 The good news is that President Joe Biden has officially signed legislation declaring the end of "the national emergency related to the COVID-19 pandemic." The bad news? Governmental responses to the pandemic were "a catastrophe for human freedom" all over the globe, says the Cato Institute's Ian Vásquez.
He's the lead author of Cato's annual Human Freedom Index, which tracks personal, civil, and economic freedom in 165 countries. The latest version uses data through 2020, and Vásquez says that year saw the single-greatest drop in freedom in the past two decades.
In this podcast version of our weekly The Reason Livestream, my colleague Zach Weissmueller and I get into the specifics with Vásquez about how Covid ran roughshod over freedom everywhere from Armenia to Zimbabwe—including the United States, which dropped down seven slots and out of the top 20 freest countries. Worse still, Vásquez says overall human freedom peaked in 2007, so COVID has merely exacerbated the trend toward a radically less-free planet.
Today's sponsors:
The Reason Roundtable live in New York! For the first time, Katherine Mangu-Ward, Peter Suderman, Matt Welch, and Nick Gillespie will tape live and unfiltered in New York. Come out on Tuesday, April 25 to the historic Village Underground (130 West 3rd Street)! Tickets are $25, include entry to the after-party, and are going fast. For more details and to buy tickets, go here!
The Reason Speakeasy. The Reason Speakeasy is a live, monthly, unscripted conversation with outspoken defenders of free thinking and heterodoxy. It doubles as a taping of The Reason Interview podcast. The next one is in New York City on Monday, May 1, when Nick Gillespie interviews Ben Smith, the first editor in chief of Buzzfeed News, former New York Times media columnist, and founder of Semafor. In his new book Traffic: Genius, Rivalry, and Delusion in the Billion-Dollar Race To Go Viral, Smith charts the rise and fall of Gawker, HuffPost, Breitbart, and his old employer Buzzfeed. Doors open at 6 p.m. Eastern. Tickets are $10 and include beer, wine, soft drinks, and appetizers. It's always a great evening of camaraderie and conversation, so come on out. For more details and to buy tickets, go here.
The Reason Livestream. Every Thursday at 1 p.m. Eastern, Nick Gillespie and Zach Weissmueller host live, unscripted conversations at Reason's YouTube channel with leading policy makers, activists, writers, and thinkers about everything from attempted internet censorship to COVID policy failures to the future of the Libertarian Party to cryptocurrency crackdowns to the failure of K-12 education. Find the online archive here.