Ron DeSantis' Misguided War on Woke
Plus: a lightning-round look at Super Bowl myths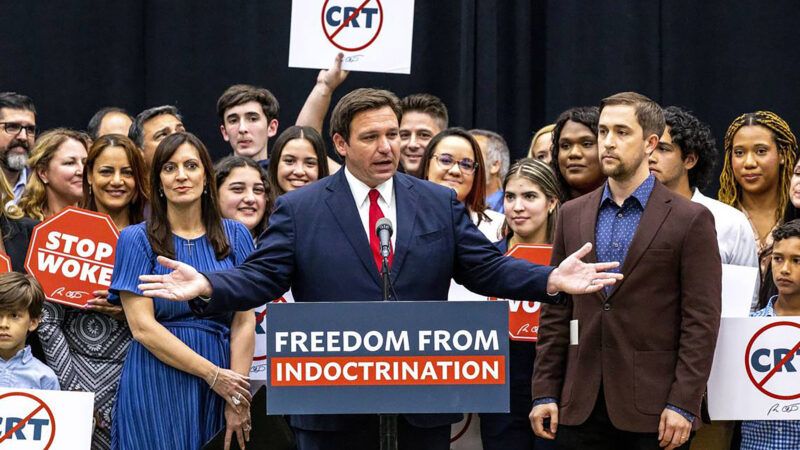 (Daniel A. Varela/TNS/Newscom)
In this week's The Reason Roundtable, editors Matt Welch, Katherine Mangu-Ward, Nick Gillespie, and special guest Elizabeth Nolan Brown examine Florida Gov. Ron DeSantis' latest proposals intended to combat various cultural grievances and a listener question concerning private power grids.
0:22: Gov. Ron DeSantis and the power of the state
27:02: President Joe Biden's upcoming State of the Union address
36:09: Weekly Listener Question
47:21: Super Bowl myths
52:44: This week's cultural recommendations
Mentioned in this podcast:
"Ron DeSantis Wants $12 Million To Transport Migrants 'From Any Point' in the U.S.," by Fiona Harrigan
"Did Ron DeSantis Really Just Change the AP African American Studies Curriculum?" by Bonnie Kristian
"For Florida Gov. Ron DeSantis, Political Stunts Are More Important Than Substance," by Peter Suderman
"The Latest DeSantis Higher Ed Reform Proposals," by Keith E. Whittington
"University of Florida Suppresses Speech Ron DeSantis Might Not Like, Report Alleges," by Joe Lancaster
"The Problem With DeSantis' 'Stop WOKE' Act," by Zach Weissmueller and Danielle Thompson
"If Ron DeSantis Is So Bad, Why Is Living in Florida So Good?" by Nick Gillespie and Zach Weissmueller
"Biden's Spending Spree Is Unprecedented," by Jonathan Bydlak
"New York Times Blames 'Deregulation' for Regulated Electric Costs," by Josiah Neeley
"The 2021 Texas Power Crisis: What Happened and What Can Be Done to Avoid Another One?" by Michael Giberson
"Super Bowl Sex Trafficking Myth Gives Good Cover for Federal Security Theater," by Elizabeth Nolan Brown
Send your questions to roundtable@reason.com. Be sure to include your social media handle and the correct pronunciation of your name.
Today's sponsor:
Self-reliance… planning ahead… using our heads… These are just a few of the things we believe in here at The Reason Roundtable. That's why we'd like to tell you about AirMedCare Network membership and how it can take a financial worry off your plate. AirMedCare Network is America's largest emergency air ambulance membership network. AirMedCare Network providers operate state-of-the-art helicopters. And their specially trained medical personnel provide the highest level of pre-hospital medical care in emergency situations. Even with insurance, these flights can be VERY expensive. But when you're an AirMedCare Network member, you won't see a bill for your flight only when flown by one of their providers. This is a financial safety net you should have. Membership is amazingly affordable: only $99 per year and just $79 for seniors. And your entire household is covered. Right now, our listeners get up to an $80 Mastercard or Amazon electronic gift card when they join AMCN and use offer code REASON. Simply visit AirMedCareNetwork.com/reason today.
Audio production by Ian Keyser
Assistant production by Hunt Beaty
Music: "Angeline," by The Brothers Steve
---