Maj Toure: Why Black Guns—and Libertarianism—Matter
Gun control is 'the most racist practice in America,' says the Philadelphia native and community leader.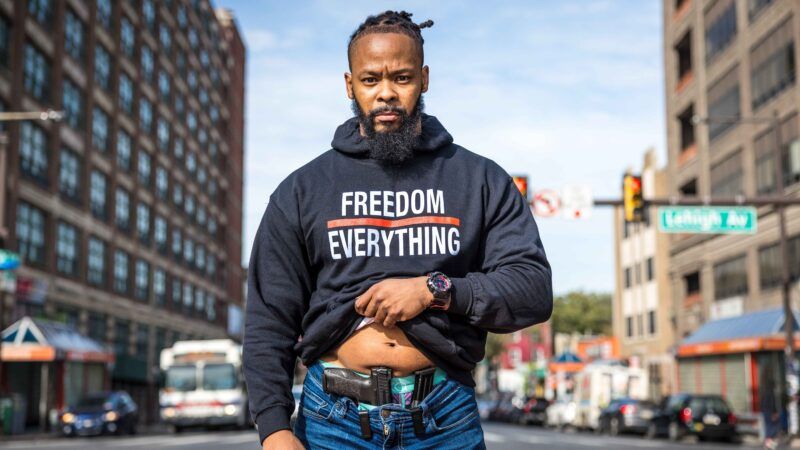 Today's episode is guest-hosted by my Reason TV colleague Zach Weissmueller. Zach went to Philadelphia to talk with Maj Toure, who runs the Solutionary Center in North Philadelphia. It's a place for locals to learn firearms skills and safety, how to avoid and de-escalate conflicts, and to pick up other life skills ranging from first aid to yoga to phlebotomy. "We hear a lot of people say, 'If these communities would just pull themselves up by the bootstraps,'" says Maj. "Okay, this is the bootstraps."
The Philly native is a hardcore libertarian, founder of the gun rights group Black Guns Matter, and a supporter of the Mises Caucus that recently took control of the Libertarian Party. He tells Reason that libertarians can improve their outreach in urban America by getting behind leaders and organizers who have an intuitive understanding of the needs and concerns of the residents who live there.
Here is the Reason interview with Maj Toure.
Today's sponsors:
Better Help online therapy. Are you having trouble solving problems in your life? Start talking to a licensed therapist who won't judge you but will listen and help you with your problems, whatever they are. Better Help is cheaper than most traditional forms of therapy and lets you talk with your therapist via chat, phone, or video—all within 48 hours of signing up and without the hassles of in-person appointments. Go here and get 10 percent off your first month as a listener to The Reason Interview With Nick Gillespie.
The Reason Speakeasy. The Reason Speakeasy is a live, monthly, unscripted conversation with outspoken defenders of free thinking and heterodoxy in an age of cancel culture and thought police. The next one takes place in New York City on Thursday, December 1, with Nick Gillespie interviewing Kaytlin Bailey, the founder of Old Pros, a sex worker rights group, host of The Oldest Profession Podcast, and the writer and performer of Whore's Eye View, a one-woman show about 10,000 years of prostitution, female emancipation, and sexual freedom. Doors open at 6:00 p.m. Tickets are $10 and include beer, wine, soft drinks, and appetizers. For more details and to buy tickets, go here now.