The Great Deplatforming War Rages On: Podcast
Should libertarians cheer, boo, or do a shrug-emoji when a private social media platform bans the likes of Alex Jones?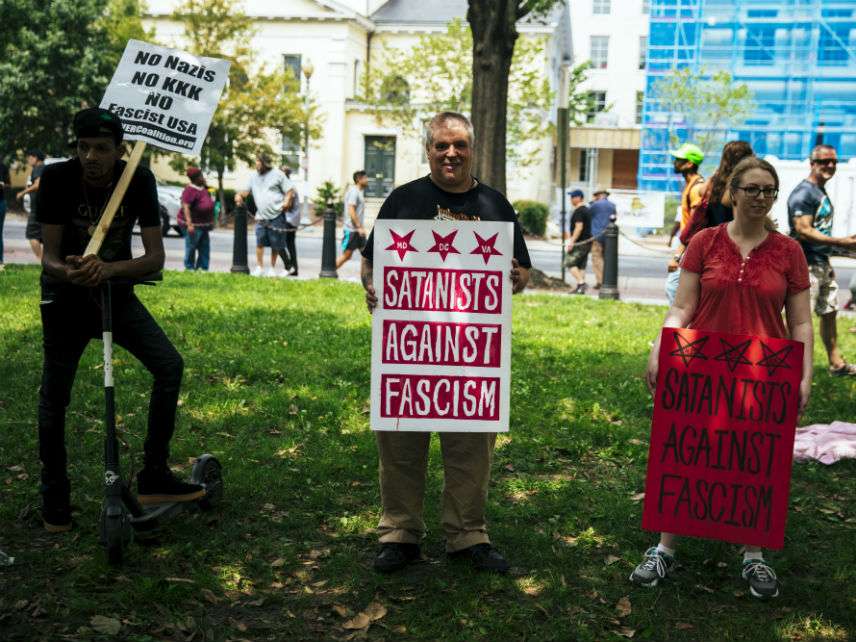 "It's implausible," David Harsanyi recently wrote in this space, "to imagine a future in which liberal activists don't demand that Republican groups be de-platformed." Conservative activists, too, will happily whip out the ban-hammer, in the name either of fair play or righteous indignation/responding to market signals. So where does that leave libertarians?
Arguing amongst themselves, as usual. At least that was the case in today's editor-roundtable version of the Reason Podcast, featuring Katherine Mangu-Ward, Peter Suderman, Nick Gillespie, and Matt Welch. Starting with the dud of a Unite the Right II rally, then proceeding to Antifa and Alex Jones, the quartet grapples with free-speech culture vs. law, the illiberal honkings of pols such as Sen. Chris Murphy (D–Conn.) and President Donald Trump, and the ongoing self-martyrdom of professional journalists. Along the way (spoiler alert!) we learn of Mangu-Ward's counter-protest infiltration, and the Silicon Valley PowerPoint presentation that knits together weed, Satanism, and cryptocurrency.
Subscribe, rate, and review our podcast at iTunes. Listen at SoundCloud below:
Audio production by Ian Keyser.
Relevant links from the show:
"What We Saw at the United the Right II Protest," by Austin Bragg, Mark McDaniel & Todd Krainin
"Antifa Still Wants to Punch the Two Dozen Damp, Sad Nazis Who Showed Up at Unite the Right II," by Joe Setyon
"'Unite the Right' Ralliers to Descend on D.C., With Antifa, Black Lives Matter, and Other Counter-Protesters Waiting," by Elizabeth Nolan Brown
"Social Media Giants Shouldn't Be Arbiters of Appropriate Speech," by David Harsanyi
"Popehat's Ken White: 'Free Speech Is in Just as Much Danger from Conservatives,'" by Nick Gillespie & Paul Detrick
"Facebook Deactivates the Free Brazil Movement," by Zuri Davis
"Apple's Attempt to Ban Alex Jones Backfired in an Unexpected Way," by Zuri Davis
"Twitter Defends Decision to Keep Alex Jones. Nobody Is Happy," by Elizabeth Nolan Brown
"Banning Alex Jones Isn't About Free Speech—It's About the Incoherence of 'Hate Speech,'" by Robby Soave
"Major Internet Platforms Ban Alex Jones," by Zuri Davis
"We got Gilfoyle's entire PowerPoint presentation explaining cryptocurrency from HBO's 'Silicon Valley,' and it's both useful and hilarious" by Carrie Wittmer
Don't miss a single Reason Podcast! (Archive here.)
---