TikTok Woos Republicans With Debate Commercials
The video site took out ads touting social media's benefits.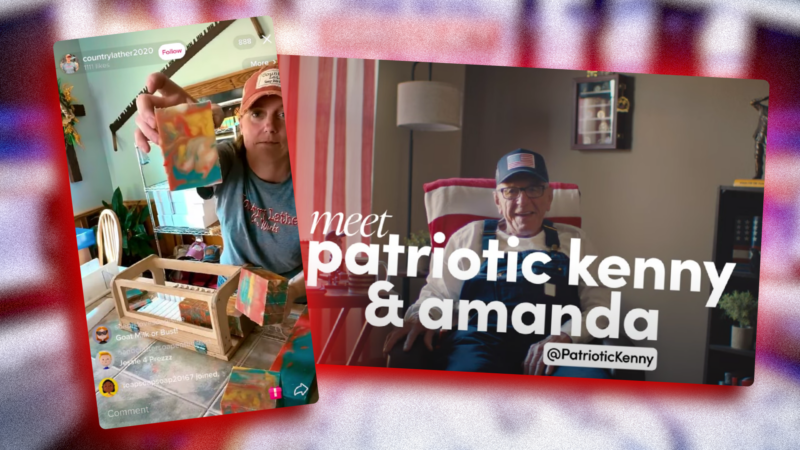 (TikTok; Illustration: Lex Villena)
Over the past several years, calls to restrict or outright ban TikTok have become increasingly popular among politicians. Attacks on the Chinese-owned app have primarily focused on its alleged threat to national security, but politicians and activists have also sought to restrict access to the platform by arguing it endangers children's mental health.
Despite TikTok's harshest critics coming from both sides of the aisle, Republican states have been much more likely to actually engage in direct action against the app. So far, Montana has attempted to ban the app completely, while more than 30 states—most of which are Republican-led—have banned the app on devices owned by government employees.
Republicans are also more likely to support penalties against TikTok. According to a recent Reuters survey, 58 percent of Republicans support banning the app, while only 47 percent of Democrats agree. And of the eight Republican presidential candidates who participated in Wednesday's debate, at least six have voiced support for a national ban or have banned it somewhat in their own state. 
That's why it may have come as a surprise for many viewers of this week's GOP debate to see several ads for the app playing during commercial breaks. 
The ads, which focused on individual users, were clearly tailored to pluck on Republican heartstrings. For example, in one ad, an elderly Navy veteran talks about using the app to crowdfund for a new mobility scooter. In another, folksy banjo music plays over footage of the four-wheeler-riding owner of a soap-making small business discussing how TikTok expanded her reach.
The ads are part of a larger campaign called TikTok Sparks Good, which includes ads highlighting a range of family-friendly accounts—from an Australian pottery artist to a teacher using the platform to teach toddlers how to read. 
While it's unclear whether the ad campaign will help rehabilitate the app's image among Republicans, it highlights a simple truth about social media that many of its detractors ignore. Without social media, the numerous small businesses featured in TikTok Sparks Good ads really wouldn't have been able to expand their product's reach to an international audience. Without social media, a military veteran wouldn't have had adoring fans who jumped to buy him—and now more veterans—new mobility aid.
Despite claims that social media apps are essentially a force for evil—supposedly drawing teenagers into a spiral of depression and spreading nasty "misinformation"—they have clear upsides. Apps like TikTok can connect people in ways that would never have been possible without social media.