A GOP Consensus Emerges: Militarize the Border
In last night's Republican presidential debate, candidates floated various forms of military action against drug cartels.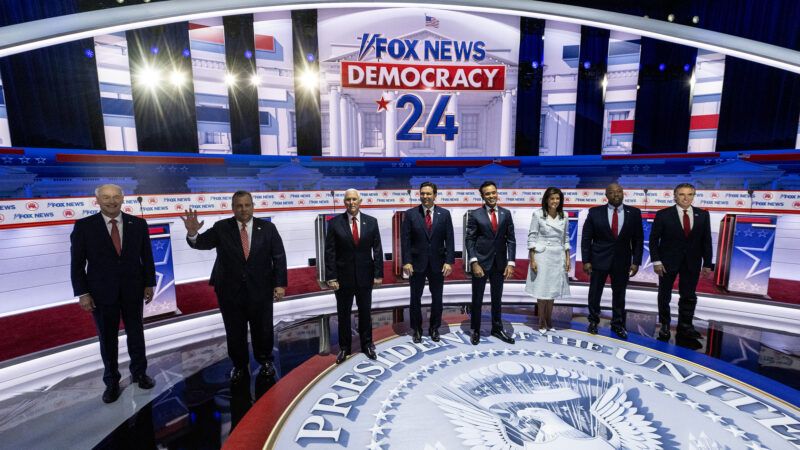 (Chris Dilts/Sipa USA/Newscom)
Among GOP hopefuls at the first debate of the campaign season, militarizing the U.S.-Mexico border to keep out drugs and undocumented immigrants emerged as an overwhelmingly popular position—and as the surprising default answer to unrelated questions.
When moderators asked Florida Gov. Ron DeSantis whether he'd support sending U.S. Special Forces into Mexico to target drug cartels, he replied, "Yes, and I will do it on day one." DeSantis claimed that the president should "use all available powers as commander in chief to protect our country and to protect the people."
"Yes, we're going to use deadly force," he continued. "Yes, we reserve the right to operate."
Not every candidate was willing to go as far as DeSantis. (Former DEA chief and Arkansas Gov. Asa Hutchinson, for one, argued that "the military has to be limited in its use.") But the debate showcased an interventionist instinct that's entered the GOP mainstream, even among Republicans who otherwise oppose U.S. entanglements abroad.
Though they differed on the details, the debate participants broadly agreed that what the U.S. needs is a hyper-militarized and hardened border. Former Vice President Mike Pence pushed for the U.S. to partner with the Mexican military to "hunt down and destroy the cartels that are claiming lives in the United States," while Hutchinson argued that "lethal force would be needed to protect the border."
Border militarism wasn't just an important topic last night—it was a topic that candidates brought up to answer unrelated tough questions. "What does a President Ramaswamy do about guns?" asked moderator Bret Baier in a section on crime. One of Ramaswamy's proposed ways to "address that mental health epidemic in the next generation that is directly leading to violent crime" was to "close the southern border where criminals are coming in every day." When asked whether he favored sending Ukraine more aid, Ramaswamy not only said no—he said he'd rather see those resources used to "protect against the invasion across our southern border." Responding to a question on China, Sen. Tim Scott (R–S.C.) said that the government cash funding 87,000 new IRS agents should instead be used on Border Patrol agents.
Even when the candidates weren't calling for direct military involvement in or around Mexico, they argued for a bolted-up southern border and unforgiving immigration system. Former New Jersey Gov. Chris Christie said "you have to" deport the undocumented people already present in the U.S., who number roughly 11 million. One of the only positive mentions of immigration came from Ramaswamy, who held up his own immigrant parents as an example of America's promise.
Combining the war on drugs with the war on terror is a recipe sure to provoke costly engagement abroad and do little to reduce the demand for drugs at home. Similar counternarcotics efforts in Latin America have failed miserably. Neither unauthorized immigration nor drug smuggling will be solved by the tactics the candidates suggested on the debate stage. That will require a dual approach of a liberalized immigration system and a restraint-based foreign policy, along with some humility about the realities of supply and demand. Unfortunately, none of that came up during last night's debate.