Could Louisiana's Governor Empty the State's Death Row?
Gov. John Bel Edwards has directed the state to review 56 death-row clemency applications after he made comments opposing capital punishment in April.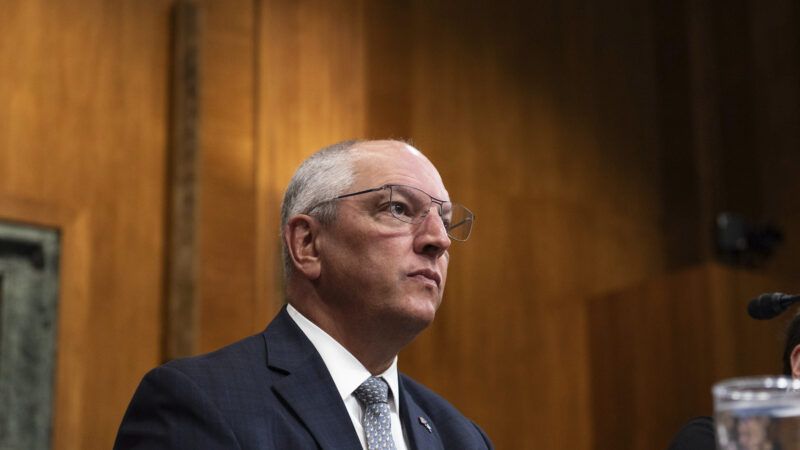 (Annabelle Gordon - CNP/picture alliance / Consolidated News Photos/Newscom)
In June, almost every death-row inmate in Louisana filed for clemency after Gov. John Bel Edwards made comments expressing his opposition to the death penalty.
"I am calling on the legislature to end the death penalty in Louisiana," said Edwards during the State of the State speech in April. "In short: It is difficult to administer—one execution in 20 years. It is extremely expensive—tens of millions more spent prosecuting and defending capital cases, and tens of millions more spent maintaining death row over those same 20 years."
However, once all 56 clemency applications had been filed, they were quickly rejected by Louisiana's Board of Pardons and Committee on Parole, which claimed that the clemency applications were not eligible for consideration due to a policy that applications must be filed within a year of a judicial decision on an inmate's appeal.
While this specific rule can be waived, State Attorney General Jeff Landry wrote in a July opinion that "The broad and ill-defined waiver in (the rules) ostensibly empowers the board to repeal portions of its own rules and enact new ones at will, on an ad-hoc basis, and without any notice to the public," adding that "such a result is impermissible under Louisiana law." 
Despite Landry's opinion, Gov. Edwards directed the board to give each clemency application a hearing last week. In his letter, Edwards disputed Landry's reading of board rules, writing that "the rule simply does not state that the application can only be filed within that first year."
"It is no secret where my personal beliefs lie with respect to the death penalty. I am guided by my deep faith in taking my pro-life stance against the death penalty," Edwards wrote. "Beyond moral justifications, there are a number of reasons, whether based in law or science that support the need for mercy while considering these applications. I believe we must consider further the imperfect nature of the criminal justice system and the actual innocence that has been proven far too often after imposition of the death penalty." 
Edwards' directive has sparked hope for anti-death penalty advocates, who view Edwards' continued pressing of the issue as a sign that he may grant large-scale commutations.
"His order tees up the possibility that, before he leaves office next January, Edwards may be able to issue the largest mass commutation in this country since Illinois Gov. George Ryan emptied his state's death row in 2003," wrote Amherst College professor and death-penalty researcher Austin Sarat in Slate this week. "For opponents of capital punishment, Edwards has offered a distinctive template. In addition to highlighting injustices in the administration of the death penalty, it is now safe for them to say, full stop, that the death penalty is wrong in all cases."