Louisiana Gov. Said He Opposed the Death Penalty. Then Almost Every Death Row Inmate Applied for Clemency.
Only two clemency applications from death row inmates in Louisiana have been granted in the past 50 years.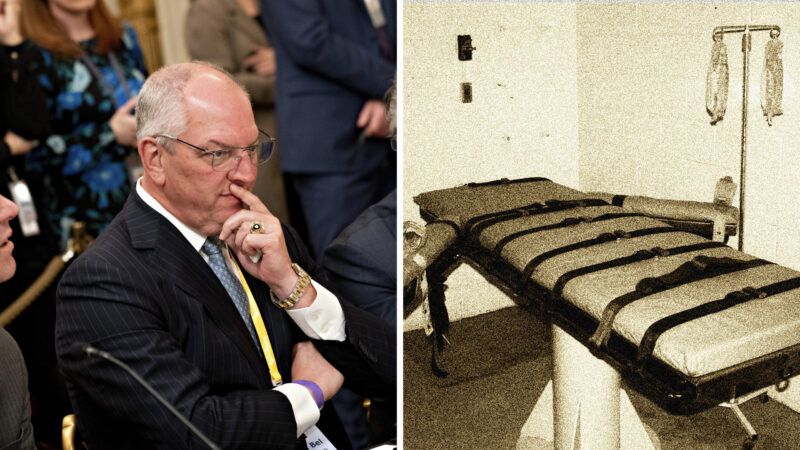 (Illustration: Lex Villena; Conchasdiver)
Almost every death row inmate in Louisiana has filed for clemency after the state's governor expressed his opposition to the death penalty in April.
Fifty-one of Louisiana's 57 death row prisoners filed clemency applications on Tuesday, requesting that their sentences be commuted to life in prison. The applications were sparked by comments from Democratic Gov. John Bel Edwards, who has long been tight-lipped about his views on the death penalty, during his April State of the State speech.
"I am calling on the legislature to end the death penalty in Louisiana," said Edwards, connecting his position to his "pro-life" beliefs. "In short: It is difficult to administer—one execution in 20 years. It is extremely expensive—tens of millions more spent prosecuting and defending capital cases, and tens of millions more spent maintaining death row over those same 20 years."
"Our criminal justice system is far from perfect," he continued. "Over the same 20 years there have been six exonerations from death row and more than 50 reversals of sentences and/or convictions. It doesn't deter crime; it isn't necessary for public safety; and more importantly, it is wholly inconsistent with Louisiana's pro-life values as it quite literally promotes a culture of death."
The state has executed 28 people since the Supreme Court reinstated the death penalty in 1976, according to the Associated Press (A.P). In recent years, state legislators have mounted numerous efforts to ban the practice. Each has failed to pass. Just last month, a bill to ban capital punishment in the state died in committee, despite Edwards' April remarks.
"Given the Governor's comments in the State of the State speech in April, there was an opportunity that we could not turn down," Cecelia Kappel, executive director of the Capital Appeals Project, the group that led the effort to file the clemency requests, told WAFB, the local CBS affiliate. "These cases don't involve a situation where these people are ever going to walk free necessarily. They're going to be put in the general prison population, and our prison system is completely capable of keeping everybody safe."
In Louisiana, all clemency applications are first reviewed by the Louisiana Board of Pardons and Committee on Parole, which decide whether to send any applications to the governor. These applications are "reviewed on a case-by-case basis before a final decision is made," one Edwards spokesperson told the A.P.
Though Edwards has openly supported abolishing the death penalty, he hasn't yet indicated whether he'll grant any of the 51 clemency applications that could soon cross his desk. If he does, it would be significant: Only two clemency applications from death row inmates have been granted in the state over the past 50 years.
Louisiana's last execution was in 2010, and before that, in 2002. Elsewhere in the country, some states are enacting policies in order to keep performing executions. As lethal injection drugs have grown more difficult to obtain, states including Idaho and Alabama have approved alternate methods for killing prisoners. Republican Idaho Gov. Brad Little signed a bill allowing for execution by firing squad in March, while Alabama built a gas chamber in 2021 so it could begin to kill inmates using the as-yet-untested method of nitrogen hypoxia.