Suicide Down 8.4 Percent Among Teens and Young Adults
Plus: How would Jesus vote?, appeals court strikes gun ban for marijuana users, and more...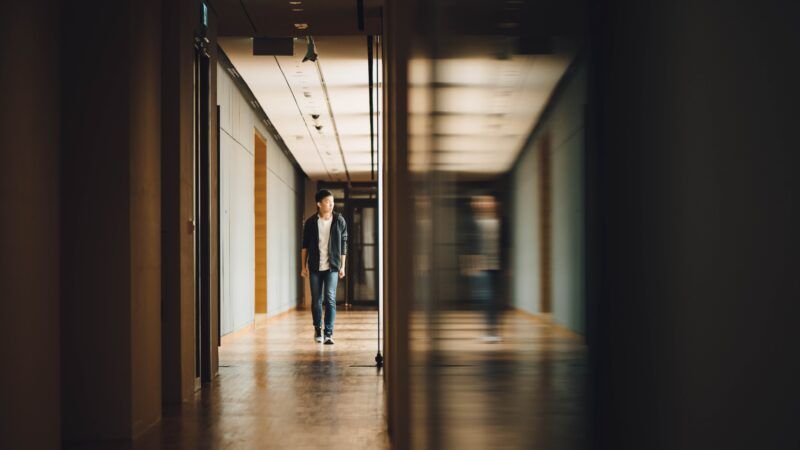 Suicides decreased by 8.4 percent among 10-to-24-year-olds last year, according to provisional data released by the Centers for Disease Control and Prevention (CDC).
The drop in teen and young adult suicides is a bright spot among an overall bleak portrait of U.S. suicide rates in 2022.
Overall, 49,449 Americans are known to have killed themselves last year—the highest number of U.S. suicides on record and an increase of 2.6 percent over 2021. The CDC "has not yet calculated a suicide rate for the year, but available data suggests suicides are more common in the U.S. than at any time since the dawn of World War II," reports the Associated Press.
The biggest increases occurred in older and middle-age adults. Suicides were up by 8.1 percent among Americans ages 65 and above. And they increased by 6.6 percent among adults ages 45 through 64.
Among adults ages 25 through 44, suicides were up by 0.7 percent.
The data don't speak well of overall American mental health in the early 2020s. But they strike a blow against some common concerns about the roots of mental health declines.
For instance, the data don't support the idea that suicides are being driven by the internet and social media. The age groups most likely to have experienced an increase in suicides are those least likely to be heavy users of social media platforms.
The data also suggest some much-needed good news about suicidality among young people. Data released last year showed suicides among 15-to-19-year-olds jumped from 8.4 per 100,000 during 2012–2014 to 10.8 per 100,000 in 2018–2020. And a CDC report released earlier this year showed a steep increase in the number of teen girls who said they had thought about suicide. Last year's number of teen and young-adult suicides is still bleak, with 6,529 10-to-24-year-olds killing themselves. But this is down from 7,126 suicides in this age group in 2021.
Men (of all ages) were much more likely to commit suicide than their female counterparts in 2022. Some 39,255 American men and 10,194 American women committed suicide.
---
FREE MINDS
How would Jesus vote? In a new survey, Christians overwhelmingly ascribe their own personal politics to Jesus:
Really is amazing how Jesus conforms to our own political leanings, even among Christians. When we asked Christians to rate Jesus on the ideological spectrum, over 75% of liberal Christians put Jesus on the left & over 75% of conservative Christians put him on the right. pic.twitter.com/yNXfR1ULkj

— Samuel Perry (@profsamperry) August 10, 2023
The data, which social scientist Samuel Perry shared on Twitter, are "part of a larger survey project that's proprietary at the moment," he said.

What Perry shared suggests "the more extreme you are politically, the more extreme your Jesus is," as he pointed out. "A strong plurality of 'very conservative' Christians say Jesus is as far right as possible. Similarly, a strong plurality of 'very liberal' Christians think Jesus is extreme left." Meanwhile, self-described "moderate Christians" were more likely to place Jesus as a political moderate than at either extreme.
Lol. Right. Backing my point, though, "Jesus the moderate" is a pretty popular choice for moderate Christians. About 55% put him at a 5 or 6 and only around 10% put him either at the extreme left or extreme right. pic.twitter.com/1IJ1CN54dm

— Samuel Perry (@profsamperry) August 10, 2023
---
FREE MARKETS
The U.S. Court of Appeals for the 5th Circuit says the federal ban on marijuana users owning guns is unconstitutional. "Our history and tradition may support some limits on an intoxicated person's right to carry a weapon, but it does not justify disarming a sober citizen based exclusively on his past drug usage," a three-judge panel for the U.S. Court of Appeals for the 5th Circuit wrote in its decision.
"The opinion overturns the conviction of a Mississippi man, Patrick D. Daniels of Gulfport, who had two guns found in his car during a traffic stop last year and acknowledged using marijuana regularly but wasn't accused of driving under the influence," notes the A.P.
The appeals court cited the 2022 U.S. Supreme Court decision known as New York State Rifle & Pistol Association v. Bruen, which said gun laws must have strong historical roots — a finding that led to challenges of many of the nation's gun laws….

The ruling raises questions about the future of the law, which also had a central role in the proposed plea deal for Hunter Biden, the president's son.
More on the related Hunter Biden case and the law behind it here.
"As the first federal court appeals ruling on this provision, [the decision will] be persuasive and influential to other circuits and other district courts who are reviewing these kind of challenges," Pepperdine University law professor Jake Charles told the A.P.
But the decision is not binding outside of the 5th Circuit (which includes Louisiana, Mississippi, and Texas). Hunter Biden's case was filed in Delaware.
"Federal courts are wisely deciding time and again that the simple use of cannabis should not preclude someone from the legal protections offered to all Americans by the US Constitution," said NORML Political Director Morgan Fox in a statement. "Unfortunately, these rulings are not universally applicable or binding. Either the Supreme Court or Congress need to make this the law of the land before any more responsible cannabis consumers are threatened with lengthy prison terms simply for exercising their constitutional rights."
---
QUICK HITS
• The Labor Department's latest on inflation: "The consumer-price index, a measure of goods and services prices across the economy, rose a mild 0.2% in July, the same as in June," notes The Wall Street Journal. "The figures led to 3.2% annual inflation in July, up from 3% in June. Annual core inflation ticked down to 4.7% in July from June's 4.8%."
• Sigh: Americans overwhelmingly favor more government regulation of artificial intelligence (A.I.), according to polling from the Artificial Intelligence Policy Institute. Fifty-six percent of poll respondents support a federal agency regulating A.I. while just 14 percent were opposed. And 82 percent said they don't trust tech companies to self-regulate.
• Behold U.K. hate speech laws in action:
every day I remain grateful the US doesn't share its parent country's backwards laws about speech

this statement refers to a half-dozen officers taking an autistic teen into custody for saying one officer looked like a lesbian, like her grandma

scope creep is eternal https://t.co/b7edsvRrkK

— TracingWoodgrains (@tracewoodgrains) August 10, 2023
• The U.S. Court of Appeals for the 5th Circuit heard oral arguments yesterday in State of Missouri v. Biden, a case concerning the Biden administration's directives to social media companies during the COVID-19 pandemic. Listen to First Amendment lawyer Ari Cohn and TechFreedom's Corbin Barthold discuss the case here.
• A federal court has ruled against the Food and Drug Administration (FDA) in its fight with the Cigar Association of America. The decision strikes down an FDA plan to regulate premium cigars under the Family Smoking Prevention and Tobacco Control Act, which would have given the agency the same control over premium cigars as it has over cigarettes. "This underscores what we have been saying for years: premium cigars are different and should be treated as such," Scott Pearce, executive director of the Premium Cigar Association, told Cigar Aficionado.