Biden's New Grand Canyon Monument Will Hamper Clean Energy Production
The designation will prevent new uranium mines in a lucrative area.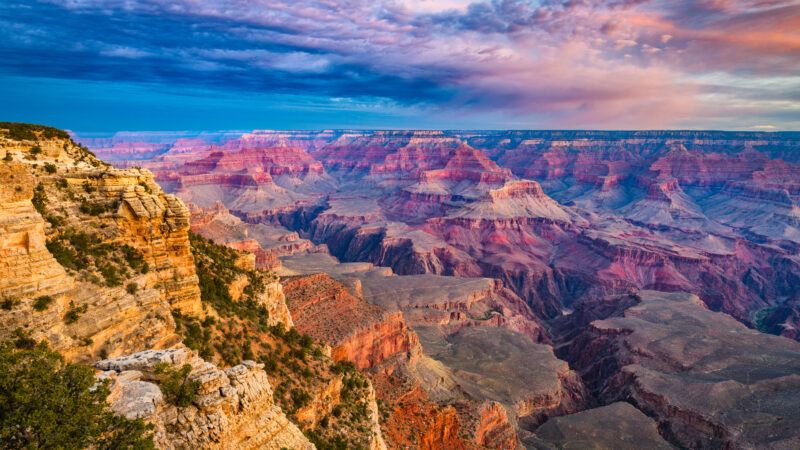 While experts applaud nuclear power for its ability to reduce carbon emissions, the Biden administration is restricting the mining of a key input in the process.
On Tuesday, Biden announced the formal designation of the 917,618-acre Baaj Nwaavjo I'tah Kukveni Grand Canyon National Monument to prevent public lands held sacred by local Native American tribes from hosting new uranium mines. New uranium mines have been prohibited in the area since 2012 due to an Obama administration moratorium that was set to expire in 2032. Biden's move has made that ban permanent.
According to a senior administration official, the area hosts 1.3 percent of the country's known uranium reserves. But this figure doesn't tell the whole story.
"Maybe if you're trying to count molecules then it's only 1.3 percent, but I'd say it's 100 percent of America's high-grade uranium deposits locked up in the monument," says Curtis Moore, senior vice president of marketing and corporate development at Energy Fuels—a uranium-mining company that owns the Pinyon Plain mine in the Grand Canyon area. "And grade typically corresponds to lower-cost, more-accessible, and lower-environmental-impact mining. For every ton of ore you pull out of the ground, there is more uranium in that ton."
By prohibiting uranium mining, the administration is looking to preserve groundwater near the Grand Canyon. "Creeks and streams [flow] into the Colorado River, supporting farms and ranches across the Southwest and bringing clean water to 40 million Americans," said Biden during a Tuesday speech in Arizona.
"The area's unique hydrology has supported Indigenous peoples and other forms of life since time immemorial and is essential in providing drinking water and supporting agricultural production and other services for millions of people across the Southwest," noted a press release from the U.S. Department of Agriculture.
However, the claim that uranium mining near the Grand Canyon contaminates the water doesn't hold up to scrutiny. A 2021 study by the U.S. Geological Survey sampled 206 groundwater sites in the Grand Canyon region and found that "195 sites (95%) had maximum observed uranium concentrations less than the U.S. Environmental Protection Agency's Maximum Contaminant Level of 30 µg/L for drinking water."
"Some uranium mines, particularly the ones that were used for nuclear weapons production, were not operated well and leave a legacy impact," explains Adam Stein, director of the Nuclear Energy Innovation program at the Breakthrough Institute. "However, modern uranium mining is very different, in both technology and regulatory requirements, from the uranium mines of the past."
A major political factor at play for Biden is the support of local Native American communities. These communities played an important role in helping Biden win Arizona during the 2020 election. "It is likely a strategic decision to focus on the Grand Canyon," Gabriel Sanchez, a fellow in governance studies at the Brookings Institution, told The New York Times. "Many Native Americans do not vote based on party, but on which candidates will do the most to advance the interests of Native American communities."
"I fail to see any rationale in this proposal beyond a selfish political agenda that locks away the very resources we depend on for our daily lives," said Rep. Bruce Westerman (R–Ark.), chairman of the House Committee on Natural Resources, in a statement.
Biden's authority to designate national monuments derives from the Antiquities Act of 1906, a comprehensive statute that "authorizes the President to proclaim national monuments on federal lands that contain historic landmarks, historic and prehistoric structures, or other objects of historic or scientific interest," allowing the president to regulate how the land is used. The new monument is the fifth of Biden's presidency.
"Although regulations on land use have not caused significant issues with uranium mining in the past, over time, more and more areas have been subject either to new mining bans or the use of national monuments to prevent new mining on a permanent basis," notes Stein.
The new monument will have a detrimental effect on the U.S. uranium industry, which has struggled in recent years. After experiencing a boom from the 1940s to the 1980s, domestic uranium production fell when prices dropped after the Chernobyl disaster. According to the World Nuclear Association, U.S. uranium mining production decreased from 1792 tonnes U in 2013 to 75 in 2022.
This production is essential for nuclear power. "Today, nuclear provides about 20 percent of all electricity in the United States and about 50 percent of our carbon-free electricity," notes Moore. "And that's all powered by uranium."
The possibility of the U.S. applying sanctions on Russian uranium has made the industry's need for domestic mining more urgent. When the U.S. threatened sanctions on Russia's Rosatom State Nuclear Energy Corporation in 2022, the price of uranium skyrocketed to about $60 per pound.
"The United States imports about 50 percent of our uranium in U.S. nuclear power plants from Russia, Kazakhstan, and Uzbekistan, and Russia has their hands on quite a bit of Kazakh uranium production," explains Moore. "As we're trying to reduce our reliance on Russia, we should be trying to develop our own domestic sources of uranium."
If the Biden administration is serious about building clean energy projects, hindering an industry that's vital to the production of nuclear power is the wrong approach.