Federal Court Blocks $20 Billion in Student Loan Forgiveness
The injunction is the latest in a series of setbacks for the Biden administration's loan forgiveness agenda.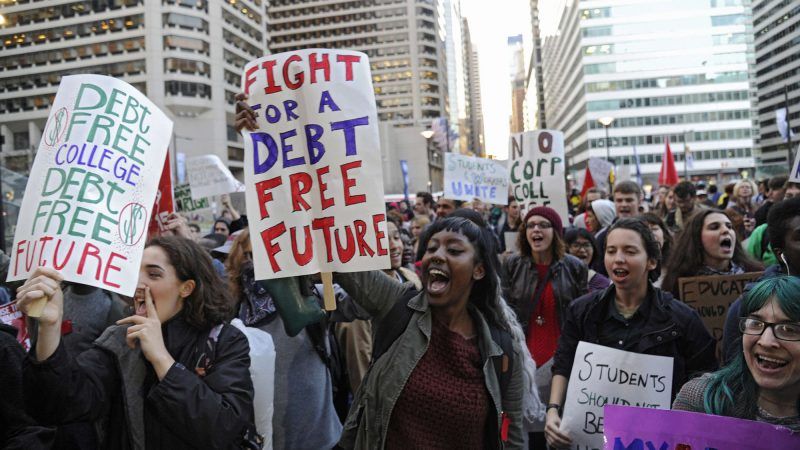 (CLEM MURRAY/TNS/Newscom)
A federal court has blocked Biden administration rules that would have provided almost $20 billion in student loan forgiveness, primarily to students who attended colleges that defrauded them.
Last July, the Education Department released new proposed rules expanding eligibility for the department's "borrower defense" forgiveness program, as well as several other smaller loan forgiveness programs. The borrower defense program offers loan forgiveness to students whose schools engaged in misconduct or misled or defrauded them. In most cases, students eligible for borrower defense attended for-profit schools. The rules were finalized last November.
The rules allow students to more easily file claims against their colleges by "allowing for group claims, eliminating overly strict limits on when borrowers can file a claim, expanding the type of misconduct that can lead to an approved claim to include aggressive and deceptive recruitment practices, and ensuring borrowers receive timely decisions about their claims," according to an Education Department press release.
"We are committed to fixing a broken system. If a borrower qualifies for student loan relief, it shouldn't take mountains of paperwork or a law degree to obtain it," Education Secretary Miguel Cardona said in a statement last July. "These proposed regulations will protect borrowers and save them time, money, and frustration, and will hold their colleges responsible for wrongdoing." In total, the new regulations—which included changes to the Public Service Loan Forgiveness program and other student loan forgiveness policies—were estimated to cost taxpayers $19.7 billion.
In February, Career Colleges & Schools of Texas, an association of career-oriented, mostly for-profit colleges, filed a lawsuit challenging the rules. While the Education Department contended that the rules only work to help "streamline" claims from affected students, the complaint argued that the rules amounted to a gross overreach of government spending power that unduly punished schools.
"The new processes do not further the fair and accurate adjudication of borrower defense claims. Instead, they are designed to achieve the non-statutory and impermissible objective of massive student loan forgiveness," noted the complaint. "Rather than merely facilitate or 'streamline' the resolution of borrower claims, the Department designed its Final Rule with a thumb on the scale to maximize the number and amount of loan discharges with little regard for the merits of the claims or the rights of schools."
On Monday, a three-judge panel for the Fifth Circuit Court of Appeals agreed, granting an injunction against the rules, pending a higher court ruling.
This latest development in the ongoing attempt by the Biden administration to grant large-scale student loan forgiveness shows just how difficult it will be to do that without congressional approval. So far, the Education Department has attempted to achieve loan forgiveness through rule-making procedures and all-too-generous readings of existing law.
However, federal judges seem increasingly suspicious of that approach—and are unwilling to let the Education Department unilaterally spend billions of taxpayer dollars on loan forgiveness schemes.