Google Will Go to Trial Over Preloading Apps and Search Engine on Phones
Plus: Ohio Issue 1 defeated, Supreme Court pauses order vacating gun regulations, and more...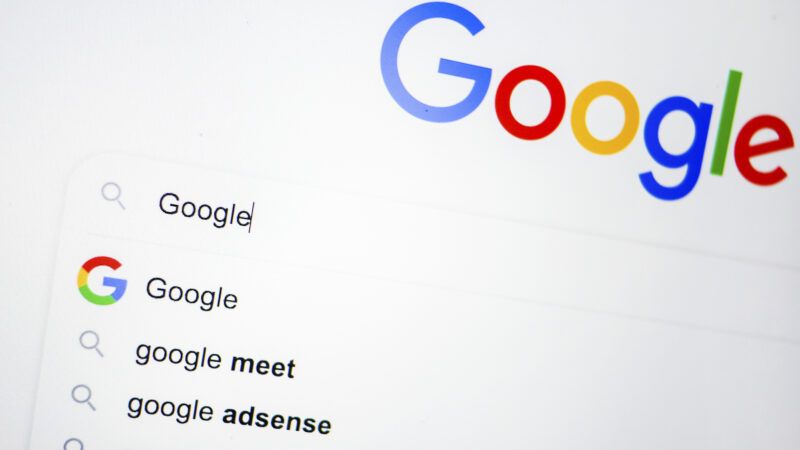 (Beata Zawrzel/ZUMAPRESS/Newscom)
Government allegations against Google Search design rest almost entirely on "opinion and speculation," a federal court says. A Department of Justice (DOJ) case accusing Google's search business of violating federal antitrust laws can go forward, per a new ruling from the U.S. District Court for the District of Columbia. But the court rejected many of the government's core claims about Google's allegedly anticompetitive conduct.
The DOJ and state partners claim that Google has violated the Sherman Antitrust Act by maintaining its dominant position in the search engine and search advertising sphere through "exclusionary practices."
On some of the government's claims, "there remain genuine disputes of material fact that warrant a trial," Judge Amit Mehta wrote in a ruling which was unsealed on Friday. But Mehta also dismissed several portions of the lawsuit regarding anticompetitive conduct claims, including the assertion that Google's search engine page was designed to unfairly harm competitors like Yelp and Amazon and claims related to Android compatibility agreements, anti-fragmentation agreements, Google Assistant, Android Open Source Project, and Internet of Things devices.
"This is a significant victory for Google, knocking out several claims and narrowing the range of activities at issue for trial," David Olson, a law professor at Boston College, told The Washington Post.
The ruling comes in one of two federal antitrust cases filed against Google (both civil,  not criminal, cases). The first was filed in 2020 and concerns the company's search business. The second was filed early this year and concerns Google's advertising business.
Both were filed in conjunction with multiple state attorneys general. "While the DOJ and states originally filed [the 2020 cases] separately, the suit has since become mostly consolidated," notes The Verge.
DOJ and the states accused Google of numerous forms of anti-competitive behavior. Mehta dismissed four of the lawsuit's claims and allowed three to move forward.
One of the claims dismissed relates to Google's treatment of "Specialized Vertical Providers," or SVPs, which the judge describes as "companies focused on niche markets—like Expedia or Tripadvisor for travel, OpenTable for restaurant reservations, and Amazon or eBay for shopping." The states say Google unlawfully limits the visibility of SVPs on Google's search results page, and that this and Google's data terms for SVPs weaken their position and harm search and search-advertising competition. But "plaintiffs' theory of anticompetitive harm rests on a multi-linked causal sequence that relies not on evidence but almost entirely on the opinion and speculation of its expert, Professor Jonathan Baker," noted the judge. "Remarkably, not one of Professor Baker's opinions, on which these fact assertions are based, cites to any record evidence."
One of the claims that can go forward relates to the company making Google the default search engine on Android phones. This claim seems especially silly, given that many people enjoy having some presets (like a default browser, search engine, etc.) come on their phones and Android users can easily change their default search engine if they wish to do so.
The government is literally making a federal case out of the fact that consumers might have to take less than five minutes to switch their default search engine settings if they don't want Google as their default search.
But this wouldn't be the first time the federal government has gotten weirdly in a tizzy over default tech settings. Part of the government's big antitrust case against Microsoft in the '90s and early 2000s was over the company bundling its Internet Explorer browser with its Windows desktop software.
Mehta's ruling that some of the government's claims against Google must go to trial "sets the stage for the first major tech monopoly trial since the federal government took Microsoft to court in the 1990s," notes The New York Times.
The trial is scheduled to begin on September 12.
---
FOLLOW UP
Ohio Issue 1 defeated. A Republican-backed measure meant to make it harder for voters to amend Ohio's constitution has failed. Ohioans voted on the measure, dubbed Issue 1, in a special election yesterday. With 97 percent of votes counted, no votes on Issue 1 were besting yes votes by 57 to 43 percent.
Among other things, Issue 1 would have changed the threshold for passing a constitutional amendment ballot initiative from a simple majority to 60 percent. Issue 1 was championed in large part by abortion opponents seeking to make it harder for Ohioans to pass an abortion-protective amendment on the state's November 2023 ballot.
A big defeat of Ohio's Issue 1 is a win *for* abortion rights — it makes protecting abortion rights easier. But it would be a mistake to conclude that all these Issue 1 voters plan to vote for abortion rights in November. We can see plenty of anti-abortion areas voting no tonight

— Rachel Cohen (@rmc031) August 9, 2023
"A higher than expected number of Ohio's registered voters cast ballots in this special August election that was set by supermajority Republican state lawmakers who oppose abortion," notes NPR.
let's take a step back, & remember: just months after ending summer elections, Ohio Republicans backtracked & organized a special election (that took a lot of money to organize) with *nothing* on the ballot other than a referendum asking voters to GIVE UP political power!

— Taniel (@Taniel) August 9, 2023
"Voter opposition to the proposal was widespread, even spreading into traditionally Republican territory," the Associated Press points out. "In fact, in early returns, support for the measure fell far short of former President Donald Trump's performance during the 2020 election in nearly every county."
---
FREE MINDS
Free Speech Coalition sues over age-verification law. The Free Speech Coalition (FSC), an adult industry trade group, is suing over a Texas law that would require online porn platforms to verify the ages of all visitors and display a "Texas Health and Human Services Warning." The law is set to take effect on September 1.
"Compliance will be enforced by the state's attorney general, with potential fines of up to $250,000 if a minor is found to have accessed sexually explicit material," notes Bloomberg Law:
Minors could still circumvent age checks via services that virtual private networks and other avenues despite verification measures sites adopt, the [Free Speech Coalition's] complaint argued. Content filtering at the browser or the device level would allow parents to block adult sites effectively "without impairing free speech rights or privacy," it added.

"But such far more effective and far less restrictive means don't really matter to Texas, whose true aim is not to protect minors but to squelch constitutionally protected free speech that the State disfavors," the lawsuit said.

The plaintiffs also alleged that the mandatory warning notice stating porn's detrimental effects applies "an orthodox viewpoint on a controversial issue" and includes "statements that are a mix of falsehoods, discredited pseudo-science, and baseless accusations."

The litigants claim that the Texas law infringes protections provided by Section 230 of the Communications Decency Act, thereby violating the Sixth Amendment's supremacy clause.
The Free Speech Coalition has previously filed lawsuits against similar measures in Utah and Louisiana.
"Texas is not only forcing sites to put their visitors' privacy at risk, they are forcing them to broadcast misinformation and pseudoscience about sex and sexuality," said FSC Executive Director Alison Boden in a statement. "We are standing up not only for the rights of adult businesses and creators, but for the rights of adult Texans to access legal content in the privacy of their own home, without having to submit to surveillance or propaganda."
See also: "A Ham-Handed Bill Attacks the First Amendment in the Name of Protecting Minors From Online Harm"
---
FREE MARKETS
The Supreme Court pauses order vacating federal firearms regulations. The Bureau of Alcohol, Tobacco, Firearms and Explosives (ATF) regulations "expand the definition of 'firearm' beyond what Congress enacted in the Gun Control Act (GCA)," explains The Volokh Conspiracy's Stephen Halbrook:
ATF adopted two final rules in 2022. In the first, ATF expanded the definition of "firearm" far beyond that enacted by Congress. In the second, ATF expanded the definition of "rifle" beyond that in the National Firearms Act (NFA) to include configurations that it previously deemed not to be rifles. Both of these new regulations increase ATF's grip on both the firearm industry and consumers, exposing them to a wider net of criminal prohibitions under the GCA and NFA.
A U.S. district court in Texas has vacated the ATF regulations and a court of appeals affirmed this ruling.
But the Supreme Court has now put those rulings on hold as the case plays out. "Five Justices then voted to extend the stay pending final disposition of the case," notes Halbrook.
---
QUICK HITS
• "State courts have become hot spots in the national abortion debate, with Utah's top court and a Kansas judge considering Tuesday whether their state constitutions require them to block or invalidate laws regulating the procedure more than a year after Roe v. Wade was overturned," reports the Associated Press.
• Qualified immunity may protect FBI agents who abused the no-fly list.
• "The online movement known as cop-watching or First Amendment auditing has swelled in popularity in recent years," notes The Washington Post.
• "In an attempt to kick-start his sputtering presidential bid, Florida Gov. Ron DeSantis, a Republican, has shifted his focus toward economic issues and away from the culture war obsession that defined the early stages of his campaign," points out Reason's Eric Boehm. "The pivot is a welcome—and probably necessary—change that gives DeSantis an opportunity to talk about actual conservative policies rather than seeking new ways to threaten to use state power against private entities the governor dislikes."
• How the pandemic shifted America's geography of income.
• The South Korean government is trying to play matchmaker.
• A lawsuit complaining that Texas Pete hot sauce is made in North Carolina can proceed.