Introducing the Reason Crossword, a Weekly Puzzle for Libertarians
"Until today, there was no such thing as a free market–focused crossword puzzle," says Stella Zawistowski.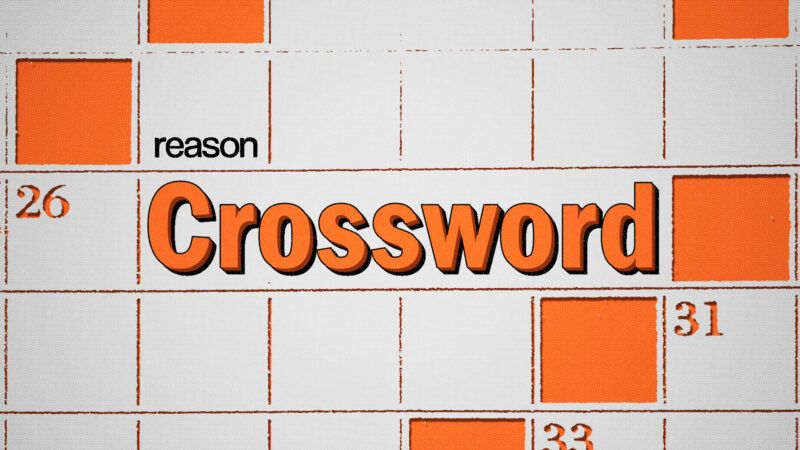 Puzzle lovers, rejoice: Reason is now publishing a weekly crossword. The first one is available here.  
"Puzzles are having a moment," says Stella Zawistowski, Reason's new crossword constructor. "Just in the last five years, a lot of markets have started to have a crossword for the first time or are expanding their offerings."
Zawistowski is a professional puzzle solver herself and ranks among the world's fastest finishers of crosswords.
"I've been solving puzzles for well over two decades," she says. "A conservative guess is I have solved at least 30,000 crosswords in my lifetime. I do 61 a week."
Her own puzzles have appeared in The New York Times, The Wall Street Journal, and many other publications. But Zawistowski has long believed that Reason should run its own puzzles.
"There aren't a lot of puzzles with a pro-capitalism, pro–free market voice out there," she says.
Indeed, broader debates about political correctness and wokeness-run-amok have not left the crossword world alone. In January 2022, Kotaku noted that "at a time when debates about language anchor political discourse and incorrect pronouns spark vicious attacks, the fact that culture wars are being played out in crossword puzzles makes sense."
"Puzzle debates represent a microcosm of larger cultural conflicts surrounding race, class, and gender," wrote Kotaku. "Questions arise: should dictators appear in crosswords? Serial killers? What about Donald Trump? Or Hitler? Are terms like 'hag' okay?"
An August 2020 article in Time, "The Crossword Revolution Is Upon Us," detailed efforts by crossword editors to make the puzzles more "inclusive."
Choice is one of the blessings of liberty, and people should be free to enjoy whatever crosswords best suit their interests. But now, at last, there's one that caters to the libertarian puzzle solver.
"Until today, there was no such thing as a free market–focused crossword puzzle," Zawistowski says. "I'm very excited."