Mayorkas Pressed Over DHS Labeling Protesters 'Domestic Violent Extremists'
Rep. Cori Bush (D–Mo.) and multiple civil liberties organizations cited the "Cop City" project in Atlanta, in which dozens of protesters have been charged with domestic terrorism.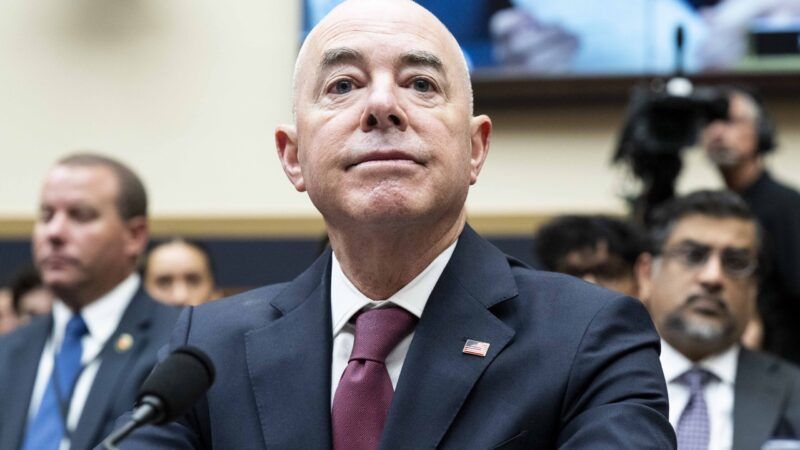 (Michael Brochstein/ZUMAPRESS/Newscom)
Since December 2022, state and local law enforcement entities have arrested dozens of people protesting the construction of a police training facility, derisively referred to as "Cop City" by opponents, in a state-owned Georgia forest. Authorities have charged more than 40 protesters with domestic terrorism, even though the arrest warrants don't allege any explicit terrorist activity: Some are accused of throwing rocks or possessing incendiary devices, while others are simply charged with trespassing.
Now, a member of Congress and a consortium of civil liberties advocacy groups want answers from the Department of Homeland Security (DHS).
As justification for domestic terrorism charges, arrest warrants from the Georgia Bureau of Investigation (GBI) all use identical language to say that "the accused affirmed their cooperation" with "Defend the Atlanta Forest (DTAF), a group classified by the United States Department of Homeland Security as Domestic Violent Extremists" (DVEs).
On July 26, DHS Secretary Alejandro Mayorkas appeared before a House Judiciary Committee oversight hearing. Many of the Republicans on the committee took the opportunity to accuse Mayorkas of "dereliction" of duty, leading to increased traffic of both people and drugs across the border with Mexico.
But Rep. Cori Bush (D–Mo.) pressed Mayorkas on whether DHS targeted activists and progressive movements, specifically the Cop City arrests and prosecutions. Bush asked Mayorkas, "Do you acknowledge that the department has referred to [Cop City] opponents…as 'alleged domestic violent extremists' and 'militants' comprising 'violent far-left occupation'?"
Mayorkas dodged the direct question, merely saying that he is "familiar with activities in Atlanta that are lawful, and I am also familiar with activities to which you refer that are unlawful." He said he was unaware of Georgia law enforcement's decisions at the state level but affirmed, "Lawful protest is a proud tradition in this country. There cannot be a connectivity between an ideology and the expression of that ideology through violent means. That is when we get involved: to prevent violence."
In a July 27 letter to Mayorkas, the NAACP Legal Defense and Educational Fund, the American Civil Liberties Union (ACLU), the Brennan Center for Justice, and the Center for Constitutional Rights collectively expressed "deep concern" over the department's use of the DVE label. Citing events in Atlanta, the letter alleges that "lax DHS standards and intelligence practices have contributed to concerning arrests and prosecution[s]."
The letter says that the term domestic violent extremists is "overly broad and lacks specific legal parameters and reliable factual and evidentiary thresholds." It further states, "DHS's dissemination of unreliable and potentially biased 'domestic violent extremism' information to state and local law enforcement can contribute to constitutional violations."
In fact, a DHS spokesperson told Reason in an emailed statement that the agency "does not classify or designate any groups as domestic violent extremists," instead using the term "to refer to the conduct of groups or individuals in the United States who seek to advance their ideological goals through the unlawful use of violence." In an emailed statement to Reason, a GBI spokesperson stipulated, "Although DHS reports that they do not classify or designate any groups as domestic violent extremists, the description provided by DHS for a domestic violent extremist does in fact describe the behavior of the individuals of the group in question."
As ACLU Senior Policy Counsel Aamra Ahmad tells Reason, that distinction is not enough. "Although DHS does not, and should not, formally designate domestic groups as terrorists, or domestic violent extremists, it regularly uses the stigmatizing and vague domestic violent extremism language to describe the actions of groups and individuals in the U.S., including in its intelligence analysis, which is widely distributed to state and local authorities" and "risks stigmatizing people engaged in First Amendment–protected speech and association."
She adds that the Atlanta protests "illustrate how overbroad domestic terrorism laws can be and how they can be abused, and in the particular case of Cop City, used to punish dissent."