A Professor Criticized a Public Official. Then Her University Suspended Her.
Texas A&M placed a professor on paid leave for criticizing Texas Lt. Gov. Dan Patrick in a lecture on the opioid crisis.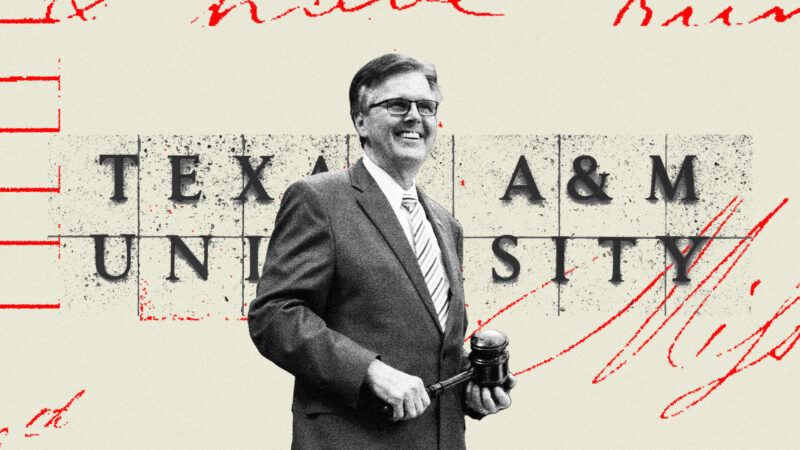 (Illustration: Lex Villena; Redwhiteandboujee)
Joy Alonzo, an opioid researcher and professor at Texas A&M University, gave an uneventful lecture to a group of medical students earlier this spring. But a few hours later, she had been placed on paid leave, pending an investigation into a few comments she made about Texas Lt. Gov. Dan Patrick.
While Alonzo was cleared following an investigation, that she was investigated at all spells continued concerns for a university already under fire for allegedly pushing out a professor over political complaints.
According to The Texas Tribune, which first reported on the case, Alonzo said she was reported by a student "who has ties to Texas A&M Leadership." 
At first, Alonzo's presentation to University of Texas Medical Branch (UTMB) students on March 7—which focused on the opioid crisis and harm-reduction measures—seemed to go smoothly. But soon after, Texas Land Commissioner Dawn Buckingham—whose daughter attended the lecture—called Patrick and told him that Alonzo had made critical comments about him during the presentation, according to a Texas A&M spokesperson.
It's not clear what Alonzo's exact comments about Patrick were. The lecture wasn't recorded, and Alonzo and Buckingham both declined to comment to the Tribune. However, several students told the Tribune that Alonzo made comments about how the lieutenant governor's office has made it harder to combat opioid-related deaths due to its opposition to certain harm-reduction measures.
Soon after Buckingham complained to Patrick, an administrator sent an email to the class of medical students with the subject line "STATEMENT OF FORMAL CENSURE."
"The statements made by the guest lecturer do not represent the opinion or position of the University of Texas Medical Branch, nor are they considered as core curriculum content for this course," the email read. "UTMB does not support or condone these comments. We take these matters very seriously and wish to express our disapproval of the comment and apologize for harm it may have caused for members of our community."
By the end of the day, Alonzo was placed on paid leave by Texas A&M, and the school had opened an investigation into her comments. It took two weeks for the university to clear her of wrongdoing.
"The investigation into the matter was a reasonable step to take, particularly after UTMB issued a public statement 'censuring' one of our faculty members," a spokesperson told the Tribune. "In fact, it would have been irresponsible not to look into it."
However, free speech groups disagree. "Texas A&M's punishment of Alonzo to please powerful political forces is a stunning abdication of its constitutional obligations, deeply chilling faculty and student expression on campus," wrote the Foundation for Individual Rights and Expression (FIRE) in a Tuesday letter to the university. "When confronted with inevitable pressures to encroach on academic freedom—whether from powerful alumni, donors, or, as here, politicians—institutions like Texas A&M must abide by the constitutional principles that instill trust in our public universities."
As a public university, Texas A&M had no legal right to investigate Alonzo for criticizing a public official. However, considering that the school is already under fire for pushing out the recently appointed director of the school's journalism program following complaints over the professor's political beliefs, it's unlikely that the school will change its trend of eroding faculty speech rights anytime soon.