GOP Hopeful Asa Hutchinson Wants Parents To Make Medical Decisions for Trans Kids
The crowd at the socially conservative FAMiLY Leadership Summit was not receptive, and Glenn Beck likened the Arkansas governor's performance to the crash of the Hindenburg.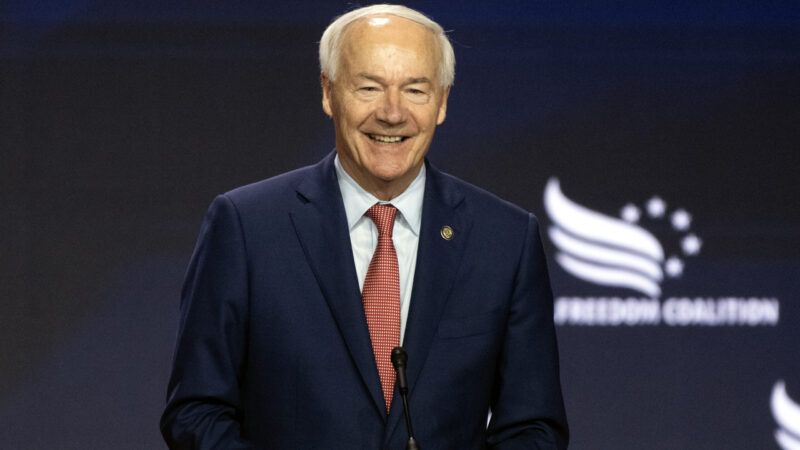 (Ron Sachs/ZUMAPRESS/Newscom)
On Friday, a full six months before the 2024 Iowa caucuses, six Republican presidential aspirants gathered at the FAMiLY Leadership Summit in Des Moines for the party's first candidate forum of the 2024 election cycle, presented by Blaze Media. Throughout the day, each of the candidates spoke to recently ousted Fox News broadcaster Tucker Carlson, who said in introductory comments with event organizer Bob Vander Plaats that he hoped to "find out who they are" and judge their "instincts" rather than simply determine their beliefs. One candidate's professed beliefs stirred the crowd against him, but he demonstrated an admirable commitment to limited government.
After Sen. Tim Scott (R–S.C.), Carlson's second guest was former Arkansas Gov. Asa Hutchinson, a long-shot candidate currently polling at 1 percent in a statistical tie with "Someone else." Carlson's first question related to Hutchinson's 2021 veto of H.B. 1570, an Arkansas bill that would have prohibited medical professionals from providing any medical treatment to minors related to gender transitioning, including puberty blockers and gender reassignment surgeries. It also did not include a grandfather clause, meaning any minors who were on hormone therapy when the law went into effect would either have to stop or seek treatment across state lines. (State lawmakers overrode Hutchinson's veto, but the law is currently on hold pending litigation.)
"Have you reassessed your view on it since then?" Carlson asked.
Hutchinson stood behind his decision. "What I believe in is that parents ought to raise their children," he said. "I believe that God created genders and that there should not be any confusion on your gender. But if there is confusion, then parents ought to be the ones that guide the children."
To be clear, Hutchinson is no progressive radical on the issue: He accused some public schools of "pushing transgenderism" and said, "If there had a been a bill that said you should not ever have transgender surgery as a minor, I would sign that in a minute, because no parent should be able to consent to that permanent change." (Under American Academy of Pediatrics guidelines, surgery for minors should only be pursued "on a case-by-case basis" and include "multidisciplinary input from medical, mental health, and surgical providers as well as from the adolescent and family.")
But unexpectedly for a candidate running to be the leader of the Republican Party, Hutchinson offered a qualified yet nuanced defense of transgender care for minors from the perspective of limiting the role of government and supporting the rights of parents.
"I believe in a limited role of government," Hutchinson said. "I don't think that California ought to be able to tell parents, 'You need to have gender-affirming care for children.' The government should not do that. And in the same way, let's keep the government out of it unless it's [an] extreme case, and let's let parents guide the children."
A skeptical Carlson pushed back, "You believe it's treatment. You believe, I suppose, that people can change their sex. Because if you don't believe that, you wouldn't call it treatment, would you?"
Hutchinson paused before carefully continuing, "I wouldn't make that decision in my family, and I don't believe that taxpayers' funds should be used for transgender surgery through Medicaid or Medicare or in our military." But, he continued, "I'm saying one simple fundamental thing, that we have to have a debate as to what's the limited role of government."
The crowd was largely unreceptive to the argument. Blaze Media founder Glenn Beck compared Hutchinson's performance to the Hindenburg disaster. But Hutchinson's defense was laudable, especially for the fact that it ran contrary to the direction his party and its base are moving. After all, if both a child's parents and doctor decide that a form of medical care is appropriate, then what business is it of the state government to stand in the way?