Why Is Tucker Carlson Leaving Fox News?
The network has abruptly parted ways with one of its biggest stars.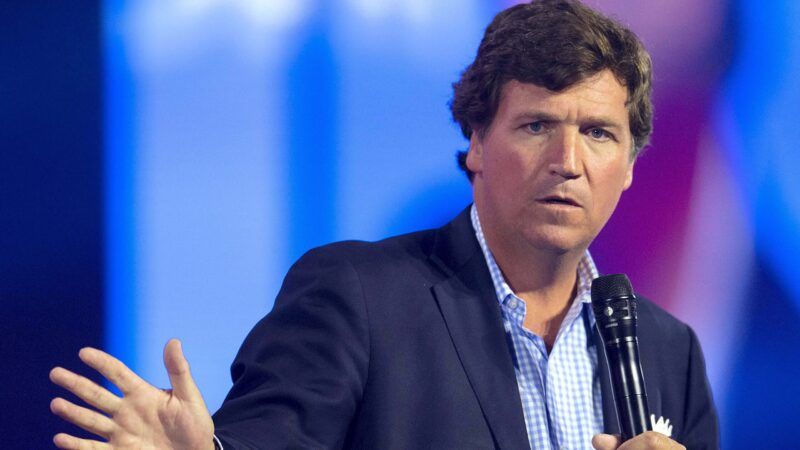 (Brian Cahn/ZUMAPRESS/Newscom)
Fox News shook the very foundations of the Earth on Monday when the conservative cable giant announced that its top talent, Tucker Carlson, was finished.
"FOX News Media and Tucker Carlson have agreed to part ways," said the network in a statement. "We thank him for his service to the network as a host and prior to that as a contributor."
This is an unexpected development, to say the least. Carlson is the biggest star in conservative media. He's one of the most influential voices in Republican Party politics. And most importantly, he was Fox's most popular host, drawing in over 3 million viewers for his 8 p.m. show each night. A rational person might have expected the network to approach a theoretical Carlson exit with extreme trepidation.
And yet, Fox is giving every indication that the decision to part ways was sudden and dramatic. Last Friday's installment will serve as the final hour of Tucker Carlson Tonight; much like former host Bill O'Reilly, who was pushed out over sexual misconduct allegations, Carlson was not given the opportunity to produce a goodbye episode. As of Monday morning, Fox was still promoting a forthcoming interview between Carlson and GOP presidential candidate Vivek Ramaswamy. This certainly looks like an unanticipated end.
The departure comes, of course, in the immediate aftermath of Fox's settlement with Dominion Voting Systems, which obligated the network to pay $787 million to avoid a defamation trial. It wasn't immediately clear whether the two things are related; Carlson privately expressed doubts about the stolen election claims and eventually denounced Sidney Powell on air for failing to produce any evidence to support her wild theories. If Fox is punishing its hosts for how they covered President Donald Trump's election conspiracy theories, Carlson is not the obvious place to start.
The Los Angeles Times, however, reported that Rupert Murdoch—head of the Fox empire—personally made the call to fire Carlson, in part because of his dissatisfaction with Carlson's coverage of January 6. There is little doubt that this decision would have to come from the very top; The Washington Post contends that private messages uncovered during the Dominion discovery process—in which Carlson disparaged his bosses—upset network executives.
Some media reporters have pointed to a different potential source of trouble: Fox faces a lawsuit from Abby Grossberg, a former booker for Carlson's show, who has alleged sexual harassment. Perhaps, given all of the above, Murdoch abruptly decided now was the time.
For Carlson, there's little doubt that he can remain extremely relevant in conservative media circles if he so chooses. He has received an outpouring of support since the news broke—Rep. Thomas Massie (R–Ky.) described Carlson's exit as a "huge loss" for Fox—as well as a wave of offers to collaborate: Glenn Beck invited him to join The Blaze, and Jeremy Boreing asked him to come to The Daily Wire. Carlson has reinvented himself many times before, from his Crossfire days to a gig at MSNBC to launching The Daily Caller. (Disclaimer: I worked for Carlson at The Daily Caller before joining Reason in 2014; I have also appeared regularly on Fox News, including on Carlson's show.)
Assuming that Murdoch is the one who pulled the trigger, it would appear Fox is confident that, ultimately, they can replace Carlson. Undoubtedly, they have many other stars waiting in the wings; Greg Gutfeld, who hosts the late-night show Gutfeld!, has pulled in killer ratings as well, and Fox's 5 p.m. panel show The Five (which also includes Gutfeld) is a juggernaut that actually beat Carlson's numbers last year. Jesse Watters and Sean Hannity, who host the prime-time shows before and after Carlson's, are both highly rated. When compared with its rivals at MSNBC and CNN, Fox's overall performance is absolutely dominating, and this will be the case even if Carlson is no longer in the mix.
Replacing his idiosyncratic perspective is another matter.
There are several Fox News personalities with libertarian sensibilities: Gutfeld, Kat Timpf, and of course, Fox Business host Lisa Kennedy, who regularly features Reason writers on her show. Once upon a time, Carlson had called himself a libertarian—he was formerly a senior fellow at the Cato Institute—but by the age of Trump, he had decisively turned against libertarians on a host of social and economic issues: immigration, trade, tech, and so on. It was only on foreign policy where viewers could see traces of his former libertarianism: He remained a vocal opponent of neoconservatism, agreed with President Joe Biden on pulling out of Afghanistan, and bucked the bipartisan consensus on unending U.S. military support for Ukraine. (He remained somewhat hawkish on China, however.)
Carlson's exit was not the only high-profile media departure on Monday: CNN let go of Don Lemon, a long-time personality, in a move that apparently surprised the morning show host while feeling inevitable to anyone covering his recent string of controversies.