Drug Busts Are Linked to More Overdoses and Deaths
Plus: Government appeals social media order, Amsterdam attempts to move prostitution out of red-light district, and more...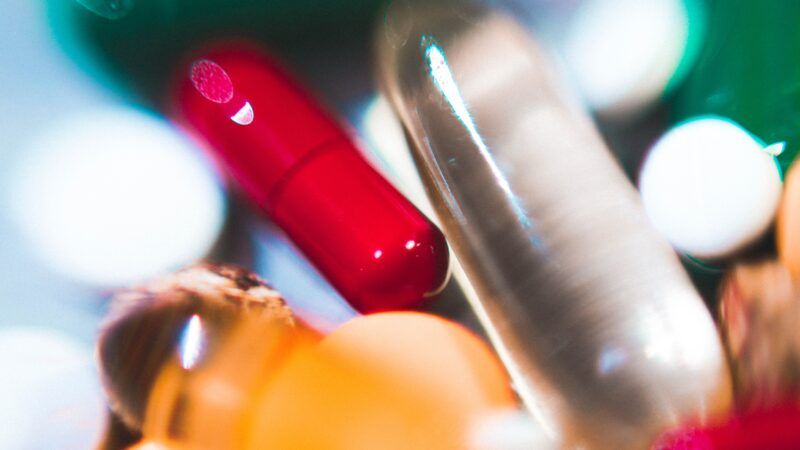 As the Drug Enforcement Administration (DEA) celebrates its 50th birthday, new research highlights how counterproductive its mission is. Published in the American Journal of Public Health, the research links drug busts to a spike in overdoses in nearby areas.
The cross-university team of researchers started out with this hypothesis: "Law enforcement efforts to disrupt local drug markets by seizing opioids or stimulants are associated with increased spatiotemporal clustering of overdose events in the surrounding geographic area."
To test this hypothesis, they looked at data from Marion County, Indiana, on drug seizures and overdoses—including fatal overdoses, emergency medical calls for nonfatal overdoses, and naloxone administration—in 2020 and 2021. Marion County is the largest county in Indiana and contains the state capital, Indianapolis.
They found a significant association between "opioid-related law enforcement drug seizures" and an increase in drug overdoses in surrounding areas (that is, within 100, 250, and 500 meters). This association held at one week, two weeks, and three weeks from the drug bust data.
"For example, the expected number of fatal overdoses within 500 meters and 21 days of opioid-related drug seizures ranged from 18.0 to 22.7 per 100 drug seizures, so the observed rate of 23.6 was higher than expected," the paper states.

Stimulant-related drug seizures were also associated with an increase in drug overdoses, albeit to a lesser extent than with opioid-related drug seizures. The significant association here only held "at a distance of 100 meters within 7 days," and was stronger for nonfatal overdoses.
During the two-year study period, there were 2,110 opioid-related and 3,039 stimulant-related seizures—an average of seven per day. There were 1,171 overdose deaths recorded during that period (an average of 1.6 per day) and 12,590 nonfatal overdoses (an average of 17.2 per day).
"Supply-side enforcement interventions and drug policies should be further explored to determine whether they exacerbate an ongoing overdose epidemic and negatively affect the nation's life expectancy," the researchers suggest.
---
FREE MINDS
Biden administration appeals order banning it from pressuring tech companies to remove content. In a remarkable July 4 order, a federal court told the Biden administration to stop urging social media companies to suppress content. Per the injunction, federal officials may not meet with social media companies "for the purpose of urging, encouraging, pressuring, or inducing in any manner the removal, deletion, suppression, or reduction of content," nor may it flag specific content for possible suppression or removal. "The sweeping injunction applies to all employees of the Justice Department and the FBI, as well as a wide range of federal public health officials including Surgeon General Vivek Murthy, Health and Human Services Secretary Xavier Becerra, and their underlings," as Reason's Eric Boehm noted in the Roundup yesterday.
The Biden administration is, of course, appealing the ruling. On Wednesday, the Department of Justice filed a notice of appeal, "signaling its intent to take the fight to the 5th US Circuit Court of Appeals in New Orleans," reports Bloomberg. "The DOJ also plans to ask the court to put the judge's order on hold during the appeal, according to a person familiar with the case. The case could swiftly land before the US Supreme Court if the government's request is rejected."
Here is @MattWelch on CNN talking with @AlisynCamerota about a judge limiting the U.S. government's contact with social media companies. pic.twitter.com/kb3uvPLA9F

— Andrew Wimsatt ???? (@ajwimsatt) July 6, 2023
---
FREE MARKETS
Amsterdam attempts to move prostitution out of red-light district. Amsterdam is trying to move prostitution out of its famed red-light district, in which brothels are legal. It's part of a larger campaign by the city to limit noise, drug use, and rowdy tourists in the area—a campaign that "sex workers, bartenders and entrepreneurs say [has not] been effective in making the area safer or quieter," as The New York Times reports:
The new rules introduced this spring set earlier closing times for bars (2 a.m., and no new entry after 1 a.m.), stopped sex workers from working after 3 a.m. instead of 6 a.m. and banned marijuana smoking in the street. But many sex workers say the regulations make them less safe because they have less time to earn enough money to cover the cost of their rooms, pressuring them to accept clients they would otherwise turn down.

"The problem isn't between 3 and 6 o'clock in the morning," said Phoebe, 29, a coordinator at the Prostitution Information Center in the red-light district who asked to be identified only by her first name because she is also a sex worker.

"Sex workers are being asked to compromise on their safety and well-being," she said.

Bar owners are unhappy, too, saying that the earlier closing times mean they are missing out on thousands of euros in revenue per month, and that rowdy customers are still a reality.
Femke Halsema, Amsterdam's mayor, is now trying to move legal prostitution to another part of the city—further away from the city center and Amsterdam's historic canals and cobblestone streets. "An erotic center doesn't mean that there won't be prostitution in the red-light district," she told the Times. "It does mean that the red-light district has to lose its appeal as the most important attraction for tourists."
Some see the possible new district as a win for sex workers, representing yet another location where their work will be legal in some forms. (Prostitution is still prohibited without a permit, in hotel rooms, on the streets, or in areas of town not designated for it.) Others see it as a move to marginalize sex workers by pushing them to the periphery.
A specific new location has not been chosen yet.
---
QUICK HITS
Americans were more liberal in policy opinions in 2020 than ever measured. They declined from that high point of liberalism in 2021 but remain very liberal. Trump produced a much bigger backlash than Biden

updated Stimson policy mood for 2021 & 2022:https://t.co/8e4buQSQGw pic.twitter.com/L8GzEYY83U

— Matt Grossmann (@MattGrossmann) July 6, 2023
• Jonathan Chait looks at Chief Justice John Roberts' attempts "to navigate the disjuncture between voters, who on the whole are sharply divided but have slightly favored Democrats, and the power Republicans have accumulated through the Supreme Court, which is quasi-permanent and unbounded by any other political branch."
• The New York Times editorial board criticizes the "increasingly unsustainable" pattern of borrowing by the U.S. government.
• Sen. Josh Hawley (R–Mo.) is making stuff up (again).
• The Federal Trade Commission's proposed revision of the merger review process "would increase the average time to prepare a merger filing from 37 hours to 144" and add "roughly $350 million in added costs," note Christopher Williams and Henry Hauser at The Wall Street Journal, calling this "one-size-fits-all proposal…an overreach…that will disproportionately chill investments at the lower end of the reporting threshold."
• A federal appeals court has invalidated Oregon's ban on surreptitiously recording conversations. "We conclude that Oregon's law is a content-based restriction that violates the First Amendment right to free speech and is therefore invalid on its face," the court ruled.
• Activists in Ohio have submitted more than enough signatures to get an abortion-protecting measure on the state's November 7 ballot. The measure would amend the Ohio constitution to establish "a fundamental right to reproductive freedom" with "reasonable limits."
• "Some psychologists trace the ongoing decline in American children's mental well-being directly to the constraints on their freedom," notes Stephanie H. Murray at The Atlantic.
• Meta's Mark Zuckerberg says that 10 million people signed up yesterday for the company's Twitter competitor, Threads.