Florida Cop Jails Toddler Son for Poopy Pants
Plus: Snapchat cleared in sex crime case, New Hampshire embraces universal licensing reciprocity, and more...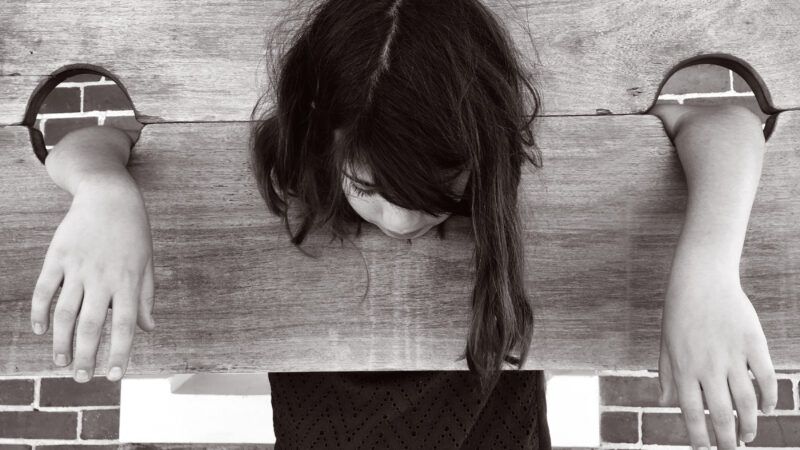 (Rafael Ben-Ari/Rafael Ben Ari/Newscom)
World's worst dad? A Florida police officer was reportedly under investigation after jailing his 3-year-old son over potty-training trouble. The officer, Michael Schoenbrod, told the Florida Department of Children and Families (DCF) he had done the same thing with his other child when that child was age 4 and acted up at preschool.
Last year, the younger boy "was brought to the Daytona Beach Shores Public Safety Department on successive days last October and placed in jail," reports The Daytona Beach News-Journal. "On the second occasion, Oct. 6, 2022, the child was also handcuffed."
Schoenbrod told a DCF case worker the boy "was crying. I was getting the response I expected from him." The boy allegedly promised to never poop his pants again.
In the grand scheme of bad cops and bad parents, Schoenbrod's actions are relatively minor. Still, they stand out as yet another example of "quirky" police tomfoolery—like pulling people over to give them gift cards at Christmastime or turkeys at Thanksgiving—that hints at larger issues with police culture.
In this case, it's Schoenbrod's sense of entitlement (he seems to think it's his right to use the public jail as a personal parenting tool) and his belief that scaring and confining people (including small children!) is the best way to help them learn. He actually said that tears from the child was the response that he wanted.
The situation has also revealed bigger issues surrounding secrecy within local law enforcement agencies.
"It is unclear whether Schoenbrod and another high-ranking Daytona Beach Shores officer, Det. Sgt. Jessica Long, who brought their child to the jail on Oct. 5, faced discipline from the city," notes the News-Journal. "While the city has not made public any internal affairs findings, Both Schoenbrod and Long had 20 hours of leave without pay on their May pay stubs."
The paper did obtain "copies of memos written by Public Safety Director Michael Fowler to each informing them of a professional standards investigation," but could not obtain further information about it because the records are supposedly sealed. But why and how the records are off limits remains something of a mystery.
A city clerk told the paper the records had been sealed by a judge; meanwhile, a court administrator said the judge had not sealed the records. Then someone with the Volusia County Clerk of Court's Office said the records were "confidential due to motions for confidentiality filed within the cases." But according to Michael Barfield, director of public access initiatives for the Florida Center for Government Accountability, the city is improperly withholding the records, since "a party cannot make a record that is subject to production under Chapter 119 (of the state public records law) confidential by merely filing a lawsuit requesting confidentiality and then not setting a hearing on the motion."
In any event, Schoenbrod apparently faced a child services inquiry as well. Bodycam footage from a Volusia County Sheriff's Office deputy present during his interview with a child caseworker finds Schoenbrod saying it was "disgusting that somebody would drag our family through the mud like this" and Long calling the investigation "insane." Local reporters and residents have also had trouble obtaining records about this investigation.
"For months, Daytona Beach Shores-area residents who have seen the body-cam video or heard about it have been asking City Hall for records related to the matter, but the results of investigations remain largely shrouded in secrecy," notes the News-Journal.
---
FREE MINDS
Snapchat isn't responsible for a teacher sending sexually explicit images to a student just because the social media platform features disappearing communications. U.S. District Judge Lee H. Rosenthal threw out a case alleging as much last year, and the U.S. Court of Appeals for the 5th Circuit just upheld her decision.
The student had argued that "sexual predators" were drawn to Snapchat "by the privacy assurances granted by the disappearing messages feature of the application." He sued Snapchat along with the teacher and the school district. But Section 230 of federal communications law shields Snapchat from civil liability for content posted by users, the appeals court pointed out.
A number of civil suits, including this one, have attempted to get around Section 230 by accusing tech companies of negligence in their product design. But courts have routinely thrown out these cases, noting that fashioning the claim as one of product design rather than speech doesn't make sense.
Section 230 provides "immunity…to Web-based service providers for all claims stemming from their publication of information created by third parties," noted the district court.
"As Doe's claims against Snap were based on Mazock's messages, the district court found Snap immune from liability," pointed out the 5th Circuit in its June 26 decision:
On appeal, Doe asks us to revisit this issue. He cites several authorities in support of his contention that the broad immunity provided by the CDA goes against its plain text and public policy. However, as Doe himself acknowledges, this argument is contrary to the law of our circuit: "Parties complaining that they were harmed by a Web site's publication of user-generated content…may sue the third-party user who generated the content, but not the interactive computer service that enabled them to publish the content online."
---
FREE MARKETS
New Hampshire embraces universal licensing reciprocity. Republican New Hampshire Gov. Chris Sununu just signed into law a measure allowing professionals licensed in other states to legally work in their fields in New Hampshire without obtaining a new occupational license.
????UNIVERSAL LICENSE RECIPROCITY is now the law of the land in NH!

We took on the special interests and are cutting red tape.

Licensure reform is common sense:
✅Lowers costs for customers
✅Promotes free-market competition
✅Grows our workforce

This is a BIG WIN for NH. pic.twitter.com/Tjaff3cOeW

— Chris Sununu (@GovChrisSununu) June 28, 2023
Known as universal licensing reciprocity, the "practice will now apply to all professions licensed in New Hampshire as long as their out-of-state requirements are 'substantially similar' to New Hampshire's," reports the New Hampshire Bulletin. The measure (House Bill 594) "will leave it to the state Office of Professional Licensure and Certification to consult with professional boards, commissions, and councils to determine what counts as 'substantially similar.'"
---
QUICK HITS
• Join Reason's Nick Gillespie on YouTube and Facebook at 1 p.m. today for a discussion with Democratic presidential candidate Robert F. Kennedy Jr.
• Marijuana legalization is coming to Maryland. The state's law legalizing recreational marijuana use takes effect July 1, making Maryland the 20th state to legalize weed.
• A federal court has paused enforcement of a Tennessee law banning gender transition treatments for minors.
• Filter has a dispatch from the latest Psychedelic Science conference.
• "A nonprofit prison ministry is suing an Indiana Jail after it instituted a policy that effectively banned the organization from sending books to incarcerated individuals," reports Reason's Emma Camp. "In their lawsuit, Unshackled Hearts argues that the policy, which prohibits books from being sent through Amazon and online distributors, violates their First Amendment rights."
• Greensboro, North Carolina, police officer Miguel Garcia is accused of sexually assaulting a developmentally disabled woman he met after she was reported missing from a group home.
• A reminder that qualified immunity doesn't only protect bad cops:
Recent 6th Circuit decision holds qualified immunity protects a state building inspector from Takings Clause liability. A good reminder that abusive police are far from the only state officials protected by awful QI doctrine. https://t.co/mQWu0DYV8s

— Ilya Somin (@IlyaSomin) June 28, 2023
• More on 1950s wages and spending versus 2023 wages and spending:
The way I prefer making the opportunity cost point is that couples have voted with their actions and chosen "more stuff" over "1950s family". They can get more stuff today than in the past. Social conservatives' job is to convince people they've chosen badly. Tough sell. https://t.co/snHVfMZkBp

— Scott Winship (@swinshi) June 28, 2023
Families spend less on food today than any point in the past https://t.co/Nk9Vw6Jmmf pic.twitter.com/tFHVUTg3oU

— Jeremy Horpedahl ????‍♂️ (@jmhorp) June 28, 2023