Review: No Hard Feelings
Jennifer Lawrence hits the beach.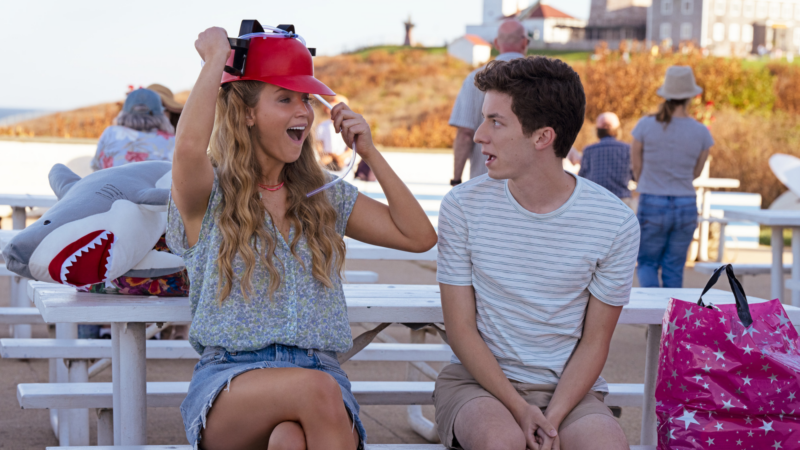 The reason that No Hard Feelings—a salty but basically innocuous comedy—is rated R is because its star, Jennifer Lawrence, has a full-frontal nude scene in it. It's quick—maybe 20, 30 carefully edited seconds—but she's undeniably naked. I guess it's crass of me to go right to this scene, but the studio—and presumably Lawrence herself, a producer on the film—is happy to play up the movie's raciest attraction. (In the trailer, a chyron over one shot of a topless Lawrence walking away from the camera tells us the picture is "Restricted for Graphic Nudity.")
The rest of the movie is skin-free, although we do get to hear Lawrence say uncharacteristic things like "I miss that fucker." But not much more than that. 
The picture is set in the tony oceanside resort of Montauk, New York, out on the fashionable end of Long Island. Lawrence plays Maddie Barker, a blue-collar Montauk native who's desperately trying to keep her head above water by working two jobs—she's an Uber driver and a bartender, too. But now her car has been repossessed, which endangers the first of those freelance gigs and also her home—a big house she inherited from her late mother, which may soon be seized by the tax man. What to do?
Luckily, Maddie sees a newspaper ad posted by a wealthy couple, the Beckers (Matthew Broderick and Laura Benanti), who are looking for a young woman to spend the summer "dating" their dweeby 19-year-old son Percy (Andrew Barth Feldman), who's never had a girlfriend and in fact never leaves his room. Compensation for succeeding in the Beckers' mission will be a Buick Riviera—which would come in very handy for Maddie, who's currently making her way around town on roller skates. She is definitely interested in the deal and wants to make the best possible impression on Percy's father. When he tells her that his son will be going to Princeton in the fall, she says, "I've heard of it."
Now, how likely is it that a pair of wealthy parents would place a newspaper ad seeking to hire a stranger to, essentially, seduce their introverted son? (Maddie promises Becker that if he hires her to date his son, she'll give it her all—and will in fact "date his brains out.") But well-oiled plot mechanics are little missed in a movie like this. The picture is sweet and likable, and even the fact that most of the best lines are included in its trailer isn't all that objectionable. The jokes are pretty good, for the most part, even the second time around. 
Director and co-writer Gene Stupnitsky draws good-natured performances from his cast, which includes Scott MacArthur (The Righteous Gemstones) and Kyle Mooney. And even though the picture doesn't quite qualify as a rom-com (the 32-year-old Maddie is clearly way out of Percy's league), Lawrence's celebrity charisma shines like a sea beacon and lights up the film throughout.