Immigrants Can't Naturalize if They Own a Marijuana Dispensary, Court Says
Maria Elena Reimers has been caught in legal limbo for years.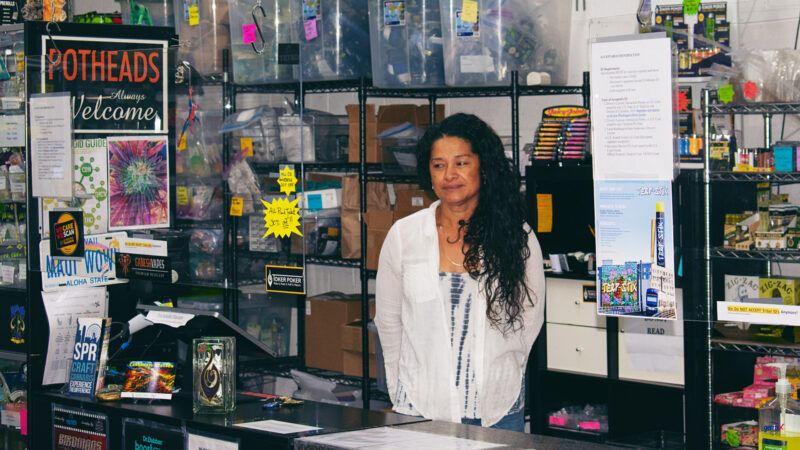 Running a state-legal marijuana dispensary is grounds to deny a legal resident's application for U.S. citizenship, a federal appellate court ruled earlier this month.
The 9th Circuit Court of Appeals concluded that Maria Elena Reimers' application for naturalization could be denied because she operates a licensed marijuana business in Washington state. While her business is legal under Washington law, marijuana remains illegal under the federal Controlled Substances Act (CSA).
The court affirmed that violating the CSA "categorically precludes her from qualifying for naturalization" since it demonstrates a lack of "good moral character." The ruling rejected Reimers' claim that she is treated differently than marijuana business owners who are U.S. citizens. Washington has licensed almost 500 marijuana dispensaries since legalizing recreational sales in 2012.
Reimers has no criminal record, yet in a letter announcing the denial of her naturalization application, U.S. Citizenship and Immigration Services (USCIS) described her as an "illicit trafficker of a controlled substance."
"We have a legal business and pay taxes, tons of taxes to the government. And yet they say I'm not morally fit to be a citizen," Reimers tells Reason.
Reimers immigrated legally to the U.S. from El Salvador in 2004 with her now-husband Rick, who was born in the United States. Rick started Cannarail Station, a recreational dispensary in Ephrata, Washington, in 2014. Reimers submitted her naturalization application in May 2017, fully disclosing her involvement with the business.
After her initial interview in August 2017, Reimers says she passed the naturalization test and was scheduled for an oath ceremony. Then USCIS changed her application to pending. In June 2018, she appeared for a second interview, where immigration officers extensively questioned her about the business. Reimers testified honestly that she was a co-owner and employee of Cannarail Station.
In July 2018, Reimers received a denial letter from USCIS. In May 2019 she had an appeal hearing with USCIS, but a year later they reaffirmed the decision. Reimers filed a complaint in the U.S. District Court for the Eastern District of Washington in December 2020, which granted summary judgment to USCIS in February 2022 solely on the basis of her marijuana business. She appealed the decision to the 9th Circuit, which heard the case in April 2023.
Her attorney, Alycia Moss, tells Reason, "She's qualified in every other way. The only denial reason was based on lack of 'good moral character.'"
However, the 9th Circuit, citing Hussein v. Barrett (2016), affirmed that violating the CSA is "a per se bar to naturalization." Specific violations of U.S. naturalization law automatically prevent an applicant from having "good moral character." The court maintained that selling marijuana in violation of the CSA renders an applicant automatically ineligible for naturalization. In cases where the applicant committed crimes that were not enumerated under naturalization law, courts may consider "all evidence relevant to the applicant's character." In Reimers' case, her legal marijuana business prevents the court from considering any of her other qualifications.
Since 2013, the Department of Justice has allowed recreational marijuana businesses to operate without fear of prosecution so long as they follow state regulations. Reimers and her husband say their business has fully complied with Washington law and they have never run into any issues with the authorities. The 9th Circuit's ruling, however, affirms that USCIS can still punish prospective citizens even if they haven't been prosecuted for a federal marijuana offense.
Moss contends that there are two constitutional questions in Reimers' case. The first is that the federal government's application of the CSA violates the Equal Protection Clause. The prohibition on marijuana applies to both citizens and noncitizens, but Reimers is punished for her business whereas citizens are not.
However, the court ruled that Reimers cannot argue she is treated differently than citizen marijuana business owners because "Ms. Reimers is not a citizen and, moreover, the naturalization statutes do not apply to citizens." In the 9th Circuit's opinion, the relevant equal protection argument is not whether the CSA was applied equally among marijuana business owners, but whether the naturalization laws were applied equally to noncitizens. For the equal protection argument to hold, she must show that USCIS "treated similarly situated individuals—other non-citizen marijuana business owners—differently under the naturalization statutes."
Moss says that finding citizens who were naturalized despite operating marijuana businesses would be "difficult, if not impossible" because "those individuals…would be subject to denaturalization."
The other issue, Moss says, is that the current federal regulations on cannabis are a half-in, half-out system. For example, the federal government allows marijuana businesses to operate without interference, but they can't take tax deductions for most business expenses and have difficulty banking. Many state-legal marijuana businesses are allowed to hire armed security or even off-duty police to stand guard at retail outlets, but could just as easily be charged with using a gun in the act of drug trafficking.
"We've had bank accounts closed because we're a marijuana business. There's one credit union here in our area that we can use, but it's a two-hour drive.…It's just been a nightmare," Rick says.
After Moss brought Reimers' case to the U.S. District Court for the Eastern District of Washington in 2020, the court declined to provide a de novo hearing—a full evidentiary hearing where the court would have reexamined the facts of her case from scratch without USCIS' conclusions. The 9th Circuit affirmed the lower court's ruling and again denied Reimers a full evidentiary hearing. Now, Moss says they plan to request an en banc hearing from the 9th Circuit, which would involve 11 judges instead of the usual three. Moss hopes that a new hearing would mandate a de novo hearing and provide another opportunity for the court to reconsider their constitutional objections.
"When the federal government is going to allow a certain sector of the country to do something that is very clearly federally illegal and not enforce it, but then enforce it in other areas, like in tax law, or immigration, I think we create the most patently unfair system," says Moss. "Either the federal government changes the law or the federal government needs to consistently operate its laws."
If Reimers fails on appeal, she would have to explore other options to gain citizenship. The Immigration and Naturalization Act requires applicants who are married to U.S. citizens to demonstrate "good moral character" for the three years preceding their application, meaning Reimers would have to distance herself from her business for at least three years to demonstrate "reformation of character" before reapplying.
"We were advised that we could sell the business and maybe I could apply later…but is it fair?" Reimers says. "We can divorce…but then he cannot even give me child support because I [would] be taking money from him that he's making out of the marijuana business, and then I could not apply for my citizenship."
Reimers has not left the country since arriving in 2004 out of fear that border authorities would flag her green card for potential revocation upon reentry due to her business being in violation of federal law. Given the complications with her naturalization application, she now fears that she might be denied for a green card renewal.
"I was running away from all the crime that was overtaking my country.…I hear this was the land of opportunity, where dreams can come true," Reimers says. "The dream is not as they say.…All of this mess, just because I wanted to have a better life, to be safe, and to provide for my family."