Chris Licht Ouster Shows How Cable News Has Become a Cope
The journalistic crusade against "bothsidesism" is an unsubtle attempt at enforcing political orthodoxy.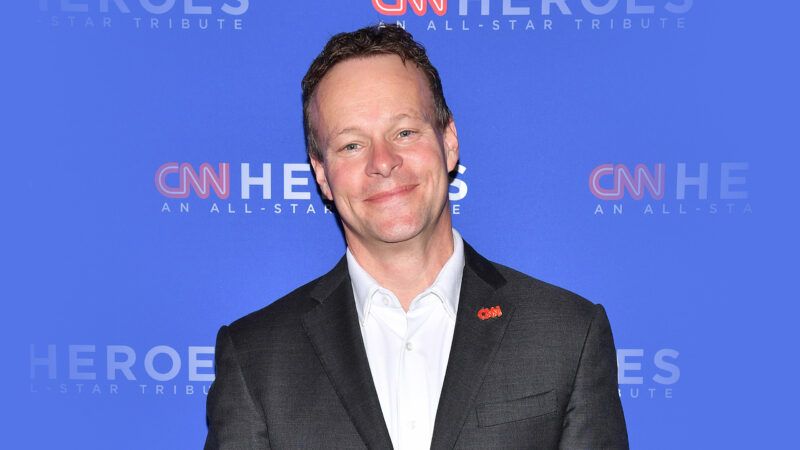 (Anthony Behar/Sipa USA/Newscom)
On the evening of June 5, as Journalist Twitter entered a fourth straight day of industry gossip over Tim Alberta's 15,000-word Atlantic profile of embattled CNN Chairman Chris Licht (whose tenure would finally be euthanized June 7), I did something that fewer and fewer people—including those in the middle of that discussion—bother to do anymore: I watched a lot of CNN.
It can be jarring, to put it mildly, to observe the chasm between highfalutin notions about "the proper function of journalism in a fractured democracy" (as former Reliable Sources anchor Brian Stelter framed the Licht debate in New York magazine), and CNN's actual programming. On that night the network's lead story, hour after calorie-free hour, was that an unnamed source "familiar" with the investigation into former president Donald Trump's mishandling of classified documents indicated that "at least one witness has been asked by prosecutors" about whether a pool-maintenance employee at Trump's Mar-a-Lago compound intentionally flooded "a room where computer servers containing surveillance video logs were kept."
Oh, and also: "Prosecutors have heard testimony that the IT equipment in the room was not damaged in the flood, according to one source."
To summarize this already forgotten story, whose details were not referenced in the detail-rich, 37-count, 49-page federal indictment against Trump and his alleged accomplice Walt Nauta: An anonymous leak from a then-ongoing criminal investigation suggested that prosecutors were asking questions about whether a Trump employee was directed to inflict ultimately unsuccessful damage on relevant evidence, which, if true, might (or might not!) support an obstruction of justice charge—generally the lowest fright mask on the totem pole of federal prosecutions. (There ended up being a single conspiracy to obstruct justice charge, with no flooding or server damage cited.)
This "pool saga," as anchor Kaitlan Collins referred to it, dominated CNN's airwaves on June 5; at one point I watched 30 consecutive minutes on the topic, panelists with no particularly relevant expertise trying gamely to breathe oxygen into a sagging balloon. (Even former FBI deputy director and current CNN contributor Andrew McCabe, usually a reliable provider of Trump-investigation wish-fulfillment, took a deep breath when asked by Anderson Cooper about it, paused a beat, and said, "Yeah, that's a really weird one.")
If there were such a thing as a "margin of error" for genres of news stories, then anonymously-sourced slivers from ongoing high-profile prosecutions would rank near the top, particularly when spiced with the cable-news specialty of under-informed, one-sided political speculation. Evidence for which was plain to see nearly every day of the Trump presidency on CNN and MSNBC, as well as nearly all late-night comedy shows.
It was that dynamic—the overwrought, believe-the-worst, we're-defending-democracy-here coverage of Trump from the once-sober CNN—that Licht and his Warner Bros. Discovery CEO boss David Zaslav sought to rein in after taking over the channel from internally beloved president Jeff Zucker in 2022. They fired Stelter, trimmed the sails of political reporter Jim Acosta, and issued warnings about staff Trump-haters becoming too "emotional."
"Everyone has an agenda, trying to shape events or shape thought. There has to be a source of absolute truth," Licht told Alberta last fall. "There's good actors, there's bad actors, there's a lot of shit in the world. There has to be something that you're able to look at and go, 'They have no agenda other than the truth.'"
Oh, you sweet summer child.
As in any management shuffle, there were a variety of factors in Licht's defenestration—cost-cutting pressures, the industry's long-term structural decline, and his own lack of internal political finesse, for starters. But as any extended viewing of CNN itself suggests, one critical reality that Licht was unable to overcome is that the newsroom he so brashly attempted to remake has, like so many others around the country, transformed itself into a consciously anti-Trump, anti-Republican, "pro-democracy" machine whose engine runs on "moral clarity" rather than dreaded bothsidesism or even (involuntary shudder) centrism.
"[Licht's] departure marks the failure of his mandate…to recalibrate the network's political sensibility toward the center," sneered Washington Post media columnist Erik Wemple after the firing. "To the extent that anyone ever understood what that meant for actual CNN broadcasts, it's now clear that it meant sanitizing the screen in deference to the Republican front-runner."
There were many such journalistic victory laps over the past week.
"It's simple: Don't give liars a platform," wrote Billy Goodykoontz in the Arizona Republic. "Bothsideism isn't journalism. It's pandering. It's weak, and it doesn't deserve to be rewarded with an audience."
Declared Perry Bacon Jr. in the Washington Post, "Licht's comments embody an anti-woke centrism that is increasingly prominent in American media and politics today, particularly among powerful White men who live on the coasts and don't identify as Republicans or conservatives," adding (in case the intent wasn't clear enough): "Licht and others like him should definitely stop being so anti-woke."
Such explicitly political brow-beating has become common within the journalism profession. "Many are concerned that [Zaslav] will remain committed to a 'both sides' vision that sounds strategically wise in the boardroom but tactically fails on live TV," warned Stelter, also in the Washington Post. "CNN cannot ignore the extremist attitudes shaping our politics or claim that Jan. 6, 2021, was a protest that just got out of hand. We live in an age that requires a muscular form of TV journalism, one that defends truth against a torrent of lies—and accepts that the truth-telling will spur backlash from some viewers."
You will not hear, in these aspirational words, many descriptions of what gets broadcast on CNN's air, with the exception of last month's unforgivable platforming of Donald Trump. As Semafor co-founder Ben Smith cheekily put it this week, while tweeting out the graphic below, "Ever feel like you are talking about a television network more than you watch it ….?"
Keeping the discussion at the level of abstraction allows for the nifty evasion of an awkward fact: That CNN, like so many anti-bothesidesism media institutions, went on a speculative, fact-lite bender during the Trump era, particularly when it came to reporting and commentary on the various Russia-related investigations. That you can probably count on one hand the number of serious self-reflections about this massive, consequential, yearslong journalism failure is considerably more damning than a single cable network's decision to broadcast a town hall full of rowdy Trump fans.
Indeed, when CNN's best anchor, Jake Tapper, pronounced last month, plausibly enough, that the internal Department of Justice report on the Russiagate investigation produced by special counsel John Durham was "devastating to the FBI, and to a degree it does exonerate Donald Trump," he was a lone media figure climbing out onto a branch that various other journalists immediately began sawing off.
"CNN Legal Expert Destroys Durham Report Hours After Tapper Claimed Partial 'Exoneration' For Trump," thundered a Mediaite headline. "Jake Tapper needs to resign," tweeted Keith Olbermann. Added Media Matters for America: "CNN's framing of the Durham report was exceptionally misleading, ignored expert opinion, and aligned with Trump talking points."
Such calls are better understood less as media criticism and more as attempts to enforce orthodoxy. Yet that approach makes logical sense in an era where media in general, and cable nets in particular, have been participating in a partisan sort.
"The people who watch cable," wrote David A. Graham in a shrewd if pessimistic Atlantic piece, "tend to be news junkies and political junkies. As American politics has become sharply polarized, so have they….There simply aren't enough rabid news consumers who are also staunch centrists to sustain a network."
I have a more optimistic conclusion—that the rise particularly of podcasts and indie Substack/YouTube/Twitter operations suggests a large and growing audience for news and commentary from a perspective that is less predictable than what you see on TV or read in the newspapers. And that perhaps one day more legacy media outlets will figure out how to reach those consumers they have been aggressively alienating.
But the cable-news sort has been striking. Fifteen years ago, Tucker Carlson was a host on MSNBC; a decade ago, it was possible to launch a TV show in the Fox building around the explicit notion of non-partisanship; even a few years back there were a solid handful of programs on either side of Avenue of the Americas where one could reliably expect to encounter intelligent disagreement about politics and philosophy. Now, after this month's cancellation of Kennedy, I can't name a single one.
That's too bad. While conservatives and journalists continue their mimetic doom spiral, hoping desperately to win the most anti-Other Side audience, non-political junkies increasingly tune out, and those of us who hail from Planet Weird get less of an opportunity to mix things up. CNN will likely continue to anti-bothsidesism straight into fourth place, Trumpies will likely continue their long electoral losing streak; and the rest of us will be advised to seek our news fix elsewhere.