Review: Squaring the Circle (The Story of Hipgnosis)
Classic rock revisited.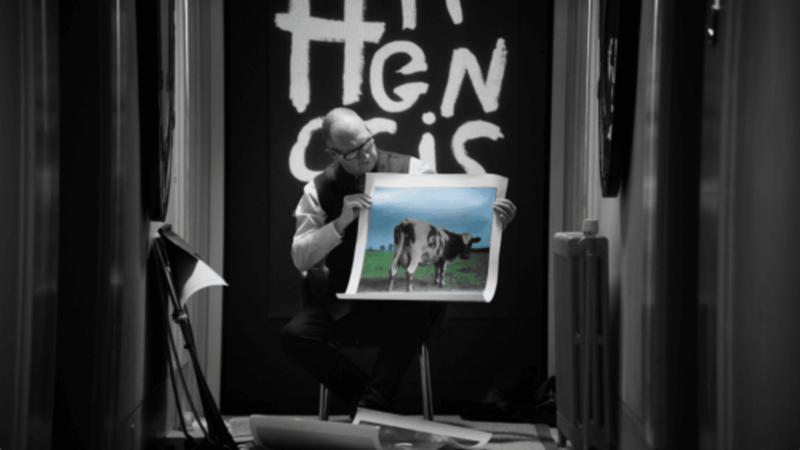 (Courtesy of Anton Corbijn)
By the 1970s, the rock music business was minting so much money that touring bands found themselves awash in, among other things, pharmaceutical-grade drugs, luxury-loving female idolators, and their own private jets, some of which, like Led Zeppelin's, featured onboard piano bars. Inevitably, many non-musicians started getting rich off all this abundance, too. Among these lucky folks were two young graphic designers: Englishmen Aubrey Powell, an imaginative photographer, and Storm Thorgerson, a complete loon with an endless supply of brilliant ideas for eye-grabbing album art. These two started a London-based boutique design company called Hipgnosis, and anyone who ever bought an LP by Pink Floyd, Led Zeppelin, Peter Gabriel, Wings, Genesis, 10cc, Electric Light Orchestra, T. Rex, Bad Company, or Emerson, Lake & Palmer, among many other acts, has probably gazed upon a sleekly surreal Hipgnosis album cover at one time or another.
The intoxicating amounts of music-biz money sloshing around back in that time allowed Powell (known as Po) and Thorgerson to execute even the wildest ideas for their well-heeled clients. As Andrew Ellis, another of the company's graphic designers, recalls in the new documentary Squaring the Circle (The Story of Hipgnosis), "Po would come down and say, 'I need a sheep, I need a psychiatrist's couch, I'll probably need a vat—and I'm shooting in Hawaii, so can you book me a flight on Friday?' And I'm thinking, 'It's Monday, and all I've got is a dial-up telephone with a curly wire and the Yellow Pages.'"  
There were further difficulties with this particular project (which was for a 10cc album). Arriving in Hawaii, Powell could locate only one sheep, and he had to have a psychiatrist's couch custom-built. Then, after lugging the couch out to a beach and down into the waves, it was discovered that the sheep had no interest in reclining on it (which was the idea that had been cooked up back in London). Finally, a vet had to be called in to tranquilize the irritated beast.
Powell and Thorgerson started out with a leg up in the business, being friends already with future Pink Floyd founders David Gilmour, Roger Waters, and Roger (Syd) Barrett. After moving to London and opening an office so squalid it didn't even have a toilet (inquiring visitors were told, "We pee in the sink"), Powell and Thorgerson approached their old pal Gilmour about letting them design the cover for the second Floyd album, the 1968 A Saucerful of Secrets. Gilmour liked their enthusiasm, gave them the go-ahead, and Hipgnosis was launched.
Directed by veteran rock photographer Anton Corbijn (who's shot many videos for U2 and Depeche Mode, and also made the 2007 biopic Control about Joy Division frontman Ian Curtis), Squaring the Circle is an affectionately crafted compendium of classic-rock lore, numbering among its talking heads Powell (Thorgerson died in 2013), Gilmour, Waters, Floyd drummer Nick Mason, and Led Zeppelin's Robert Plant and Jimmy Page (who says the Hipgnosis cover for his band's In Through the Out Door LP was "better than the album itself").
Powell and Thorgerson (in archive footage) are chatty and charming in relating their stories. Some of them are fairly well-known by now, like the one about the creation of the prism cover for Floyd's The Dark Side of the Moon and the one about creating the cover shot for the band's Animals album, with a giant inflatable pig rigged to float high above the Battersea Power Station—and breaking off from its tether and blowing away in the wind. (A farmer was later surprised to find it in residence on his property.) There's also the story of another Hipgnosis partner, Peter Christopherson, who shot an early series of weird, lurky Peter Gabriel photos, and explained to Powell that he'd developed his eerie style while working in a mortuary, where he'd arrange, light, and photograph corpses late at night. (Also a musician, Christopherson later joined Throbbing Gristle and Psychic TV and cofounded the neo-nightmare band Coil.) 
A perfect illustration of the company's stream-of-consciousness approach to graphics was its work on the 1970 Floyd album Atom Heart Mother. "I said let's do a cover that's completely meaningless," Powell recalls. "We'll just get a picture of a cow." So a small expedition into the countryside was mounted, a cow was found and photographed, and its image was soon staring out meaninglessly from the front cover of the album. The band loved it, but its record company, Harvest, wasn't quite so delighted—because Hipgnosis demanded that there be no mention on the cover of the name of the group or the title of the record. The company swallowed this bizarre requirement and went ahead and shelled out for a large consignment of inflatable plastic cows' udders to promote the record.
As the '70s came to an end, there was a seismic shift in the rock audience. Prancing millionaire rock stars were starting to seem ridiculous. A new wave of younger, sunnier stars was on the rise, and their audience had little interest in many of the vaunted old-wave acts that had made Powell and Thorgerson so wealthy. And they must have realized it was time to move on. "By the time you're floating huge inflatable pigs over Battersea Power Station," says former Hipgnosis art director Peter Saville, "you really are not talking to 15-year-olds anymore."
Squaring the Circle (The Story of Hipgnosis) is now showing in New York, opening next Friday in Los Angeles, and will have one-night-only screenings across the country on June 20.