Trump Reportedly Viewed a Supposedly Declassified Document As a Secret He Was Not Allowed To Share
The recorded comments could be relevant to a charge that the former president willfully mishandled national defense information.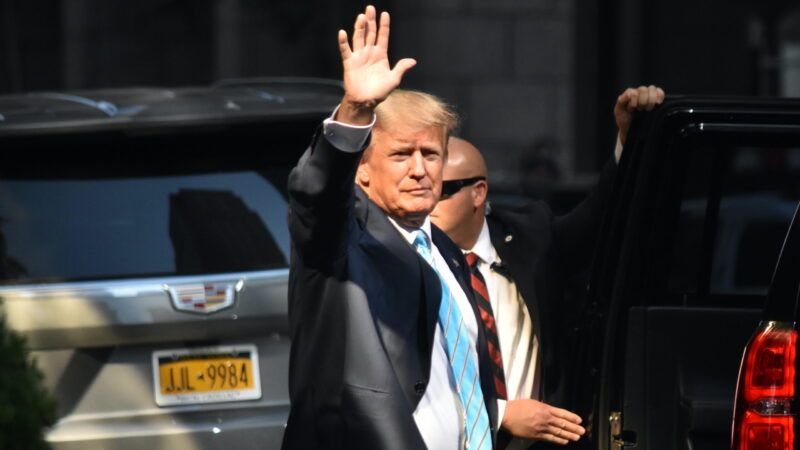 (Kyle Mazza/Zuma Press/Newscom)
During Donald Trump's CNN town hall last month, moderator Kaitlan Collins asked him about the hundreds of classified documents he took with him when he left the White House in January 2021. "Did you ever show those classified documents to anyone?" she wondered. Trump's response was vague: "Not really. I would have the right to."
Collins asked Trump for clarification: "What do you mean [by] 'not really'?" Trump said he meant "not that I can think of," which is not really the same thing. In any case, he said, "I have the absolute right to do whatever I want with them."
One of the things Trump seems to have done with them, judging from recent reports about a recording obtained by Special Counsel Jack Smith, is rebut the claim that former Joint Chiefs of Staff Chairman Mark Milley restrained him from taking military action against Iran toward the end of his presidency. During a July 2021 interview at his golf club in Bedminster, New Jersey, Trump reportedly cited a secret memo that he said showed it was actually Milley who was bent on confrontation with Iran.
If we can trust the anonymous sources who recently described that conversation to CNN and The New York Times, the episode could be an important piece of evidence in Smith's investigation of what Trump did with thousands of presidential records he retained after leaving office. As reported, Trump's remarks suggest that, contrary to his repeated claims that he had declassified every document stamped as "confidential," "secret," or "top secret" when he had the power to do so, he still viewed the Iran memo as classified half a year after decamping for Mar-a-Lago.
Legally, the classification status of the purloined records is not decisive. Under 18 USC 793, one of the statutes that the FBI invoked when it sought the warrant for its August 8 search of Mar-a-Lago, it is a felony to improperly retain "information relating to the national defense" that "could be used to the injury of the United States or to the advantage of any foreign nation." That law predates the classification system established in 1951 and so makes no reference to it. But Trump's comments could be relevant in establishing that he "willfully" retained national defense information and that he had "reason to believe" it "could be used to the injury of the United States or to the advantage of any foreign nation," both of which are elements of the offense.
"We have seen absolutely no indication that President Trump knowingly possessed any of the marked documents or willfully broke any laws," Trump's lawyers said in an April 26 letter to the House Intelligence Committee. "Rather, all indications are that the presence of marked documents at Mar-a-Lago was the result of haphazard records keeping and packing by White House staff and [the General Services Administration]." As described, the Bedminster recording seems to contradict that claim.
The interview with Trump was conducted as part of the research for former White House Chief of Staff Mark Meadows' 2021 memoir The Chief's Chief. "The recording indicates Trump understood he retained classified material after leaving the White House, according to multiple sources familiar with the investigation," CNN reported this week. "On the recording, Trump's comments suggest he would like to share the information but he's aware of limitations on his ability post-presidency to declassify records, two of the sources said."
Irked by press accounts of Milley's restraining influence, the Times says, Trump "began referencing a document that he had with him, saying that it had been compiled by General Milley and was related to attacking Iran, the people briefed on the matter said." Trump "can be heard handling paper on the tape, though it is not clear whether it was the document in question."
Adding to the intrigue, CNN today reported that Trump's lawyers "turned over material in mid-March in response to a federal subpoena" related to the "classified US military document" he cited in the interview but "were unable to find the document itself." CNN says "it remains unclear" whether the document "was ever returned to the government or where it is now."
Trump has offered shifting accounts of how he supposedly declassified the documents he retained. He initially claimed he had issued a "standing order" that automatically declassified anything he happened to remove from the Oval Office, which was news to his former national security adviser and his former attorney general. Trump later said he had the power to declassify records simply "by thinking about it" or by taking them to Mar-a-Lago. During the CNN town hall, he reiterated that everything he removed was "automatically declassified."
Trump's lawyers, during the legal wrangling over the FBI's use of the documents it seized from Mar-a-Lago, avoided such extravagant claims. But they did note that, as president, Trump could have declassified the records. Trump lawyer James Trusty reiterated that point this week. "When he left for Mar-a-Lago with boxes of documents that other people packed for him that he brought, he was the commander in chief," Trusty told CNN. "There is no doubt that he has the constitutional authority as commander in chief to declassify." But according to the Times, Trusty "declined to say" whether Trump had declassified the Iran memo.
Compounding the confusion, attorney Timothy Parlatore, who was part of Trump's legal team until recently, told CNN this week that the former president's retention of records marked as classified was partly due to "the failure of document handling within the White House." That seems inconsistent with Trump's claim that his purported declassification, whether carried out by a "standing order," a mental declaration, or the very act of removal, operated as intended.
In any case, Parlatore said, the Iran memo's classification status is a red herring in the context of potential charges under 18 USC 793. "Whether it was classified or declassified is not really something that's relevant to the statute that we're talking about here," he said. "What DOJ is investigating is willful retention of national defense information. Whether it's classified or declassified is not an element of that offense."
Parlatore noted that "people have been convicted under this statute for possessing unclassified materials." Conversely, "people have been acquitted for possessing top-secret documents that were not national defense information and were actually overclassified."
That distinction, Parlatore said, poses a problem for any potential prosecution of Trump for mishandling national defense information: To prove that charge, the government would have to declassify the relevant documents so that the jury could assess whether they qualify as national defense information—in particular, whether they "could be used to the injury of the United States or to the advantage of any foreign nation." But the very act of declassification, Parlatore said, would undermine that claim. That challenge is one reason he thinks it is unlikely that Trump will be indicted under 18 USC 793.
In short, while parsing Trump's implausible and evolving declassification claims may be entertaining, it is not relevant to this potential charge. That means Trump's critics probably should spend less time on the question of when secrets are no longer secret. But it also means that citing the president's declassification powers, as Trump's supporters reflexively do when they dismiss the significance of his conduct, does not exonerate him of endangering national security (assuming he did that) by treating sensitive government documents as his personal property.
Classification likewise has nothing to do with Trump's broader assertion that he had "the absolute right" to do whatever he wanted with documents that belonged in the National Archives under the Presidential Records Act. Under 18 USC 2071, which the FBI also cited in its search warrant affidavit, it is a felony to "conceal" or "remove" government documents.
Nor does Trump's sweeping declassification claim affect his potential liability for obstructing a federal investigation, another charge Smith is considering. It is clear that Trump's lawyers failed to fully comply with a federal subpoena seeking all documents with classification markings that remained at Mar-a-Lago, which was the main justification for the FBI's search. The lawyers said they had turned over everything, but the FBI suspected they had not, and the search confirmed that suspicion by discovering 103 additional documents covered by the subpoena.
The question of whether Trump deliberately defied the subpoena hinges on his knowledge and intent. But if he did, he would be guilty of obstruction, no matter what you make of his claim that a document's classification status depends on his unexpressed whims and acquisitive impulses.